England v South Africa: Joe Root backs Keaton Jennings ahead of fourth Test
Last Updated: 04/08/17 11:53pm
England captain Joe Root has been impressed by the maturity shown by under-fire opener Keaton Jennings ahead of the fourth Test against South Africa at Old Trafford.
Jennings' place is under scrutiny following a difficult series against the Proteas although he seems to have earned a stay of execution with a gritty 48 in the second innings of England's 239-run win at The Oval.
Root hinted Jennings would retain his place on Friday morning as the skipper revealed his admiration for how Jennings, who has played only five Tests, goes about his business.
Root said: "He's a very level-headed guy, he's got a very strong character and throughout he's been very much the same in the way he's approached his training and in each game as well.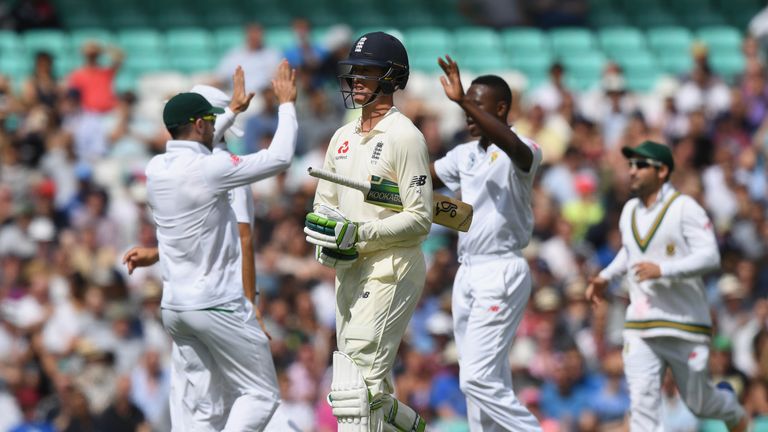 "It's great to see someone so light of experience be very mature and go about it in the right way.
"The way he played in that second innings was extremely great to see, I'm pleased that he's been able to get a score and hopefully that'll lead to some more runs this week."
Jennings made a century in his debut Test innings in India last winter but is averaging only 15.33 after three matches against South Africa, with his technique criticised in some quarters.
And Root acknowledged it is increasingly difficult to become established in Test cricket.
He added: "It's tough, and that's why it's called Test cricket, it can be a very hard thing to break into.
"You come from county cricket where there's not a huge amount of exposure to the media and external scrutiny - and you have to get your head around it pretty quickly. It is a test of character, it's a test of skill."
Heavy rain in Manchester has hampered preparations for the final Test, into which England take a 2-1 lead, with heat lamps being used to keep the pitch dry.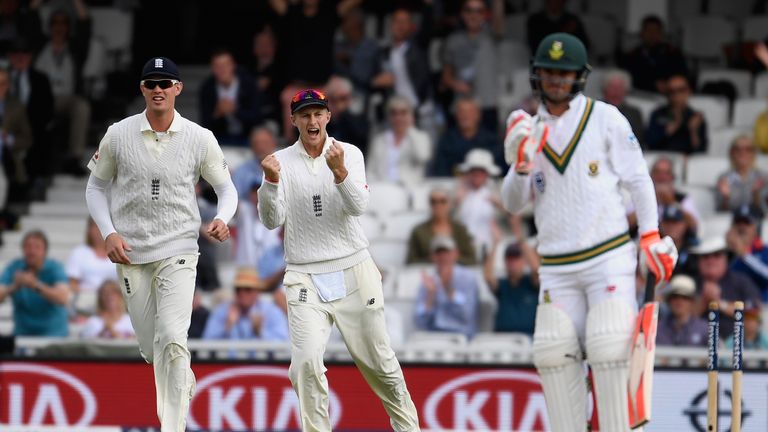 A passing shower on Thursday morning left the outfield waterlogged although Root insists it is not a concern for his side as he looks to wrap up victory in his first series leading England.
Root said: "There's been a lot of chat about the outfield and the surface and the weather around, but most importantly all we need to focus on is making sure we look to win this game."
However, the inclement weather has denied Root and England the opportunity to assess the pitch properly so he refused to divulge whether they would stick with a winning formula.
He added: "It (the wicket) was under-prepared and a lot can change in the next 24 hours, so we'll make a judgement on the side tomorrow."
Middlesex seamer Steve Finn replaces Mark Wood in the 13-man squad, having initially been called up last week as cover for the Durham man, who was ruled out on the eve of the Oval Test with a sore left heel.
South Africa, meanwhile, have on-going injury concerns over troubled seamer Vernon Philander.
The tourists were hampered severely when Philander was unable to bowl his full quota of overs at The Oval after being struck down by a mystery stomach virus.
The seamer has overcome the bug but is now struggling with a back problem.
"Vernon will go through a fitness test today (Thursday)," said captain Faf du Plessis. "He has a tight back. He should be OK. Vernon at 100 per cent means we can look at playing three seamers and play seven batters.
"Vernon at 90 per cent doesn't mean you can play three seamers because you don't want to be in a position where you have a seamer break down and then you only have two, because that is basically the Test match over right there," he added.
With England having already retained the D'Oliveira Trophy the best South Africa can hope for is a 2-2 draw and Du Plessis said that goal remains a huge motivation for his team.
"I have said it quite a few times, coming to England and drawing a series is by no means a negative thing or a bad thing. England are a very good team at home and to draw a series with them will be a huge thing for us.
"We have a proud record away from home, something I believe is not spoken enough about. If you look at our record away from home in the last eight years it is remarkable. So we as a team are very motivated to keep those losses away from home on a limit."
England (possible): JE Root (captain), AN Cook, KK Jennings, T Westley, DJ Malan, BA Stokes, JM Bairstow (wkt), MM Ali, TS Roland-Jones, SCJ Broad, JM Anderson
South Africa (possible): F du Plessis (captain), D Elgar, H Kuhn, H Amla, T Bavuma, Q de Kock (wkt), V Philander, C Morris, K Maharaj, K Rabada, M Morkel
Watch the fourth and final Test between England and South Africa live on Sky Sports Cricket and Main Event - with over-by-over commentary and in-play video clips on our digital platforms - from 10am on Friday.