Australian bowler Mitchell Starc warns England ahead of third Ashes Test in Perth
By Natasha Purkis
Last Updated: 07/12/17 11:35am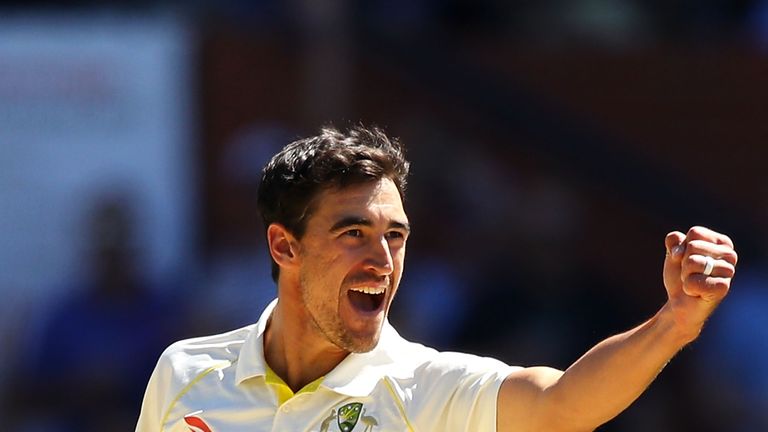 Mitchell Starc has warned England that the Ashes series is going to continue to get tougher for them.
Australia lead the series 2-0, after back-to-back victories in the first two Tests at Brisbane and Adelaide, and Starc believes this is just the start.
"The exciting thing is our bowling group can still get better," said the 27-year-old left-armer.
"We've obviously managed to take 40 wickets in the last couple of weeks and do some really good things, but I think there's still a lot of room for improvement."
Starc has taken 14 wickets so far and is relishing the prospect of stepping things up another gear as the series moves on to Perth for the third Test, which starts on December 14.
England have not beaten Australia at the WACA since 1978 and a win would give the hosts an unassailable 3-0 lead.
Starc wants to put pressure on England and insists Australia's attack, which also includes seamers Pat Cummings, Josh Hazelwood and off-spinner Nathan Lyon, plan to make it even harder for the tourists to make a comeback.
"'Gazza [Lyon] is bowling outstandingly at the moment. That allows the other three of us to do what we need to do from one end if need be", added Starc.
"Then Josh does what he does and allows Pat and me to bowl as fast as we want.
"I hope we see a nice, fast, bouncy wicket - a WACA of old - and we can get stuck into their batters again."
After England's 120-run defeat on Wednesday, Starc has put Australia's impressive form down to their being a tight-knit team, both on and off the pitch.
"We're really close mates, and I think that shows in the way we play our cricket", he said.
"We're gelling really nicely and we complement each other really well. The same can be said of our batters, so it's a really exciting spot to be in."