Cricket Expert & Columnist
Ross Taylor's match-winning hundred one of the greatest I've seen, says Nasser Hussain
Last Updated: 07/03/18 4:57pm
Nasser Hussain hailed Ross Taylor's match-winning hundred for New Zealand in the fourth one-day international in Dunedin as "one of the greatest" he has ever seen.
Taylor's unbeaten 181 off 147 balls helped the Black Caps chase down England's tricky target of 336, tying the five-match series at 2-2 ahead of Saturday's decider in Christchurch.
And, Taylor's skillful century was made all the more remarkable given that, when on 109, he seemingly re-injured his quad - the same injury that kept him out of New Zealand's third ODI defeat.
Suffering too with cramp, and various other niggles, as his innings progressed, Taylor was somehow still able to smash the final 72 runs of his innings from only 41 deliveries, seeing his side to a thrilling victory.
"It was an incredible knock, one of the greatest I've ever seen" said Hussain. "There wasn't a part of Ross' body that wasn't hurting - he would have got 200 if it were not for him turning down so many singles.
"He went in the quad, then in the hip, the arm, everywhere."
"I don't agree with the change in playing conditions that you can't have a runner anymore - it's ridiculous, it nearly cost New Zealand the game.
"It was obvious that Taylor was injured. It made it so much harder for him, so it ended up being even more of a spectacular innings."
Given the brilliance of Taylor, Hussain didn't lay too much blame at England's door, though did suggest that, after such a strong opening with the bat, they should have posted a higher total for New Zealand to chase.
Centuries for Jonny Bairstow (138) and Joe Root (102) helped England into a strong position of 267-1, before they proceeded to lose eight wickets for 46 runs in the latter overs.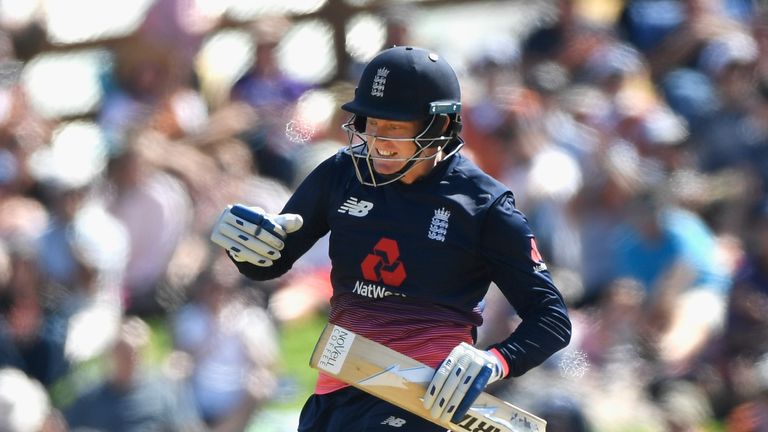 "England couldn't have done a lot more," added Hussain. "They will look back at being 267-1 in the 38th over though and wonder how they only got 335."
"With the ball, there has also been a few times in this series that when a partnership has developed and they have not found a way to take a wicket. That happened in the first ODI in Hamilton with Tom Latham and Taylor, and also a little in the last game they ended up winning in Wellington.
"Mark Wood isn't quite the partnership-breaker he used to be. That's why he is in this side - they go to Mark, but he has lost a yard of pace.
"Still, what a magnificent match. On the back of the thriller at Wellington, to have another great game like that sets up the series brilliantly."
Watch the winner-takes-all final ODI of the series from Christchurch, live on Sky Sports Cricket from 9.30pm GMT on Friday.