England's Bryony Smith on how changing attitudes to women's sports starts in the classroom
Fellow new faces Davidson-Richards and George also illustrate how women's cricket is a viable career option
By Kalika Mehta - @Journo_K
Last Updated: 07/04/18 11:30am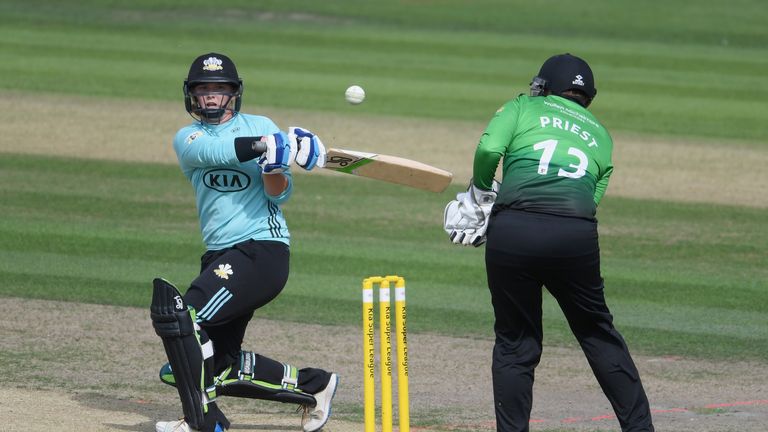 Women's sport, be it cricket, football or rugby, is so often tasked with laying down a marker to inspire the next generation of girls.
It remains a long-held objective and hope as the fight for parity with men's sport goes on.
So, it is a thing of beauty when Bryony Smith, one of newest additions to the England set-up, explained the glee her 11-year-old students expressed when they searched for her on the internet and found that their teacher was in fact a professional cricketer.
"A few of [the students] thought I was lying to begin with," the opening batter said.
"When I first joined [Nonsuch High School for Girls] I was wearing some old kit and they said 'Miss, you've just gone out and bought some cricket kit'.
"Then they googled me and once they found my name, the Year 7's all ran up to me and said 'Miss, you weren't lying, you're actually a cricketer and you're actually quite good.'"
Beneath the surface of what is a delightful tale is something far more tangible and an important message for everyone involved in women's sport.
Where young girls have previously struggled to find an idol to aspire to be like or see little or no true career path they now are blessed with visible heroes like never before.
And, though Smith's only exposure on television has been through playing in the Kia Super League for Surrey Stars, the only professional women's domestic tournament in England, she can see the impact it is having in her own classroom and school.
"It's only my second year [teaching at Nonsuch]," she explained. "There was little interest in cricket last year, although I ran a club.
"This year I've had girls come up to me and say can we have a club in the winter, can you link me to some clubs, do you have any contacts?
"With the Super League on TV as well, they don't just have to watch international cricket, they can see people like me, who don't have international status but they can relate to, on the TV."
Smith is one of three players, alongside Alice Davidson-Richards and Katie George, that were called up for the first time in March as Mark Robinson made an unexpected move in selecting three new faces to provide an added challenge to the players in the squad.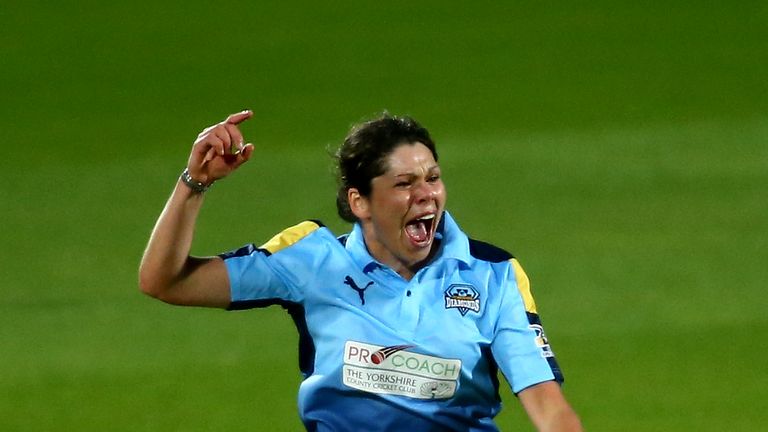 With the Academy system now split into two groups, for junior and senior players, there has been a step up in training and fitness expectations for the older group to help ensure the move to being a part of the international team is not too big.
The added expectations and workload has not gone unnoticed by the England and Wales Cricket Board with Davidson-Richards, George and Freya Davies all earning rookie contracts to compensate them for their added commitment.
The change has been demanding and a change of pace for both Davidson-Richards and Smith, who admitted it had been strange to get use to.
"It is a bit weird," Smith explained. "One day I'm sat in front of 30 kids and the next I'm sat here with 18 international cricketers.
"It took a bit of a while to get use to but we've been here for a few months now and you feel a lot more comfortable.
"When there was [the academy] restructure the senior girls all sat down and went through what our expectations were of the squad and we all said that we need to ready from ball one, fitness and skills wise, (for) when we get that call up."
Davidson-Richard's added that giving up full-time work was a big step for her: "Last year, I was working five days a week as a personal trainer and then coming up to Loughborough to train.
"I bumped it down to four days and then I switched it to one day. Evening's are usually the busiest time for a personal trainer so in the evenings I would feel 'I'm meant to be working right now'.
"It's an odd concept that you train (as a professional athlete) and then you're done. I like going back to work on Monday to get myself back to centre.
"It used to be the jump up from academy to England was fitness level but in the academy we're now expected to have a really high fitness level.
"We're expected to be just as good as the England team in that respect because otherwise how are you going to make the step up if you're not as fit or fitter than them?"
Both players' journey to the top has been far from short, or smooth, even though Smith is only 20-years-old and Davidson-Richards just 23.
Kent-born all-rounder Davidson-Richards, who has represented her county since the age of 15, in particular became disillusioned in her fight to break into the England team.
With her love for cricket diminishing and believing the opportunity of playing international cricket was lost, the right-handed batter took a step back from the game, opting to study human physiology at Leeds University instead of attending Loughborough University - where the ECB's National Cricket Performance Centre is based.
Davidson-Richards took up hockey alongside cricket whilst studying and having graduated she travelled to Australia to play club cricket, where she rediscovered her passion for the game.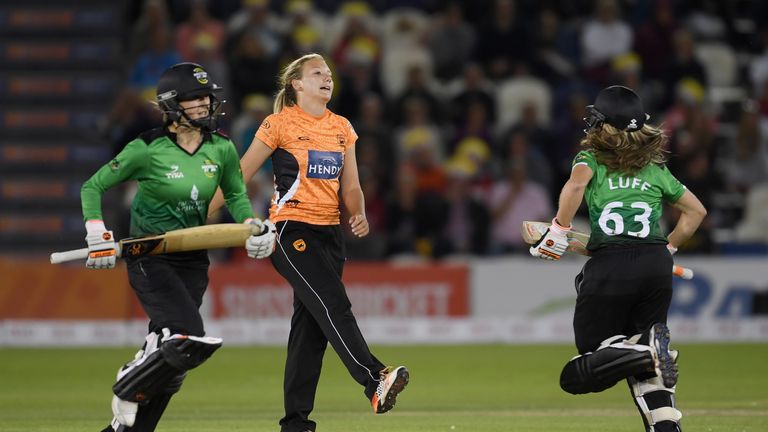 And, it was while she was Down Under that she was asked to play in the inaugural season of the KSL in 2016, which proved vital to helping reintegrate her in the English cricket set-up.
"It's not been (a) short (journey)," Davidson-Richards confessed. "I definitely thought my time had passed me by.
"I went away and enjoyed my time at university and when I graduated, I asked myself what I was going to do with my life.
"I had no idea so I went and played cricket for six months in Australia and loved playing cricket again, which was the important thing for me.
"It was a surprise getting an email about (the KSL) and I thought 'oh, I didn't even think about this'.
"It really helped bring me back into the mix of things. I play best when I'm loving life and I love playing for the (Yorkshire) Diamonds.
"It gave me that hunger again and I got the call back into the academy and from there when you get that taste for it all again, you keep on working as hard as you can."
There has been an element of disappointment for Smith too, who came into Robinson's periphery when she impressed at the top of the order for Surrey Stars in the first year of the KSL.
Although she only made 94 runs across five innings, she had a strike rate of over 100 and her attacking intent as such a young player excited the England coach.
However, last year the Stars signed South African opener Lizelle Lee and Smith was dropped down the order with the international player favoured to open.
It was a setback that took some adjusting to for Smith, aware that the KSL was her biggest shop window for showcasing her talents and pushing forward her claims for an England call-up.
"It was frustrating (being dropped down the order) having had such a good first season," Smith said. "Being told you're going to bat at four and then as wickets fall just dropping down the order it's hard to get into a routine really.
"I learnt a lot last season in just in how players cope with being dropped down the order, moving round and not batting where they want to bat."
While there is plenty still to be done to improve the English women's game and women's cricket in general, great strides continue to be made that prove it is a viable career option.
Sky Sports will show 12 matches from the Kia Super League this summer as part of a huge line-up of women's sport in 2018. Find out more by clicking here.
Comment below to get involved in the debate, but please adhere to our House Rules. If you wish to report any comment, simply click on the down arrow next to the offending comment and click 'Report'.