Cricket Expert & Columnist
Don't write off Alastair Cook: he'll find a way to score runs, says Nasser Hussain
'A lot of opener's success has come from mental toughness'
Last Updated: 30/03/18 4:05am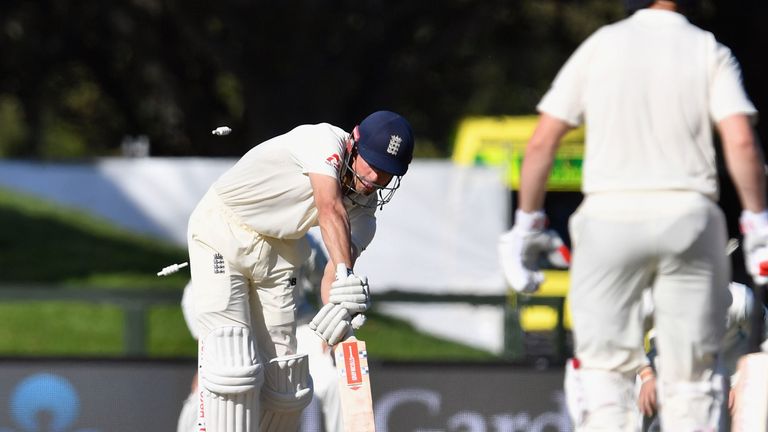 Alastair Cook shouldn't be written off after his latest batting disappointment for England, says Nasser Hussain.
Cook, England's leading Test run-scorer and sixth of all time, was clean bowled for just two by an excellent Trent Boult delivery early on day one of the second Test in Christchurch - his third single digit score of the series in as many innings.
It means the former skipper has now scored 446 runs in 16 knocks - 244 of which came in his unbeaten double-hundred against Australia at the MCG this winter - since racking up 243 against Windies last August and Hussain said Cook's form has become "too much feast or famine" of late.
"He has always had issues," Hussain told Sky Sports. "It's odd for the greatest player England have ever had, as far as statistics go, to have these technical issues. But, he has never been a lunger at the ball, he has never been perfect technically.
"A lot of his success has come from mental toughness. He is also a touch player, and I think touch players need to keep playing and they lose the rhythm of batting if not. Two ago before this tour he was lambing, not playing cricket, and now he's up against Trent Boult and Tim Southee and they really examine your technique.
"The ball before he got out today he doesn't move his feet at all - he just pokes his hands at it. The ball that he got out to was an absolute beauty; but he doesn't move his feet at all. He tries to play it with all hands and his head position is falling over.
"But, I've always said be careful of writing Cook off. He will find a way of getting runs, he is that sort of player but he's become a little bit too much feast or famine.
"When you are out of nick the more you think about it, the worse it gets. When Alec Stewart was playing well he practiced more and thought about his game a lot more; when he wasn't playing that well he put it to bed a little bit."
During this winter's Ashes Cook admitted to doubting himself - without thinking about ending his career - before completing his fifth double hundred in the fourth Test.
But his form perhaps came under greatest scrutiny during 2014 after a run of 14 matches in which he averaged 23.63, before a stoic 95 at the Rose Bowl against India helped turn the tide.
Sky Sports Commentator David Lloyd said Cook will no doubt be frustrated with his current form, not least because his footwork is 'all over the place'.
"He got a full length ball - I thought it was a terrific delivery, but he's allowed it to develop," said Lloyd. "He was right back in the crease.
"He's out of nick, he's out of form, he's not getting any runs and he'll be hurting and thinking; he'll be doing a lot of thinking - 'have I had enough?'.
"The question has been put to him before. He was disappointing in the Ashes, where he got one big score. He'd have wanted to come here and just get back in nick but they've got on top of him."
Live coverage of the second Test between New Zealand and England continues on Sky Sports Cricket and across our digital platforms.