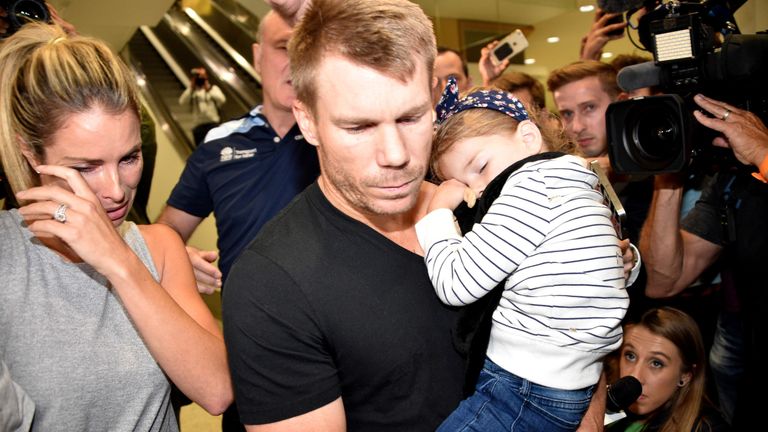 David Warner's wife Candice says she is blaming herself for his part in the ball-tampering scandal which has engulfed the Australin cricket team.
Their series in South Africa was fractious even before the scandal with Warner and Quinton de Kock clashing in the first Test over a row the Australian claimed was sparked when the South African insulted his wife.
After the third Test last weekend, Warner was banned for one year from domestic and international cricket over the plot to change the condition of the ball.
At an emotional press conference on Saturday, Warner spoke about his fear that he would not get to represent his country again.
Candice Warner told Sydney's Sunday Telegraph: "I feel like it's all my fault and it's killing me - it's absolutely killing me."
Warner said she was not making excuses for her husband's behaviour over the scandal but added that he was "protecting me as much as he could and protecting the girls (their children)".
She said: "Dave would come home from the game and see me in tears in the bedroom, and the girls just looking at their mum. It's been heartbreaking.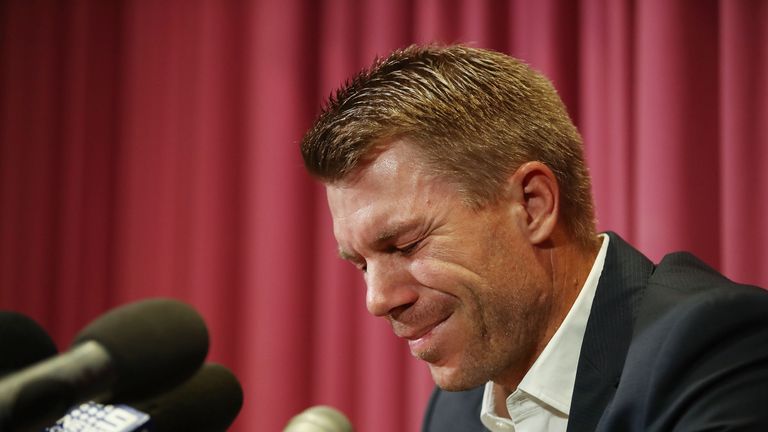 "When we were in Cape Town and Port Elizabeth, Dave would come home and, yes, I always put on a strong front and I turn out to the games."
During the second Test, two Cricket South Africa officials were photographed with spectators wearing masks featuring the face of rugby player Sonny Bill Williams, who was reported to have had an intimate encounter with Candice Warner in 2007 before she met her husband.
"But seeing them wearing the masks, to have people staring and pointing and laughing at me, to have the signs, to have, you know, the songs made up about me, I would have to sit there and cop that."
Candice Warner also called for sympathy and patience towards her husband from Australia fans, saying the batsman, who evaded questions about the ball-tampering scandal at his press conference, is struggling to cope with the fall-out from the incident.
"I'm sure there were things he wanted to say but he just couldn't get it out," said Candice Warner.
"He is hurting. He is seriously, seriously struggling and he's not in a great headspace."