Sachin Tendulkar says Virat Kohli's desire to improve will keep him at top of world cricket
Ravi Shastri on Virat Kohli: "If he wants a hundred it should be a tough hundred. That's what makes him different from a lot of other players."
Last Updated: 31/07/18 1:29pm
Sachin Tendulkar feels Virat Kohli's constant desire to improve his batting should ensure he stays at the peak of cricket for years to come.
Tendulkar, India's leading run scorer in Test matches with 15,921 in his 200 games, told Sky Sports Cricket that Kohli's determination to improve is "the best part about him".
The India skipper has struck 5,554 runs in his 66 Tests to date at an average of 53.40 but suffered a rare failure in England four years ago when he scored just 134 runs in five Tests at 13.40.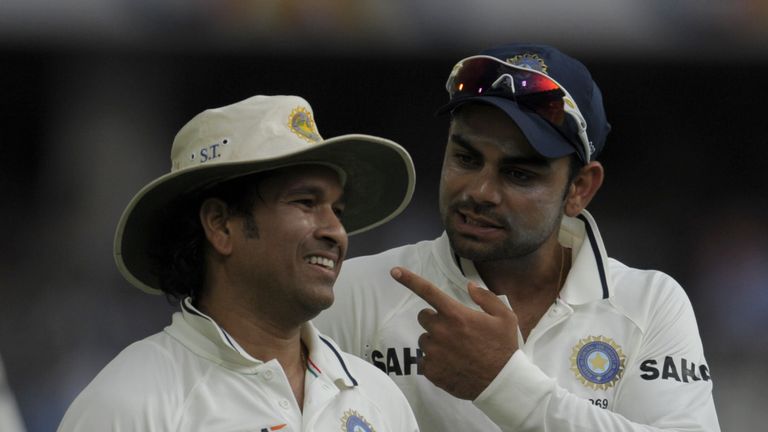 "I could [always] see the hunger and the fire in his eyes.
Sachin Tendulkar on Virat Kohli
"The best part about him is that the moment he realises there are areas he needs to work on he is immediately back in the nets working on those things," Tendulkar said of Kohli, whose side begin their five-Test series against England at Edgbaston on Wednesday, live on Sky Sports Cricket.
"A player can only move forward if he accepts - and it requires a lot to accept and admit: 'Okay, these are the areas where I have not done well and I need to go out and change these things'.
"He is in a good space. All he needs to do is try and be in the same space. His method of preparing himself before a tour, before a game is really nice. He should continue with that. There are going to be ups and downs, there could be bad tours, but that's not the end of the world."
India coach Ravi Shastri says Kohli's passion, hard work and competitive instinct spreads through the camp and that the 29-year-old's desire to score "tough" runs sets him apart from many of his peers.
Kohli steered India to a 4-0 victory over England in the subcontinent in 2016 and will now be aiming to guide his team to a first Test series win in the UK since Rahul Dravid's squad triumphed in 2007.
Asked by Nasser Hussain about the influence Kohli has on the side, Shastri - who became India head coach a year ago - said: "Massive. His work ethics are second to none.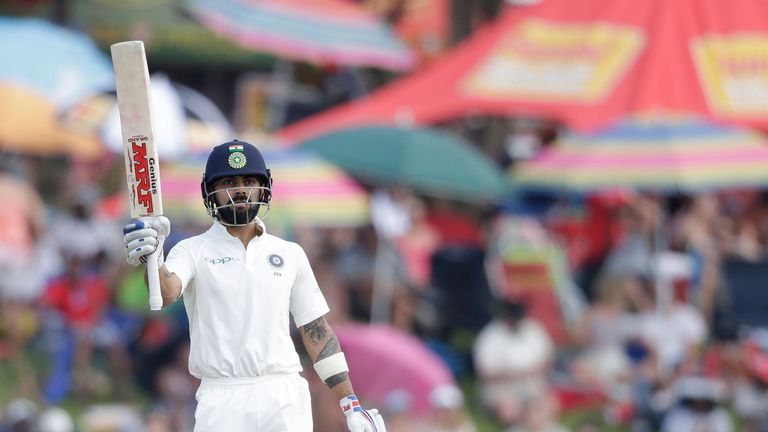 This county is the toughest country to play for – the population, the expectations, every game you have to win. Virat has taken over from Sachin (so) very game he has to get a hundred or a fifty.
Ravi Shastri on Virat Kohli
"The passion that he brings into the dressing room, wanting to play the game as a competitor. He wants to compete and it's like a disease - people want to emulate him, youngsters want to be like him.
"There is no excuse in him, he won't leave a stone unturned. The effort will be maximum and then you will see the results. He doesn't want anything easy - if he wants a hundred it should be a tough hundred in tough conditions. That's what makes him different from a lot of other players.
"He is never one to shy away from a challenge which I think is his biggest quality. I admire his preparation. He wants to excel but he knows there are no shortcuts.
"He is the first guy to say 'I played a bad shot' which as the coach of a team makes a big difference. Speaking to the other guys then becomes a lot easier because he leads by example."
Hear more from Tendulkar and Shastri in the video at the top of the page. You can watch Nasser's full interview with Tendulkar ON DEMAND now.
Watch the first Test between England and India from 10am, Wednesday on Sky Sports Cricket and Main Event.
Comment below to get involved in the debate, but please adhere to our House Rules. If you wish to report any comment, simply click on the down arrow next to the offending comment and click 'Report'.