England cricketer Ben Stokes 'mocked gay men' outside Bristol club, court hears
The England star denies mocking two gay men, saying two others he is accused of knocking unconscious were being homophobic
By Alix Culbertson, Sky News
Last Updated: 07/08/18 1:42pm
England cricketer Ben Stokes mocked two gay men before knocking two other men unconscious outside a Bristol nightclub, a jury has heard.
The 27-year-old all-rounder appeared at Bristol Crown Court on Monday for the first day of a trial in which he is accused of punching Ryan Hale, 27, to the ground then allegedly knocking out Ryan Ali, 28.
All three are accused of affray - which they deny.
Stokes denies mocking the gay men and said he stepped in after Hale and Ali made homophobic remarks, while the prosecution said Stokes himself was mocking the two men.
The court heard Stokes was mimicking the voices and mannerisms in "a derogatory way" of Kai Barry and William O'Connor, who were at the Mbargo club in the Clifton Triangle area of Bristol on 25 September last year.
Prosecutor Nicholas Corsellis said CCTV showed Stokes flicking his cigarette butt towards Mr O'Connor's head as he and England team-mate Alex Hales spoke to the pair.
Mr Corsellis told the jury that the club's doorman, Andrew Cunningham, "observed Mr Stokes's behaviour towards them".
He said Mr Cunningham "noted that he was mimicking their voices and mannerisms in what he described as 'a derogatory way', thereby making fun of their camp behaviour.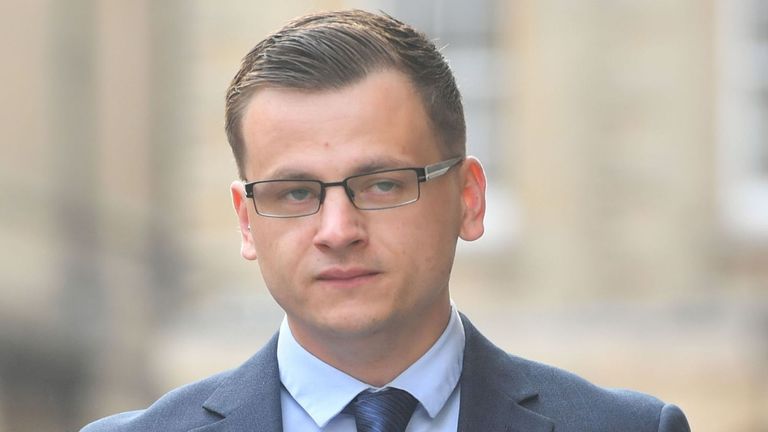 "The CCTV footage, which does not have audio, suggests that sort of behaviour did take place, with Mr Stokes copying hand gestures made by the men.
"The discussion and behaviour continued but took a turn that caused Mr Cunningham some concern."
The sportsmen had entered the club with the rest of the England cricket team at about 11.30pm on 24 September.
Mr Cunningham said Stokes offered him £60 then £300 for re-entry at 2.08am and became abusive when this was refused due to licencing conditions.
The prosecutor said: "Mr Cunningham had cause to be concerned when he saw Mr Stokes take either the unlit butt or the butt of his cigarette and flick it onto Mr O'Connor's head.
"Mr Cunningham said to Mr Stokes, 'if you want to start on anyone, start on me'."
The court heard Mr Hales had not seen Stokes flick the cigarette butt and asked Mr Cunningham why he was annoyed.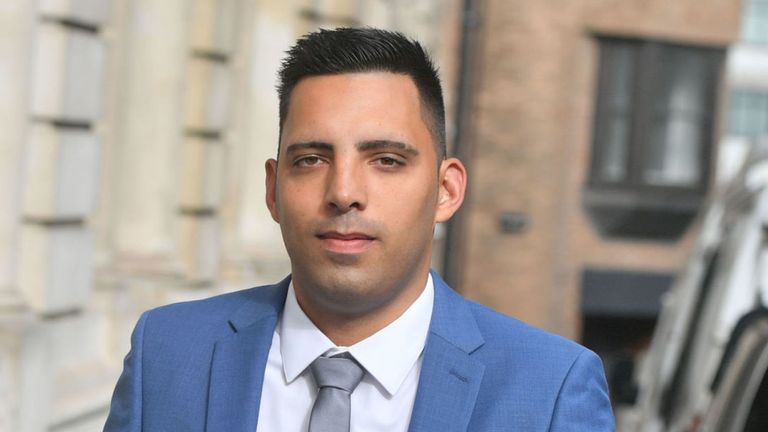 "When told by him that Stokes had flicked a cigarette at one of the men, he said: 'Stokesy - don't do that'," Mr Corsellis said.
CCTV footage showed Ali and Hale leaving the club at 2.23am and speaking to Mr Barry and Mr O'Connor before they all walked towards Queens Road.
Stokes and Hales stayed outside the club where Mr Cunningham refused to shake his hand.
Mr Corsellis said this "seemed to enrage Mr Stokes".
"He was clearly frustrated and annoyed. He took to acting in a provocative and offensive way towards Mr Cunningham and then Mr Barry and Mr O'Connor."
The two cricketers then caught up with the other four and CCTV footage showed Mr Barry touching Ali inappropriately on his groin area then trying to take his arm.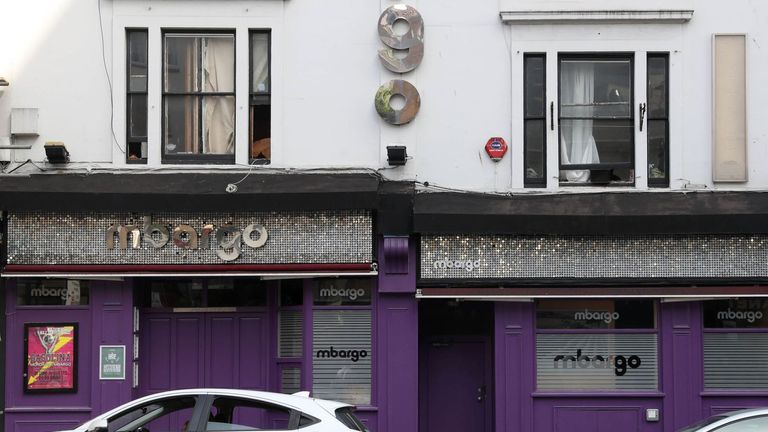 "Mr Ali responds by pushing Mr Barry away, albeit with no significant force," he told the jury.
He told jurors it would be an issue for them to decide whether the interaction between the men had simply been "banter or something more sinister".
Only the defendants know precisely how the fight started and it could have "stopped very quickly", he claimed.
"But during the incident Mr Stokes lost his control and started to attack with revenge, retaliation or punishment in mind, well beyond acting in self defence or defence of another," Mr Corsellis said.
"He knocked Mr Hale unconscious and then - after time to pause for thought, to calm - he did exactly the same to Mr Ali.
"Mr Ali received significant injuries, including a fractured eye socket, and required hospital treatment."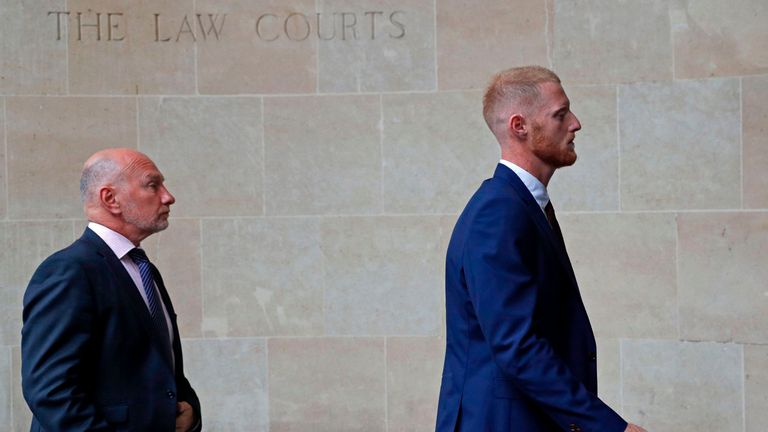 The court heard that Ali had worked for the emergency services and Hale served in the armed forces.
During the altercation, witness Laura Sweeney saw Hale pick up a road sign leaning on a metal easel and look as though he was going to hit someone with it.
And Ali was seen on CCTV raising a bottle at cricketer Mr Hales before hitting Mr Barry with it.
Film student Max Wilson, who lives on the triangle, woke up from the shouting and said he did not believe the "initial shove came from either Mr Stokes or Mr Hales", but Stokes was behaving aggressively.
Stokes missed the Ashes after being suspended from the England team, who then lost the series against Australia 4-0.
He was reinstated and has since played in the Test series against New Zealand, Pakistan and, on Saturday, starred as England beat India at Edgbaston.
However, he will not be able to play in the second Test against India at Lord's this week and next.
Stokes, Ali and Hale are on bail.
They will appear back in court on Tuesday morning and the trial is expected to last seven days.