How do you get Virat Kohli out? Kumar Sangakkara and Nasser Hussain look at a few options
Last Updated: 09/08/18 3:56pm
Virat Kohli was in fantastic form in the first Test at Edgbaston, scoring 149 in the first innings and adding 51 in the second. So what has he changed since his struggles on India's last tour of England?
The India captain averaged just 13 during the 2014 series with James Anderson, in particular, causing him problems. Kumar Sangakkara and Nasser Hussain joined Ian Ward in the Zone to have a look at how Kohli has gone about addressing some of his technical issues and how England might look to counter them.
Hussain highlighted how Kohli has changed his guard and has batted out of his crease to try and meet the ball earlier and negate any swing, while Sangakkara noted his more upright and side-on stance and spoke of the importance of having a clear thought process and a plan.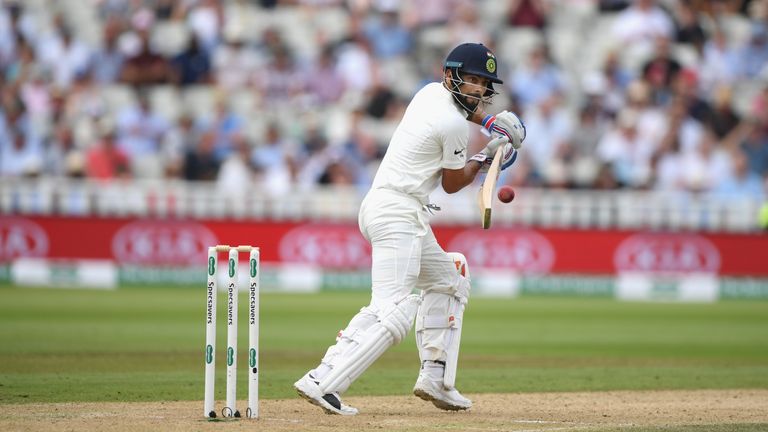 Kohli's knocks in the first Test were not faultless though, he was dropped twice on his way to his century and edged and played-and-missed numerous times across both innings and Hussain believes his natural attacking instincts mean there will always be that element of risk to his game.
"His gut instinct is to score runs. He is not a blocker who just wants to occupy the crease," he said. "His gut feeling is 'I'm here to entertain, I'm the greatest player on the planet', he's No 1 in the world again."
With Kohli having made the changes to bolster his chances of scoring runs in England, Hussain and Sangakkara considered what Joe Root's side might do to counter those alterations.
Bowling the occasional straighter delivery with a short leg in place is one suggestion and bringing Jonny Bairstow up to the stumps to force him back is another, while the short ball could help to do similar. Whether England use such tactics and whether they work though, remains to be seen.
Click play on the video at the top of the page to watch Nasser and Kumar dissect Kohli's technique in the Zone.
Watch continued coverage of the second Test between England and India on Sky Sports Cricket.