England v India: James Anderson takes five-for as tourists capitulate to 107 all out
Chris Woakes has 16 Test wickets at Lord's, at an average of 9.93
By David Currie at Lord's
Last Updated: 11/08/18 7:21am
James Anderson took 5-20 as India capitulated to 107 all out on a hugely challenging, rain-filled second day's play of the second Test at Lord's.
Anderson (5-20) started the rot, bowling Murali Vijay for a duck with the fifth ball of the day on Friday morning as play finally got underway following a day one washout, and ended things as he picked up Ishant Sharma lbw to what proved to be the final delivery of the day.
Following two stoppages to yet more rain, recalled Chris Woakes (2-19) was the star of the evening session, taking the key wicket of Virat Kohli (24) during a superb six-over spell of probing, skilful away swing from the Nursery End.
In a bizarre passage of play, Woakes had both Kohli and Hardik Pandya (11) dropped by Jos Buttler at second slip a ball before their dismissal to the very same fielder.
Anderson had made the early inroads, picking up Vijay and KL Rahul (8), caught behind, to two terrific deliveries that angled into the batsmen and nipped away and, in relief of Woakes late in the day, dismissed Ajinkya Rahane (18) in similar style, edging to first slip, as well as Kuldeep Yadav and Sharma lbw.
India were 11-2 with only 6.3 overs bowled when the players first came off for rain and only a further 12 balls were possible before the next lengthy stoppage - enough time, however, for England to strike again.
Somewhat controversially, Cheteshwar Pujara (1) was run out after a mix-up with Kohli, two balls after the umpires had begun to take the players off the field, only to restart as the rain briefly relented. It was to be the final act of the second mini-session, with India reeling at 15-3.
Batting appeared easier when play finally resumed at 5.10pm, Lord's now bathed in sunshine and the ball not swinging, at least not initially and, other than Joe Root dropping Rahane on five - a difficult take at fourth slip off Stuart Broad - chances weren't forthcoming.
But the introduction of Woakes into the attack changed that, with Kohli inadvisedly playing far too loose with his great nemesis Anderson out of the attack. Several played-and-missed warnings were not heeded, nor was his let-off from Buttler, and he was not to be fortunate twice.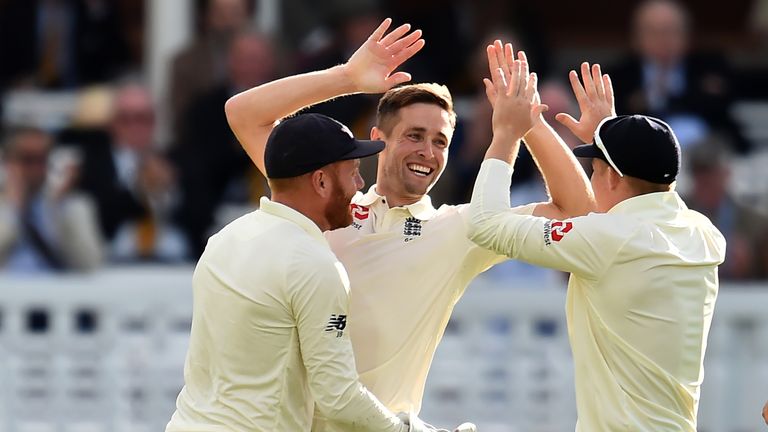 History repeated itself with the dismissal of Pandya - Woakes' frustration swiftly switching to jubilation - as Buttler again made amends after a missed chance, and new man Dinesh Karthik was greeted with five slips and a gully on his arrival at the crease.
They would not be needed. Sam Curran (1-26) bowled Karthik with arguably the delivery of the day, certainly the one to do the most, with prodigious swing from outside off back into the right-hander seeing him castled.
Anderson returned to wrap up the innings, either side of Broad (1-37) getting in on the act with the dismissal of Ravichandran Ashwin (29).