Australia's Steve Smith ruled out of third Ashes Test against England
Watch the third Ashes Test between England and Australia, live on Sky Sports The Ashes from 10am on Thursday
By Rory O'Callaghan
Last Updated: 21/08/19 2:18pm
Steve Smith will miss the third Ashes Test against England after suffering concussion at Lord's.
Smith was forced to retire hurt on day four of the second Test after being hit on the neck by a delivery from Jofra Archer.
The 30-year-old was later allowed to resume his first innings but did not bat in the second innings, with Marnus Labuschagne taking his place as a concussion substitute - the first in Test cricket.
Australia head coach Justin Langer confirmed Smith will miss the third Test, which begins on Thursday - live on Sky Sports, after taking no part in training on Tuesday.
Smith, who has scored 142, 144 and 92 in his three innings so far in the series, requires the approval of team doctor Richard Saw before he can resume playing, as per Cricket Australia's concussion protocols.
Langer said: "When we followed the protocols he was probably a couple of days off being fit to be selected.
"There has been a lot of work going into this concussion policy over many years. The very fact that we've got it now in international cricket goes to show how much has gone into it.
"It was really a no-brainer. He felt a bit better yesterday but he's not going to have enough time to tick off everything he's got to do.
Langer admits losing Smith will be a blow to Australia and compared the loss to England losing their best bowler James Anderson.
He added: "It's not unlike England losing James Anderson. He's arguably their best bowler and we're going to lose arguably our best batsman for this Test match.
"It is always a blow. No doubt about that. When you take your best players out it always has an impact.
"We have to make sure our senior players and the younger guys step up and fill what are almost unfillable shoes because he's the best player in the world.
"We've talked about squad mentality and being ready that when things come up, like they always do in this game, that we have guys ready to step up. I'm confident they'll do that."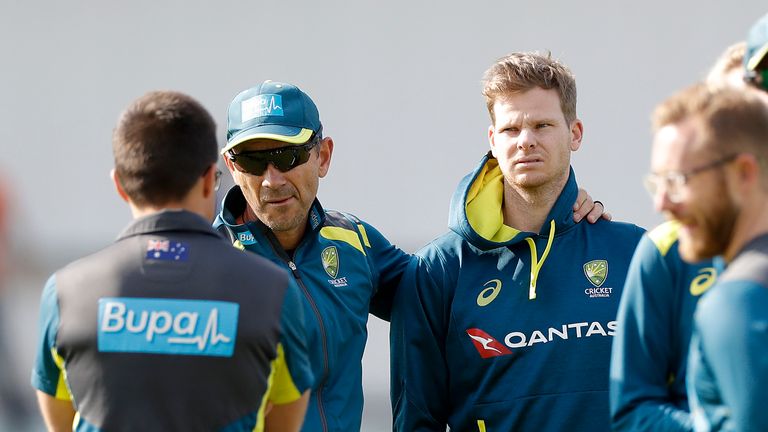 Australia have not confirmed who will replace Smith in the squad for the third Test, although Labuschagne is expected to take his place after scoring 59 at Lord's, which ended in a draw.
England trail Australia 1-0 with three matches remaining in the five-Test series.