The Ashes: Ben Stokes in no-ball drama with front-foot technology not working in first Test
Ben Stokes bowls David Warner on 17 but wicket chalked off due to no-ball; front-foot technology not working at The Gabba with no-balls only being checked on wicket-taking deliveries; Stokes overstepped 14 times during his first five overs
Last Updated: 09/12/21 12:39pm
The no-ball call that denied England's Ben Stokes a wicket in his first over of the opening Ashes Test led to the revelation that the third umpire was unable to check the front foot on every delivery.
Stokes bowled David Warner with the fourth delivery of his first Test over in more than nine months but the Australia opener was reprieved when TV replays showed the England all-rounder had overstepped.
TV pictures showed Stokes' previous three deliveries in Brisbane would also have been no-balls but he was unable to correct his run-up as, due to a technological malfunction, they had not been called.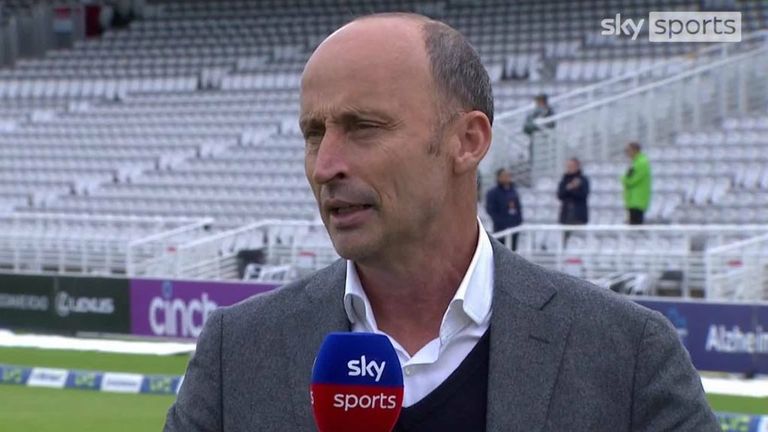 I couldn't believe the no-balls. No wonder Stokes' wicket of Warner was a no-ball as no one had been telling him about his other ones. That needs looking at.
Nasser Hussain
The third umpire in World Test Championship matches is supposed to check every delivery for a no-ball but with the system not working, only wicket-taking deliveries are being checked by the third umpire
The on-field umpires - Paul Reiffel and Rod Tucker - are responsible for detecting no-balls in this Test.
Host broadcaster Channel Seven later showed that in Stokes' first five overs there had been 14 no-balls with just one called.
Evening Standard journalist Will Macpherson said: "It was a bit farcical. Stokes was still massively at fault for bowling the no-balls but it was still pretty shambolic."
Warner was on 17 when he was 'dismissed by Stokes' but went on to make 94 on day two at The Gabba before he was bowled by Ollie Robinson after tea.
The International Cricket Council later said England and Australia had been informed of the technological issue before the match - and it is expected to be fixed in time for the second Test in Adelaide from December 16.
Stokes bowls Warner with his fourth delivery in Test cricket since March. Needless to say, it's a no-ball.

— Lawrence Booth (@the_topspin) December 9, 2021
"We will continue with the old protocols during this match but expect the technology to be available again from the next Test," an ICC spokesperson said.
Stokes, who was late to join the England squad in Australia after taking a break to focus on his mental health and rehab a finger injury, was also denied his first Ashes wicket when he over-stepped the mark in the Adelaide Test in 2013.
Australia wicketkeeper Brad Haddin was caught behind for 51 but went on to make 118 after his reprieve on that occasion.
England bowling coach Jon Lewis said: "What a fast bowler needs is some sort of understanding of where their feet are because obviously you can't see your own feet.
"It would have been nice for the first no-ball to be called, for he could have made an adjustment. So from then on he would have been behind the line because he knows where his feet are."