Bumble's Blog: I expect England to win Ashes at Trent Bridge
Plus there's plenty more to come from Cook's team...
Last Updated: 04/08/15 4:49pm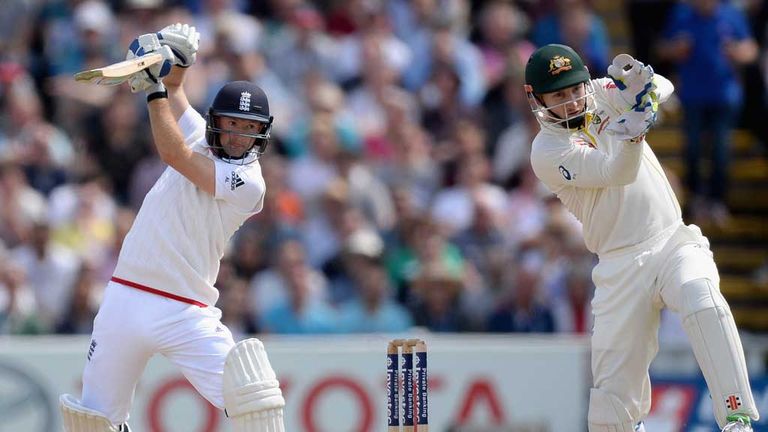 This Ashes is as red-hot as the chillies in my greenhouse!
I'm expecting England to carry on as they are and win the Ashes at Trent Bridge, so get ready for another early finish.
I've spent the extra Edgbaston days off catching up on my gardening. I've been bitten everywhere by spiders but that's one of the hazards that go with the job.
I've got gooseberries all over the shop, so I'm making gooseberry vodka, which will take six months to materialise, and I'm also having a go at Crème de Cassis – which is a blackcurrant liqueur.
As for those chillies, I'm in the process of making some sauce which I promise you will be good stuff!
I'm heading to Nottingham on Wednesday but there's more big news to come before then!
I'm going up to Accrington Stanley very early tomorrow morning as the club is going to be on Sky Sports News HQ as part of 92Live.
We're planning to announce our new stadium and shirt sponsor. I can't tell you the name right now but they are a local company, which is absolutely marvellous.
Judgement
As dominant as England were at Edgbaston, I think there's a lot more consistency to come from this team.
It's hellish tough for players like Adam Lyth and Mitchell Starc to come in and perform at the top of his game because the Ashes is different; plenty of experienced players are struggling too, by the way.
Lyth is learning the flippin' hard way; I've been involved as a player and a coach and I know how difficult it is for lads to produce in an Ashes series – and everything that entails.
I think back to when Ian Bell first played in the Ashes; he was a passenger but they stuck with him and look what England have got. Over 100 Tests.
I've watched Lyth closely and he is one of the best in the country; he's finding it difficult right now but you have to stick with him.
All these clowns and buffoons on social media who say 'get him out' would be hopeless at selecting sports teams.
You can't keep changing; you've got to back your judgement and back the player and give them a decent run. He had a big tick against his name when he scored that century against New Zealand, an excellent team, but the Ashes is different.
I would stick with Lyth for the Oval even if he struggled at Trent Bridge but what selectors always seem to bring in a new player for the Oval.
Shortcomings
England are showing their strength. When one team is as dominant as England were, it shows up the shortcomings of the opposition.
We had ideal bowlers for the conditions and they didn't bat well. James Anderson – ably backed up by Steve Finn and Stuart Broad - was fabulous on that first day and they couldn't cope.
The situation demanded a lot of skill and resolve, which Australia didn't have.
If you listen to our Australian commentators – and I'm working for Channel 9 also – you'll hear them admit that they don't have many outstanding batsmen.
They're racking their brains about who could come in and one name that crops up is Peter Handscomb.
Before every Ashes we hear how Australia are going to target England's captain so it really is wonderful to see England keeping Clarke quiet. England have got him in and they've got him out.
Obviously England will miss Anderson but they've got plenty of replacements; they could easily have brought Chris Rushworth or Jack Brooks into the squad.
But you've got to say that the selectors know what they want and in Liam Plunkett and Mark Footitt they've gone for height and pace.
If Wood's fit, he'll play; if he isn't I think they'll go for Plunkett as he's played before – even though he's only played two Championship matches this year. Will he have enough mileage in his legs?
Footitt was the leading wicket-taker in the country last year and he's got plenty this year but in the second division; if there's anything in the pitch, Rushworth is one of those blokes who will find it.
Winners
I had a week off between the second and third Tests and went along to Thirsk races with Jason and John from the Carlton Inn, at Carlton Husthwaite.
What a business John has – he makes supermarket trolleys worldwide! He repairs busted ones as well – I think he gets them out of the canal!
It was a fantastic day out – I put my racing jacket on and had a couple of winners.
There was a horse that we knew about running at Newmarket, so I texted Michael Holding and said 'we're coming raiding' from the north of England with a horse call 'Bing Bang Bong' – and it flew in!
Catch the fourth Ashes Test from Trent Bridge live on Sky Sports Ashes HD from 10am on Thursday. You can also watch the fourth Test with a NOW TV Sports Day Pass. Plus, our Ashes Events Centre - the best of Sky Cricket's analysis at your fingertips - is available on our iPad app.