Peter Fulton thrilled with maiden Test century for New Zealand in Auckland
Peter Fulton admitted scoring his maiden Test century against England's highly-rated attack was a "great feeling."
Last Updated: 22/03/13 9:20pm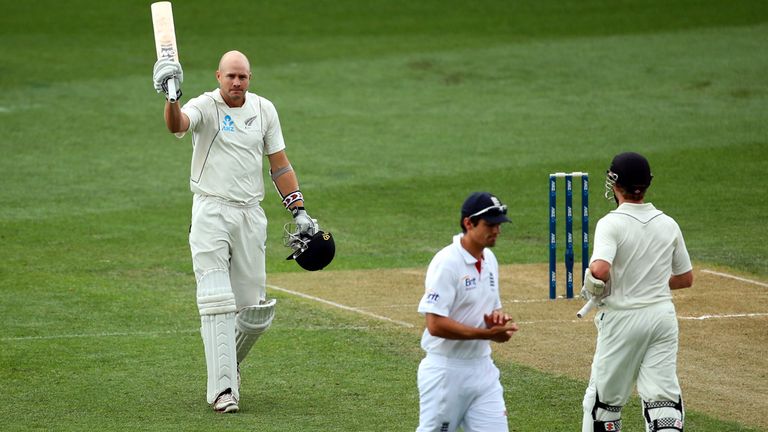 The New Zealand opener battled throughout the first day of the third and final Test in Auckland to finish on 124no as the hosts posted 250-1.
The Eden Park pitch offered little assistance to the bowlers but Fulton made full use of it.
Fulton made his Test debut in 2006 and played 10 Tests, with a highest score of 75 and an average of 20, before losing his place in New Zealand's revolving door for openers.
He won a recall for this series, four years after his last Test, and became only the second New Zealander, after Zin Harris in South Africa in 1962, to score a maiden century after turning 34.
"I've played a few Test matches now and haven't been able to get a century," Fulton said. "I guess if I'm being brutally honest at the start of this season I thought maybe my time had come and gone.
"So to get that Test 100 and cross that off the list is a great feeling."
Fulton, who at 6'6" is nicknamed 'Two-Metre Peter', admits it was hard work against England, despite the flat track.
"I think the thing about the England attack is that they just keep coming. Even when you get to 50 or 60 you're starting to feel pretty good and you think you're okay," he said.
"But they just keep coming and they didn't make it easy. But, I guess, that's what made it even more special."
Fulton was given the full verbal treatment from the Barmy Army when he was stuck on 99 for nine balls, though they joined the standing ovation when he worked Monty Panesar wide of mid-on for the single he needed.
"I did notice that, actually," Fulton said, when asked about the 'Barmy Army's' heckling. "I think it's just good to have them here, really.
"I think traditionally in New Zealand our crowds don't sort of make too much noise, so it was nice, I guess, to build a little bit of atmosphere for it."