Ben Stokes 'spiteful and angry' to doorman, Bristol court hears
By Press Association
Last Updated: 08/08/18 10:13am
England cricketer Ben Stokes was abusive to a doorman before mocking two gay men leaving a nightclub, a court heard on Tuesday.
The 27-year-old all-rounder is accused of affray in the Clifton triangle area of Bristol during the early hours of September 25 last year.
Doorman Andrew Cunningham, 37, told Bristol Crown Court that Stokes and team-mate Alex Hales attempted to gain entry to the Mbargo nightclub after it closed at 2am.
They had been in there earlier with other members of the England cricket team, who had played the Windies in a one-day international in Bristol the previous day.
Mr Cunningham, who has four gold front teeth and is heavily tattooed, said Stokes began to abuse him after he refused to allow them inside.
"The ginger one offered me £60 and asked me if that would get them in," he told the jury of six men and six women.
"He had a conversation with his friend and he said '£300 get us in' and I still told them no. I told them I would not have a job to go back to in the morning.
"He got a bit verbally abusive towards myself. He mentioned my gold teeth and he said I looked like a **** and I replied, 'Thank you very much'.
"I said they could call me what they liked - it still wouldn't change the fact they weren't getting in. They could swear, shout - I wouldn't rise to it.
"He mentioned my tattoos and how s*** they were. He just looked at me and told me my tattoos were s*** and to look at my job, which he obviously wasn't happy about for keeping him out."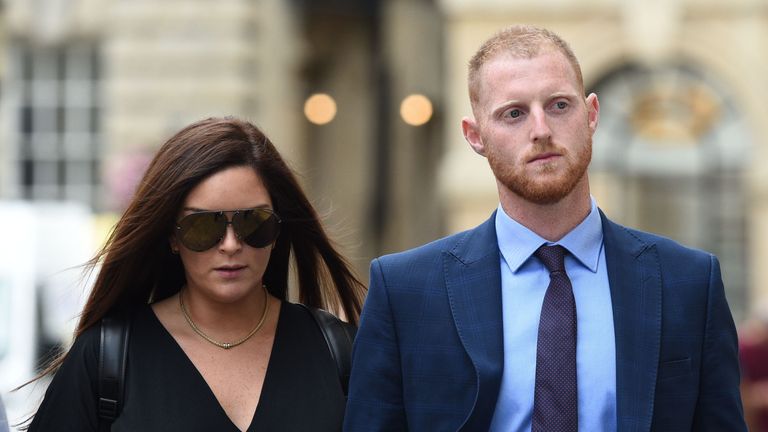 When asked what sort of tone Stokes was addressing him in, Mr Cunningham replied: "Quite a spiteful tone, quite an angry tone."
Mr Cunningham said two gay men he knew, William O'Connor and Kai Barry, then emerged from the nightclub and began talking to each other.
He described Mr O'Connor and Mr Barry as "extravagant" and said they acted in a "flamboyant" manner.
Mr Cunningham said he did not step in until Stokes flicked a cigarette butt at the men.
Latest on Stokes' trial on Sky News
The doorman said Hales asked what had happened and, after being told, said to his team-mate: "Stokesy - don't do that."
Mr Cunningham said two men - Ryan Ali and Ryan Hale, who are standing trial accused of affray with Stokes - left Mbargo and walked off with Mr O'Connor and Mr Barry.
He claimed that Stokes became annoyed after he refused to shake his hand, then walked off with Hales.
Prosecutors allege that trouble flared after Stokes and Hales caught up with Mr Ali, Mr Hale, Mr O'Connor and Mr Barry on a nearby street.
The cricketer is accused of knocking both Mr Hale and Mr Ali out during the fracas. Stokes, Mr Ali and Mr Hale each deny a joint charge of affray.