'Jimmy Anderson's a swing bowling master who deserves to pass my Test best'
Congratulations Jimmy - you're almost there!
Last Updated: 28/08/14 9:01am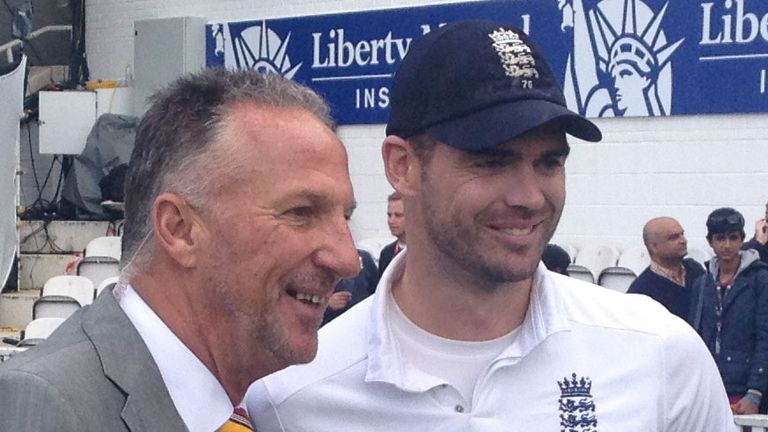 Sir Ian Botham says he can't think of anyone better to surpass him as England's leading Test wicket-taker than James Anderson.
Seamer Anderson bagged 25 wickets in England's 3-1 series victory over India to take his career Test haul to 380, three short of Botham's 383 in 102 matches.
But with England not playing Test cricket again until April's series in the West Indies – the start of an intense period of Test cricket against New Zealand, Australia, Pakistan and South Africa - Anderson will have to wait for his chance to eclipse the legendary all-rounder in what will be his 100th Test.
"I'm looking forward to it – it will be a great moment – and I can't think of anyone better to go past me because people don't realise the amount of hard work that goes in to bowl as he does," said Sky Sports expert Botham.
"Anderson has been the leader of the attack now for the best part of four or five years, so congratulations Jimmy – you're almost there – and we'll enjoy that moment when it comes.
"There is a lot of tough cricket coming but I think you want to be in the mix – you want to be in the hottest place in the kitchen – and Jimmy will want to be leading that attack for a while yet.
Mastered
"I've enjoyed his bowling over the years. I was horrified when they started to try to change his action all of those years ago; he just wasn't the same man. He wasn't enjoying his cricket. He went back to bowling as Jimmy Anderson does.
"He's terrific – he's mastered the skills as you saw in the way he set up Murali Vijay at the Oval by moving the ball away and then bringing one back in.
"It was terrific swing bowling. It's great to watch, it's great entertainment and it's an art – it really is. He's worked hard to be that good.
"He started this summer very slowly but all bowlers have days when it doesn't go right. Since Lord's, England's senior players have stood up and their two senior bowlers, Anderson and Stuart Broad, have operated in tandem as we expect them to and they've just blown India away. They've blown them away with greater ease, it seems, game by game."
Bob Willis, Ravi Shastri and Mark Butcher will assess England's series victory in the Summer Verdict at 6pm on Monday on Sky Sports 2.