100 Greatest Cricketers: Sir Ian Botham included in players 20-11
Kumar Sangakkara, Brian Lara and Muttiah Muralitharan picked...
Last Updated: 30/11/16 8:38am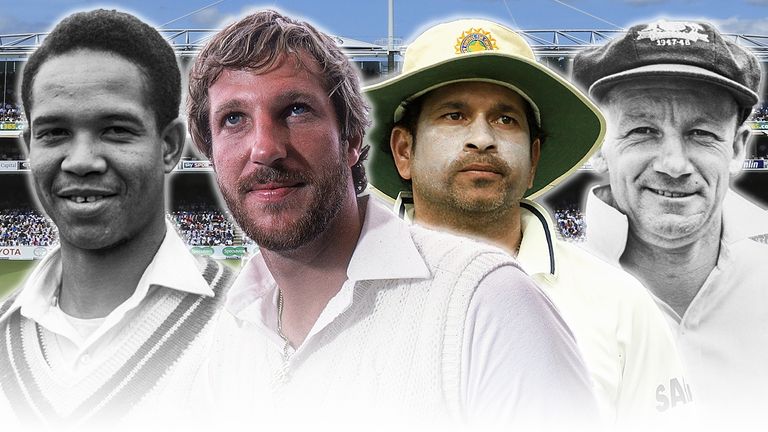 Who are the 100 greatest cricketers of all time? And for that matter, who is the greatest? Sky Sports cricket statistician Benedict Bermange tries to answer those questions by picking his top 100 over the coming weeks... Do you agree? Tweet us @SkyCricket.
Each week I will release a new 10 names on my list of the 100 greatest cricketers, until ultimately revealing my No 1 cricketer on Christmas week.
My countdown continues here with numbers 20-11...
20) Kumar Sangakkara
Even discounting the fact that he kept wicket for a vast proportion of his international career, as a batsman alone he would be justified in dining at the very highest table. And how many current players have been invited to give MCC's Spirit of Cricket Lecture in the hallowed surroundings of the Long Room at Lord's?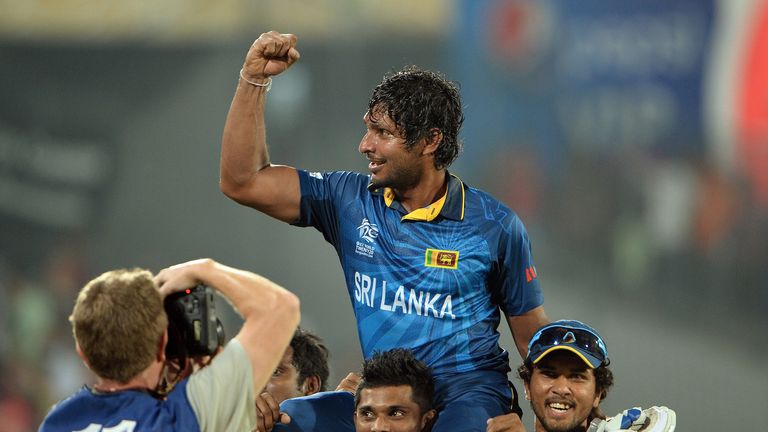 He is one of cricket's most endearing personalities both on and off the field with multiple talents which extend further than mere run-making.
His legacy extends further than any of his magical cover drives which always seemed to bisect the fielders. He could have been a lawyer, but he used his wordsmith skills to get under the skin of opposition batsmen from behind the stumps. Only he could 'sledge' South African captain Shaun Pollock quite so eloquently.
In a career of great moments, his unbeaten half-century to win the ICC World Twenty20 in 2014 after his team had suffered so many near misses was probably the crowning glory. There was also that 624-run partnership with his partner-in-crime Mahela Jayawardena and his 319 and 105 in a match against Bangladesh at Chittagong.
Current captain Angelo Mathews described him as "easily the most consistent batsman I've ever seen" and who would argue? At least we can continue to watch him ply his trade for Surrey.
19) Denis Compton
The Second World War had been won, but the mood was still overcast. This was the time of rationing and constant reminders of the madness left the English pessimistic. Out of this backdrop was launched Denis Compton - the kind of player everyone wanted to be.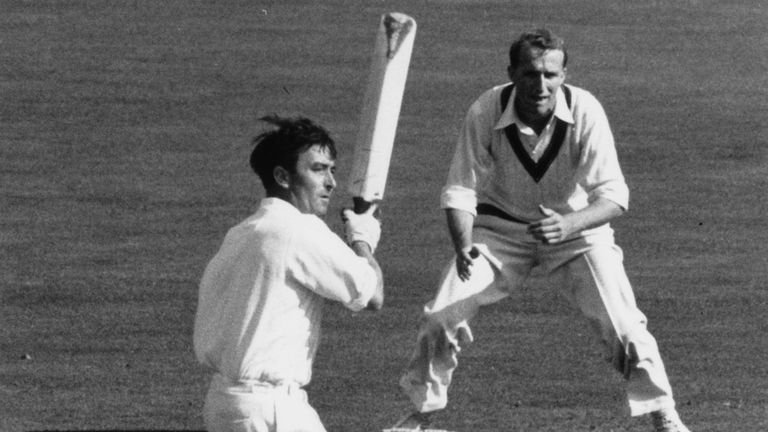 He was just 21 years old when the war put a premature end to his bright start but he emerged as a dashing, debonair hero of the nation in the years to follow. It was as if he had been sent to give joy to a morose nation in need of a shining light. He was possibly the first 'film star' cricketer with looks to match his talent on the field. And not just the cricket field as he and his brother Leslie played football for Arsenal and were good enough to win the 1950 FA Cup together.
His summer of 1947 will never be repeated. Runs flowed like never before to the tune of 3,806 in all first-class cricket with 18 centuries. Frequently he forgot to bring his kit to matches and had to borrow some from a team-mate - that just added to the allure.
Whereas in 2002 the world awaited for David Beckham's broken metatarsal to heal, for Compton there was always the spectre of his knee. First injured in a collision with Charlton's goalkeeper Sid Hobbins in 1938, he had numerous operations which finally meant the removal of the kneecap.
His duels with Ray Lindwall and Keith Miller entered cricket legend as did his dubious running between the wickets, which culminated in his running out of brother Leslie in his benefit match.
He could bowl too - taking 622 first-class wickets with his left-arm Chinaman bowling. But he will be remembered as a trend-setter, sealing a famous contract with brylcreem long before it was fashionable to endorse products.
18) Sunil Gavaskar
The first player to reach 10,000 Test runs and the man who overtook Don Bradman's record of 29 Test hundreds was a diminutive man. He had an impeccable defence but was also more than capable of playing his strokes, and his record against the all-conquering West Indian sides of the 1970s and 1980s made him one of the greatest batsmen to have played the game.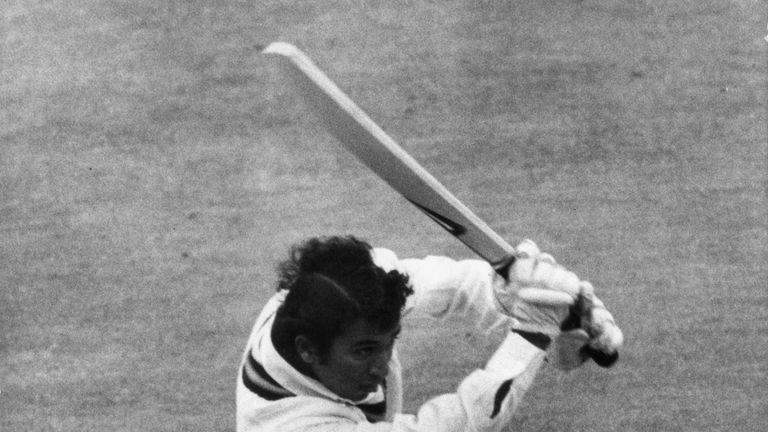 No player has had a more extraordinary first series in Test cricket. Starting his career in early 1971 against the West Indies, by the time the four matches had been completed he had accumulated 774 runs at an average of 154.80, culminating in 124 and 220 in the final Test at Trinidad.
All of a sudden, India had a player who could play fast bowling. Their earlier heroes were masters of the turning ball but struggled once confronted with much more than medium pace. And what a time it was for fast bowlers - Dennis Lillee, Jeff Thomson, Rodney Hogg, Bob Willis, Ian Botham, Richard Hadlee and Imran Khan all plied their trade, not to mention any number of terrifying pacemen from the Caribbean.
Gavaskar had the nation's hopes on his shoulders for the majority of his career. His was the wicket the opposition valued the most and if he were to bat all day and remain not out at the close, India still had hope, no matter how many runs he had scored. His 221 at The Oval in 1979 nearly brought a famous triumph and his final innings 96 on a minefield at Bengaluru was as much of a masterpiece as anyone who saw it had ever seen.
17) Adam Gilchrist
Before Adam Gilchrist came along, wicketkeepers were supposed to bat around seven or eight in the order and were traditionally pugnacious types who fought it out. Gilchrist changed not only that view but changed the view of wicketkeepers ever since.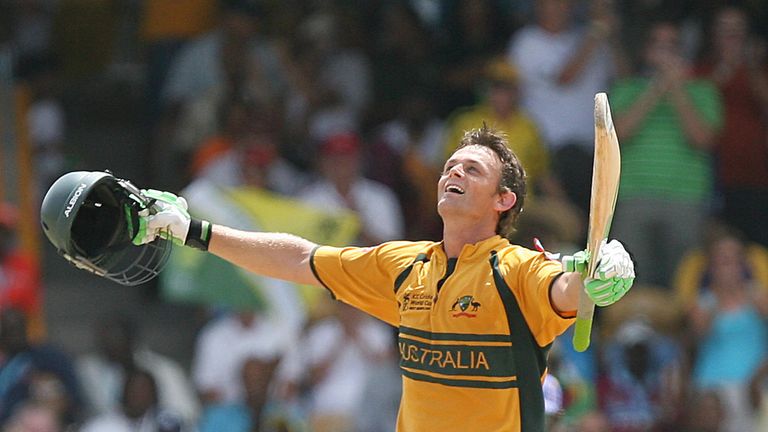 There were murmurs of discontent when he replaced a legend in Ian Healy behind the stumps for Australia in Test cricket, but these were soon forgotten once he had hit 81 on debut and then a thrilling, match-winning unbeaten 149 against Pakistan at Hobart in his next match to seal an improbable victory.
It wasn't just the runs he scored but the way he scored them. Equally adept opening the innings in ODI cricket or at his familiar No 7 spot for the Test side, no-one had scored as many runs as quickly as he did. He became the first batsman to hit 100 sixes in Test cricket as well as winning three World Cups with Australia. In the 2007 final against Sri Lanka at Barbados he smashed 149 from just 104 deliveries - the highest individual score in a World Cup final.
Above all of this he came across as a likeable, accessible hero - the country boy-made-good. He 'walked' when given not out in a World Cup semi-final and always seemed to play with a smile on his face. Before Gilchrist, a batting keeper was a luxury - after him it became a necessity. He changed the complexion of wicketkeeping - especially in Test cricket - forever.
16) Wally Hammond
Had he never picked up a bat he would have been considered a pretty useful cricketer. With 732 first-class wickets at 30 apiece and best bowling figures of 9-23, he was a more than useful third seamer. He was peerless in the slips and ended with more than 800 catches - and then there was his batting.
Over the course of a 30-year career he took over the mantle as England's premier batsman from Jack Hobbs and throughout the 1930s was the only real answer to the Bradman threat. He was the first batsman to reach 6,000 and then 7,000 Test runs and his eventually aggregate remained a record until Colin Cowdrey broke it more than 20 years later. He also set a Test record with an unbeaten innings of 336 against New Zealand at Auckland in 1933.
His battles with Bradman remain the stuff of legend with the England ace drawing first blood by scoring 905 runs in the 1928/29 Ashes series in Australia. The two legends opposed each other in 31 Tests with Hammond captaining England - albeit unsuccessfully in two Ashes series.
In domestic cricket he was peerless, topping the domestic averages for eight successive summers - a record which still stands. His cover drive is still perhaps the most famous stroke in the game's history and uniquely captained both Players and Gentlemen in the annual fixture at Lord's. As his obituary in Wisden summed him up: "He was, unchallengeably, one of the cricketing immortals."
15) Keith Miller
Austerity was the way of life after the Second World War and perhaps unsurprisingly for someone who had served in it with such distinction, Keith Miller flew in the face of such adversity. Michael Parkinson asked him many years later about pressure in cricket to which he responded with his famous quote: "Pressure is a Messerschmitt up your a***, playing cricket is not."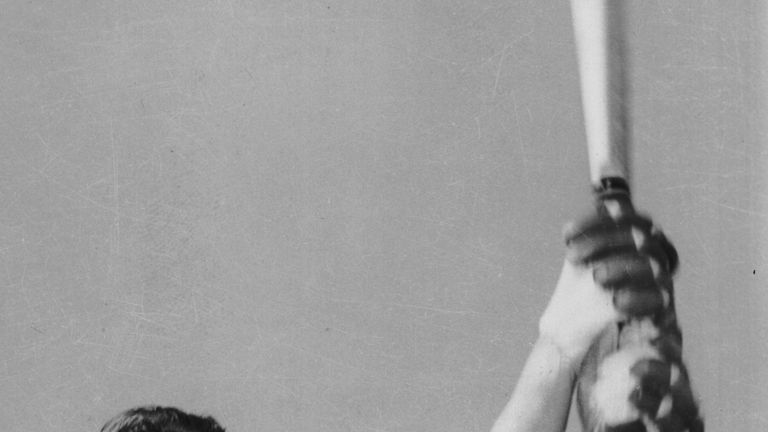 He was a classical batsman with elegant drives and effortless pulls. With the ball he possessed a high action and could move the ball both ways. His cricketing talent was discovered by his high school geometry teacher Bill Woodfull - himself a former Ashes-winning captain. Soon he was making his first-class debut - hitting 181 - but soon afterwards war broke out and Miller became a fighter pilot, flying Mosquitos.
He played a crucial role on the 1948 'invincibles' tour of England and carried on throughout the early 1950s performing great feats with both bat and ball. Frequently batting as high as No 3, he scored three Ashes centuries and four against the West Indies.
Even more than his feats on the field were the tales off it. There is the tale of Bradman answering a knock on the door late one night to see Miller dressed in a dinner suit, informing that he had been in bed at curfew as demanded and was going out now that the rules had been met.
Similarly he once arrived to captain for New South Wales still wearing his tux from the previous evening. He then proceeded to set the field with a single command: "Scatter." He then took seven wickets to bowl South Australia out for 27.
14) Ian Botham
England's greatest all-rounder who at his peak hit heights that very few cricketers have ever done. He won five Ashes series - a modern-day record - sometimes off his own back. When England cried out for a hero Botham stepped into the breech, frequently setting grounds alight and emptying bars with both bat and ball.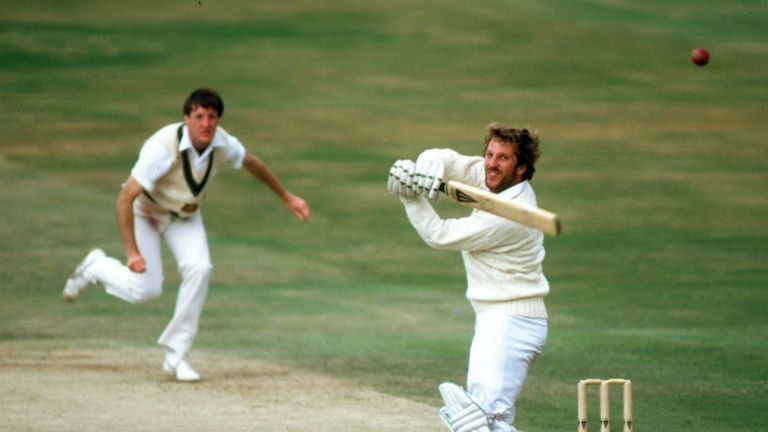 His early career was breathtaking. He took just 21 matches to achieve the 1000-run/ 100-wicket double in Test cricket, which is still a record, and after 25 Tests his batting average stood at 40.48 and his bowling average 18.52.  Despite slowing down later in his career he remains the record-holder in terms of matches taken to reach both the 2000-run/ 200-wicket and 3000-run/ 300-wicket double.
With the bat he struck 14 Test centuries and to put that into perspective the combined talents of Messrs Imran, Kapil Dev and Hadlee hit 16 between them. He also took 27 five-wicket hauls which remains a record for England, despite James Anderson having surpassed his then-national record of 383 Test wickets.
If he was already world class, the much-chronicled 1981 Ashes series elevated him to superstardom. He almost single-handedly won three Tests in that series which raised him to tabloid hero status and everything that comes with that.
He was never quite the same again as his back gave way and he ended his career a pale shadow of the man who had set the cricketing world alight a decade earlier. Nonetheless, 25 years after his last Test he remains the biggest name in English cricket.
13) Wasim Akram
A unique talent whose whippy left-arm action caused havoc among opposition batsmen throughout the 1990s, Wasim Akram was far more than that. He is the only left-arm fast bowler to take 400 Test wickets and became the first bowler to take 500 wickets in ODI cricket during the 2003 World Cup.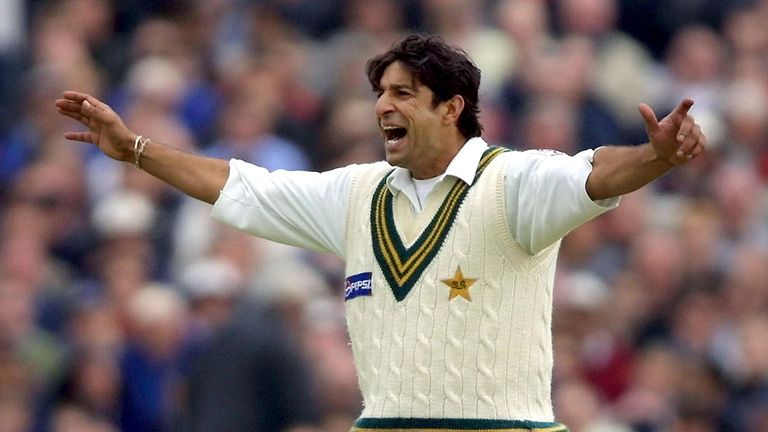 He debuted when fast bowling was more about intimidation than actually trying to bowl the opposition batsmen out. A generation of batsmen had bobbed, swayed and ducked out of the way of the red missile homing in on their bodies. Akram changed all that by bowling quickly and accurately at the stumps, and more often than not - hitting them or the poor unsuspecting batsman's legs which just so happened to be in the way.
He had a great role model in Imran Khan and he also learned tricks from some of the greats along the way as well as honing his skills for Lancashire in the English domestic game. It created the complete fast bowler who could bowl anything and everything, including the key left-arm skill of bringing the ball back into the batsman.
His two deliveries to Allan Lamb and Chris Lewis swung the 1992 World Cup final decisively in Pakistan's direction and were as perfect a piece of bowling as could ever be seen.
He was a natural ball-striker too but under-achieved in that facet of the game, averaging a mere 22.64 over the course of his Test career. There were a few highlights though - an unbeaten 257 at No 8 against Zimbabwe and a crucial unbeaten 45 which shepherded his side to a Test victory at Lords in 1992. Nevertheless he remains the greatest left-arm fast bowler of all-time and arguably Pakistan's greatest-ever player.
12) Brian Lara
If one thing can be said about Brian Lara it is that his appetite for runs was unmatched throughout his career. He not only broke Garry Sobers' long-standing Test record score of 365, but - having lost it to Matthew Hayden - regained it several months later with an unbeaten innings of 400 against England at Antigua.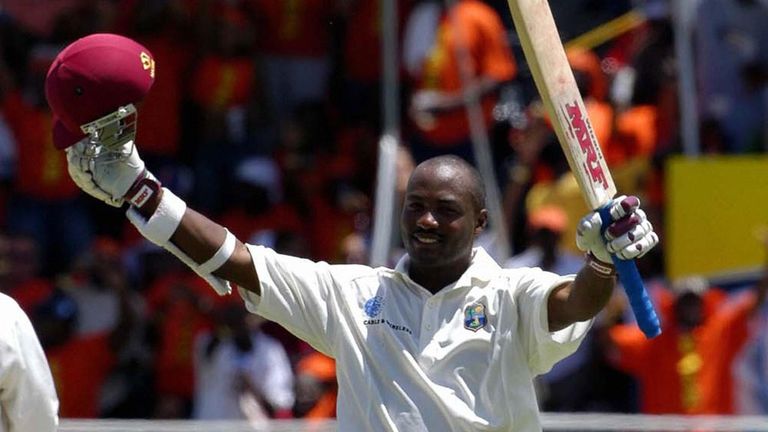 And there was his unbeaten 501 - surely the ticket to a jeans sponsorship - against Durham when playing for Warwickshire in the 1994 county season - which remains a record in all first-class cricket. That innings was the culmination of an incredible run of scoring in which he became the first batsman to score seven centuries in eight innings.
He had burst on the scene with an innings of 277 against Australia at Sydney in 1993 but for all his tall-scoring, possibly his finest innings was an unbeaten 153 against Australia at Barbados in March 1999 which helped the home side to a one-wicket victory.
Unlike his predecessors in the West Indian middle-order he was not blessed with a world-beating team around him. Subsequently, only Bradman and Headley scored more than Lara's 18.95 per cent of all of their team's runs when they were in the team. Lara even managed to score 351 runs in a match (221 & 130) which was lost by his side.
Despite the paucity of the West Indian side of the 1990s there is no denying the fact that he was the biggest box-office draw in cricket throughout that decade.
11) Muttiah Muralitharan
Few cricketers have polarised opinion quite as much as Muttiah Muralitharan. Never mind the fact that he retired as the leading wicket-taker in both Test and ODI cricket, the man known universally as 'Murali' had to face constant scrutiny over his action. However, once it had been cleared, he evolved into a prolific wicket-taker like no other in the game's history.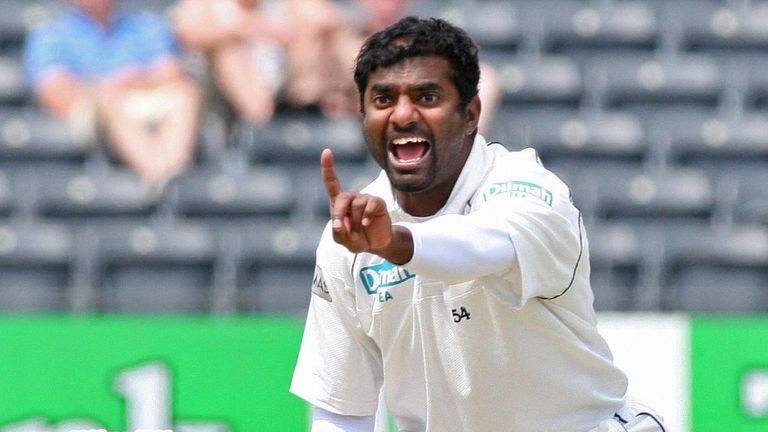 He started relatively slowly and there was no hint of the world records to follow. However, a combination of flexible wrists, deformed elbow and fast shoulder rotation soon made him unplayable - especially in helpful conditions to spin bowling.
Once he mastered the 'doosra' he became a true master, able to run through any side on any surface. His 16 wickets at The Oval in 1998 made a mockery of the fact that Sri Lanka were only afforded one end-of-season Test in England and matters were put right immediately.
He ended his Test career - fittingly - with a wicket from his final delivery making him the only player to take 800 wickets in that form of the game. Similarly, his 67 five-wicket and 22 10-wicket hauls are records which are unlikely to ever be broken. He and Jim Laker are the only bowlers to have taken at least nine wickets in a Test innings on more than one occasion.
It was due to exhaustive analysis of his bowling action that the 15 degree of tolerance rule was brought in when analysing bowling actions thereby changing the face of the world bowling scene forever.
30-21: Geoff Boycott (30), KS Ranjitsinhji (29), Frank Worrell (28), Herbert Sutcliffe (27), Kapil Dev (26), George Headley (25), Wilfred Rhodes (24), Len Hutton (23), Glenn McGrath (22), Richard Hadlee (21).
40-31: Frank Woolley (40), Javed Miandad (39), Alec Bedser (38), Fred Trueman (37), Victor Trumper (36), Dennis Lillee (35), Malcolm Marshall (34), Ricky Ponting (33), Waqar Younis (32), Allan Border (31).
50-41: Everton Weekes (50), George Lohmann (49), Dale Steyn (48), Graham Gooch (47), Fred Spofforth (46), Peter May (45), Virender Sehwag (44), Clarrie Grimmett (43), Hedley Verity (42), Graeme Pollock (41).
60-51: Alfred Mynn (60), Greg Chappell (59), Clyde Walcott (58), Brian Statham (57), 'Tich' Freeman (56), CB Fry (55), Alfred Shaw (54), Zaheer Abbas (53), Richie Benaud (52), George Hirst (51).
70-61: Steve Waugh (70), Ken Barrington (69), Gilbert Jessop (68), Neil Harvey (67), Barry Richards (66), Clive Lloyd (65), Colin Blythe (64), Mike Procter (63), Aubrey Faulkner (62), Les Ames (61).
80-71: Curtly Ambrose (80), Alan Davidson (79), Michael Holding (78), Bill O'Reilly (77), Shaun Pollock (76), Johnny Briggs (75), Vinoo Mankad (74), Jim Laker (73), Ray Lindwall (72), Tom Richardson (71).
90-81: Chris Gayle (90), Bill Ponsford (89), Alan Knott (88), Rahul Dravid (87), Derek Underwood (86), Monty Noble (85), Hanif Mohammad (84), Learie Constantine (83), Allan Donald (82), Anil Kumble (81).
100-91: Tom Goddard (100), Jack Hearne (99), Phil Mead (98), AB de Villiers (97), Charlie Parker (96), Vijay Merchant (95), Patsy Hendren (94), Charlie "The Terror" Turner (93), Maurice Tate (92), Warwick Armstrong (91).
50 who missed the cut: From Alastair Cook to Courtney Walsh; the 50 cricketers who just missed out on the top 100.