Day two recap
We look back on the best of the action, reaction, opinion and analysis from day two of the opening Ashes Test at Trent Bridge
Last Updated: 12/07/13 9:23am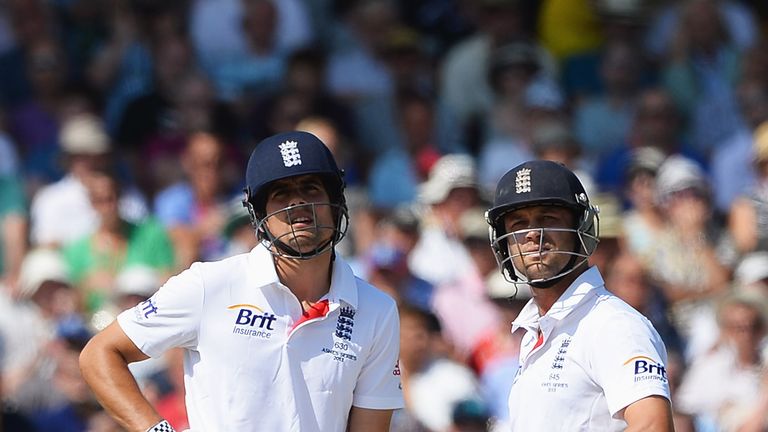 Ashton Agar, a 19-year-old spinner, had a debut to remember as he re-wrote countless records with an incredible innings of 98 to bring the tourists back from the brink of disaster.
With the hectic match continuing at pace, we bring you the best of the action, reaction and opinion.
Finely poised
A glut of wickets at the start of the morning session left Australia teetering on 117-9. As debutant Ashton Agar came to the crease not many believed that the tourists would be able to avoid a significant fist-innings deficit, but a record-breaking knock from Agar and some solid batting from Phil Hughes left Australia 65 runs ahead at the end of their innings. England then lost two early wickets - one in controversial circumstances - but recovered to lead by 15 at the end of the day.
Record breaker
Not only was Agar totally unfazed by England's finest bowlers, he also took the end-of-day media commitments completely in his stride. The 19-year-old had no hesitation in labelling his innings at Trent Bridge as "probably the best day so far in my life". He also did not seem too downhearted at falling two runs short of a century, adding: "In all honesty I didn't really think I'd come out and make 98, so to have that happen on my first day is fantastic."
England resistance
Agar's historic knock gave Australia an unexpected first-innings lead, and England's problems were exacerbated when Joe Root and Jonathan Trott both fell early on when England came back out to bat. However, an unbroken stand of 69 between skipper Alastair Cook and Kevin Pietersen gave the hosts hope at the end of the day. James Anderson, who completed figures of 5-85 earlier on, said: "The two guys at the end fought really hard to get us through the night."
Best of the day
No prizes for guessing who walked away with our player of the day honours on Thursday. Agar stunned everybody with his amazing innings. The amount of records he managed to break was staggering and gave Australia the upper hand in the afternoon session. But there were plenty of other highlights on day two, including umpiring controversies, an improvement in the weather and a farewell to an Aussie legend.
Not your typical No 11
Agar's swashbuckling innings made a big impression on Sky Sports expert Michael Atherton. The 19-year-old has been touted as an all-rounder, but Australia opted to put him in last in his first Test innings. "England won't have seen Agar before this Test," Atherton said. "And they didn't know he was playing on the morning of the game - so they won't have had any chance to do any pre-planning against him at all, has shown that he's a serious young all-rounder. He's no No 11."
Mikey's video blog
Sky Sports' Michael Holding has been a fascinated observer over the first two days of action. The former West Indies paceman believes that the match is still hanging in the balance heading into day three. "We have had two days of very, very interesting cricket," he said. "At different times, different teams have been on top. Sometimes supporters of each team would have thought, 'we are home, we are in control of this Test'. But that's Test match cricket, it ebbs and flows."
Review controversy
Although the Ashes has commenced with two good, full days of cricket, the action has not been without controversy. Jonathan Trott was given out for a debatable first-ball duck after Agar was given a reprieve earlier in the day when many thought he was short of his ground on a stumping attempt from Matt Prior. Sky Sports' Nasser Hussain suspects the hosts will be less than satisfied with the decisions. "England will be very cross with the Agar decision," Nasser said. "I know Matt Prior is absolutely spewing over it."
As it happened
You can relive all the best action from the second day by reading our interactive commentary from Trent Bridge. You can also view a gallery of the day's best images here.