Ricky Ponting having huge influence on Jason Roy, says Mark Butcher
"Ponting looks to have an idea on how to get the best out of Roy, because he's played with him at Surrey, knows his makeup"
Last Updated: 20/04/18 2:43pm
Mark Butcher says Jason Roy's match-winning innings for the Delhi Daredevils in the IPL shows a new level of maturity in his batting, benefiting greatly from the influence of Ricky Ponting as head coach.
Roy struck an unbeaten 91 off 53 balls to see Delhi successfully chase down Mumbai Indians' target of 195 and earn a first win of the tournament on Saturday, but was seen getting a talking to from Pointing midway through his blistering effort.
Butcher believes the demands placed on Roy by the former Australian captain - an ex-team-mate of Roy's at Surrey - is exactly what the England white-ball opener needs.
"It was such a class innings," Butcher told Sky Sports Cricket. "Particularly because he was there at the very end, something he has been criticised for not doing before.
"He played brilliantly, absolutely superbly. The way he closed the game out, the maturity he showed going through the gears, were all great signs.
"It looks like Ponting has had a real influence on him. The rocket he gave him during the first team timeout was extraordinary to see, for a guy playing as well as he was. It was almost like he'd played awfully, the way Ricky was on him.
"Quite often, with these different coaches around the world, there isn't that relationship - the coaches and the players are always trying to feel each other out, find out what makes them tick.
"Ponting, in this case, looks to have an idea on how to get the best out of Roy, because he's played with him at Surrey, knows his makeup - he stays on top of him, he doesn't allow him to think too much for himself.
"He's in there, saying, 'Come on, you're a fantastic player, but I'm not going to let you slip here. I'm going to stay in your head and make sure you're focused on the job. Don't you give this away now'.
"That was sensational, and Roy responded brilliantly to that."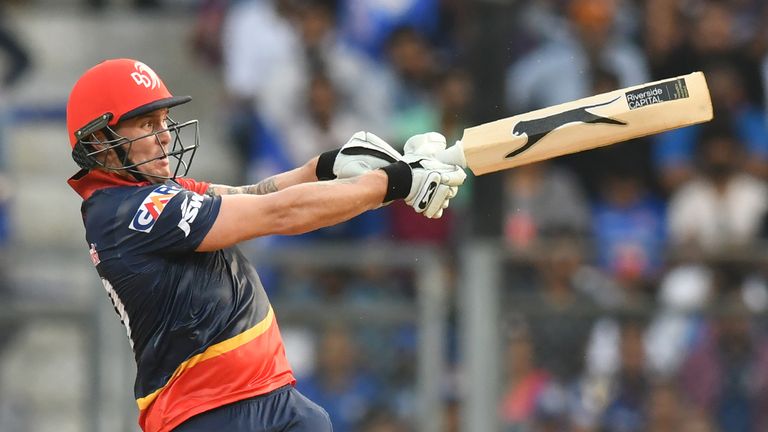 While England's fortunes, with Roy, in the white-ball formats have improved radically since their group-stage exit at the 2015 Cricket World Cup, the Test team has struggled, particularly away from home.
Following a winless winter in Australia and New Zealand, with batting spots up for grabs, could Roy still yet find a spot in the international side in the longest format?
"I know it's an ambition of his," Butcher added. "He doesn't see it as being out of the question. He doesn't think of himself as just a white-ball player.
"He has talent to burn, that is for sure. But, we all know that talent isn't the only factor that gives you a long career in the hardest form of the game.
"In terms of his preparation, if he continues to learn from people like Ponting, is a little bit more disciplined with his approach, I don't see why not.
"Kevin Pietersen would be the guy that he could look to, how you can be successful. He was one of the most aggressive players ever to play for England.
"Roy can be the same. The question is can he be as disciplined and single-minded as KP in how he goes about getting himself in the Test side in the first place, and then stay there."
Watch Jason Roy next in action for the Delhi Daredevils against Kolkata Knight Riders on Monday, at 3pm on Sky Sports Cricket.