Peter Sagan disqualified from Tour de France after Mark Cavendish crash
By Allan Valente
Last Updated: 05/07/17 12:12pm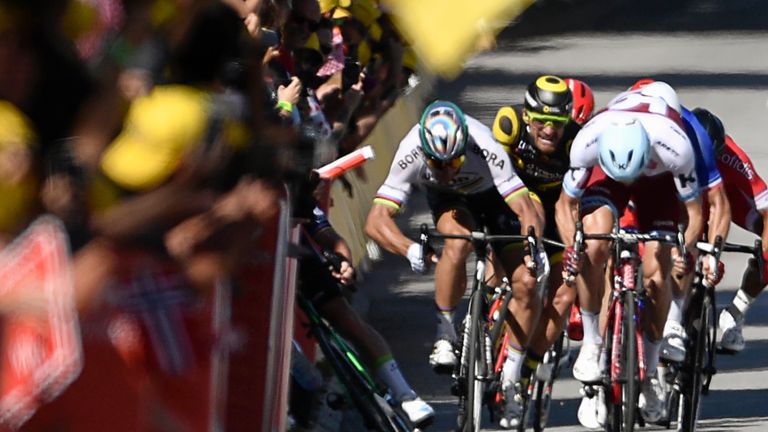 Peter Sagan has been disqualified from the Tour de France for causing the crash which may have ended Mark Cavendish's race.
Sagan was initially docked 30 seconds after nudging Cavendish into the barriers in the final metres of stage four on Tuesday, which was won by Frenchman Arnaud Demare in Vittel.
Dimension Data sprinter Cavendish fell and was taken to hospital with his right arm in a sling, with the incident causing other riders to fall behind him.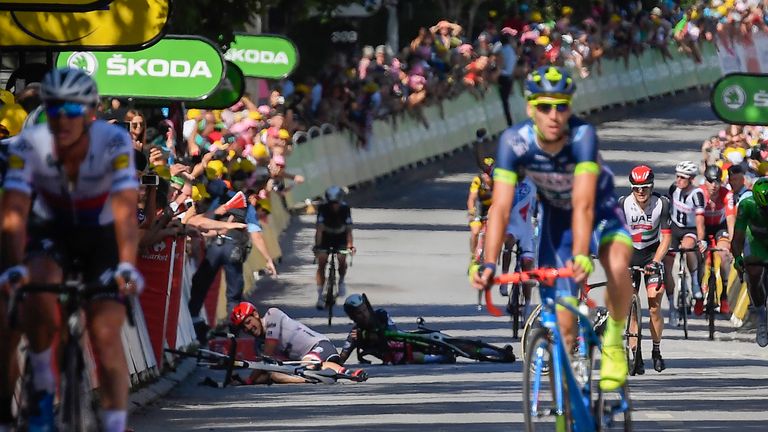 The race jury examined the collision again and announced that the Slovakian's participation - and his bid to win a record-equalling sixth straight green jersey - is over.
"We've decided to disqualify Peter Sagan from the Tour de France 2017 as he endangered some of his colleagues seriously in the final metres of the sprint which happened in Vittel," said the president of the race commission Philippe Marien.
Cavendish did finish the stage after he received medical attention but injured a finger and his shoulder.
"I get on with Peter well but I don't get it. If he came across it's one thing, but the elbow?" Cavendish said before going to hospital. "I'm not a fan of him putting his elbow in like that. I get on with Peter, a crash is a crash, but I'd just like to know about the elbow."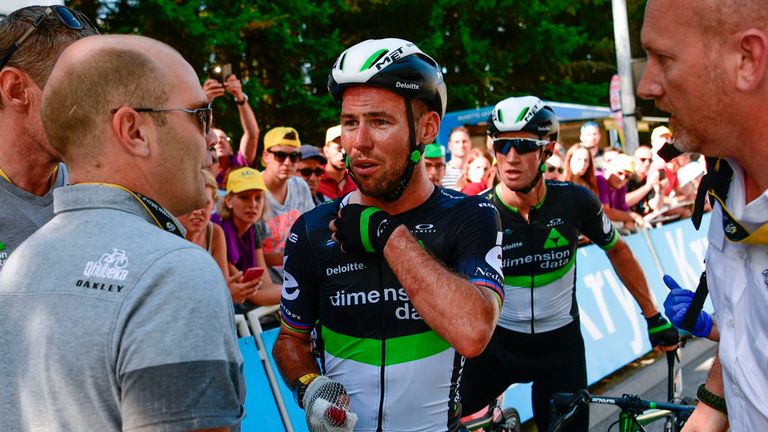 Cavendish admitted he was "not optimistic" and gave a grim prognosis for his chances of continuing, saying he had injured the shoulder he separated in the crash that ended his 2014 Tour on the opening stage in Harrogate.
"Injury-wise I'm going to go and get it checked out. I definitely need stitches in this finger, it's bleeding a lot," he said.
"And the shoulder, there's something to do with that previous shoulder that I did in Harrogate - it's just sat backwards. I don't know if I've snapped the fake ligament or what - I'm going to go and get it looked at.
"I'm not a doctor, I don't know what, but I'm not optimistic anyway."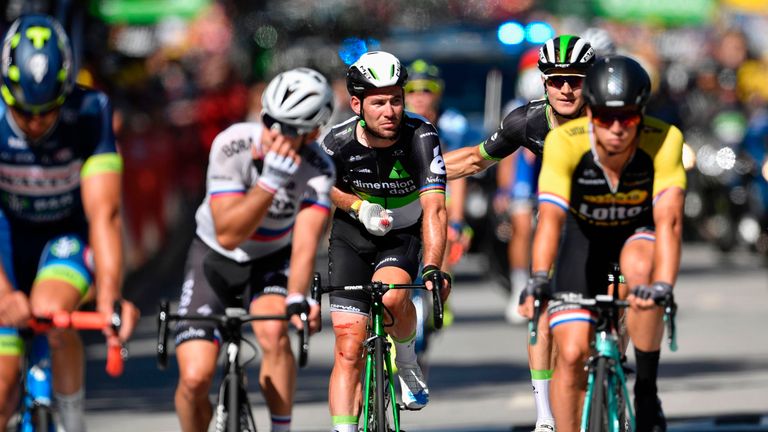 Sagan visited the Dimension Data bus after the finish to check on Cavendish and was keen to apologise for the crash and defend himself over the incident.
"Mark was coming pretty fast from the back. I tried but didn't have time to react to go left. He came to me and I had to defend," he said.
When asked if he had apologised, he added: "For sure, because it's not nice to crash like that."