Garmin-Barracuda-Sharp unveil youthful squad for 2013 season
Garmin-Sharp-Barracuda are aiming to "fortify the future of cycling" after unveiling their youngest ever squad.
Last Updated: 03/01/13 10:01am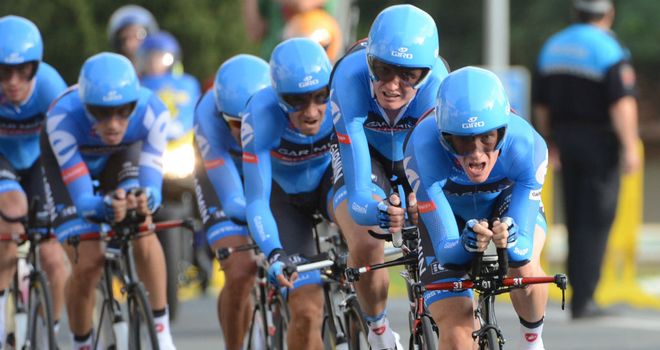 The United States-based team will begin the new campaign with an average age of just over 28 and no fewer than 10 of their 29 riders aged 24 or under.
Four of those are new additions - Rohan Dennis, Caleb Fairly, Lachlan Morton and Steele Von Hoff - while Andrew Talanksy and Dan Martin will be given the opportunity to build on promising stage race results from the past couple of seasons.
Jonathan Vaughters, chief executive of Slipstream Sports, which runs the team, said: "Our roster has an outstanding mix of new and returning riders, but with a focus on the next generation of riders.
"Slipstream's roots are in developing young talent and with additions like Rohan Dennis, Lachlan Morton and the return of Caleb Fairly, we are poised to continue that tradition and fortify the future of cycling."
Garmin-Sharp-Barracuda claimed their first Grand Tour triumph in 2012 with Ryder Hesjedal's surprise win in the Giro d'Italia and are hoping to build on that breakthrough in 2013.
Dennis joins after winning the 2012 Under-23 Australian road race and time trial titles, while compatriots Morton and Von Hoff and American Fairly are all graduates of Slipstream's development squad.
Former Tour of Flanders winner Nick Nuyens has also been brought in to add experience and bolster the team's spring Classics challenge.
Vaughters added: "We had our strongest season in the history of the team in 2012, with our first Grand Tour win at the Giro, and we will be looking to build on that success in 2013."
Garmin-Sharp-Barracuda will start the season with just 26 eligible riders as Tom Danielson, Christian Vande Velde and David Zabriskie serve out the remainder of six-month bans imposed after they admitted to doping during their time with Lance Armstrong's US Postal Service team. They will all return on March 1.
Garmin-Sharp-Barracuda's 2013 roster: Jack Bauer, 27, Tom Danielson, 34, Thomas Dekker, 28, Rohan Dennis, 22, Caleb Fairly, 24, Tyler Farrar, 28, Koldo Fernandez de Larrea, 31, Nathan Haas, 23, Ryder Hesjedal, 32, Alex Howes, 24, Robbie Hunter, 35, Andreas Klier, 36, Michel Kreder, 25, Raymond Kreder, 23, Martijn Maaskant, 29, Dan Martin, 26, David Millar, 35, Lachlan Morton, 20, Ramunas Navardauskas, 24, Nick Nuyens, 32, Jacob Rathe, 21, Sebastien Rosseler, 31, Peter Stetina, 25, Andrew Talansky, 24, Christian Vande Velde, 36, Johan Vansummeren, 31, Steele Von Hoff, 24, Fabian Wegmann, 32, David Zabriskie, 33.