It still feels surreal that I will make my Tour de France debut in Yorkshire tomorrow
Last Updated: 19/09/14 3:37pm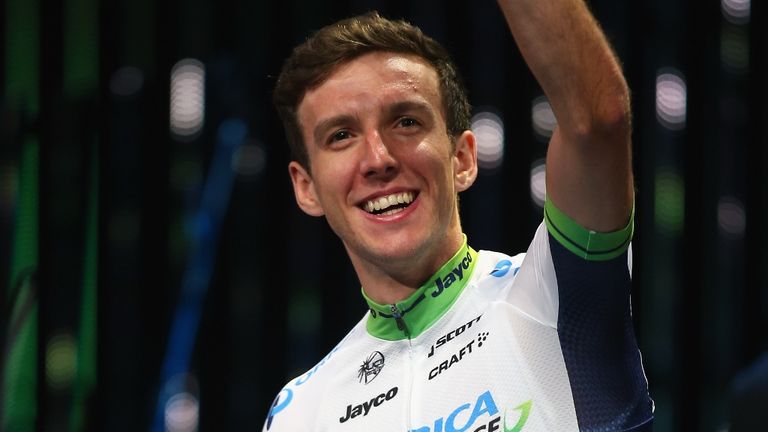 I still can't fully believe I'm about to write these words, but tomorrow I will start the Tour de France in Yorkshire.
Everything has happened so ridiculously quickly that I haven't been able to sit down and absorb it all.
For those of you who are unaware, a spot became available on my Orica-GreenEdge team for the Tour and, incredibly, the team management decided to select me.
I got a text on Sunday night after the British national championship road race from our team manager, Matt White, saying, "Adam, can you give me a call?"
Adam is my twin brother and team-mate, so I replied saying, "It's not Adam, it's Simon. I'll get him to give you a call". But Matt was just joking around and said, "I'm having you on, mate – give me a call".
Amazing
I picked up the phone and he told me I was going to the Tour. Amazing. It didn't even cross my mind that he would be wanting to speak to me for anything remotely close to the Tour de France. I thought it would be about the Tour of Poland.
I was actually back home in Lancashire at the time and Adam was sat next to me, and when I told him we were both just sat there gobsmacked.
It's what every bike rider dreams of – professional or amateur – and I'm no different. And now it's about to become a reality.
I'm only 21 and still in my first year as a professional, so I'm not getting carried away thinking that I'm going to go out there and win stages and finish high up in the general classification or anything.
I'm here to help my team-mates, mainly Simon Gerrans, but just taking part will be an incredible experience. I'll take it day by day and just try to enjoy it as much as possible.
Good condition
I thought I would end up doing the Tour one day, but probably not for a couple of years or so. I thought I might do the Giro d'Italia or Vuelta a Espana next year, but never did I imagine it would work out like this.
If I hadn't been at the race I would have been watching at home like everyone else, because fundamentally, I'm a cycling fan as well as a rider.
Simon Yates
I actually feel in really good condition, so I don't think I'll be out of my depth. I broke my collarbone at the Tour of Turkey in April and at the time it felt like a major setback, but now it has very much turned out to be a blessing in disguise.
I've had a good rest, I'm fresh and, judging by how I rode at the national championships on Sunday, when I finished third in a really hard race, I'm in decent form.
Being so fresh, if I manage to get far into the Tour, I should be able to come good at the end. A lot of guys in a lot of teams have been fighting it out for selection and riding themselves into the ground, whereas I've had a far more relaxed and stress-free last month or so.
The fact that the Grand Depart is in England only makes everything even more special. It's potentially a once-in-a-lifetime opportunity. The Tour might come back to Britain in five or 10 years' time, but who is to say I will be riding at that race? This could be my only chance to experience this.
Familiar territory
I actually know the route stage two follows really well. I've climbed up Cragg Vale and Holme Moss more times than I can remember over the years. Adam and I still go up there on training rides when we're back in England, so to tackle them in a Tour de France peloton will be surreal.
If I hadn't been at the race I would have been watching at home like everyone else, because fundamentally, I'm a cycling fan as well as a rider. When I was recovering from my broken collarbone I spent every day watching the Giro d'Italia on the turbo trainer at home, and I would have been doing much the same for the Tour.
One of the biggest challenges so far has been doing all media. I've actually just been to the team's official pre-race press conference, when I was sat at the top table in a room full of journalists from all over the world.
It was good fun, but it's pretty daunting because I'm not used to this side of being a bike rider. Yes, I've done it all before, but not on quite the same scale and I still have to be quite careful to say the right things and make sure I don't put my foot in it.
It's part of the learning curve and that will continue when I get on the bike tomorrow morning. That's really what this is all about: getting a taste of the Tour this year so that I will be in better stead when I come back to the race in future.
One that note, I better sign off. I've got a busy day tomorrow!