Glen Durrant discusses the Grand Slam and a possible PDC switch on the Darts Show Podcast
Durrant: "The preparation has gone well and I'm just really really looking forward to it."
By Josh Gorton
Last Updated: 07/11/18 6:05pm
Glen Durrant is relishing his return to the Grand Slam of Darts this year and has hinted at a potential switch to the PDC in 2019.
While Michael van Gerwen has dominated the PDC circuit over recent years, Durrant has enjoyed a similar monopoly in the BDO.
The 47-year-old has won successive Lakeside titles and secured a maiden World Trophy crown back in June, before being denied a third World Masters triumph last month.
'Duzza' will make his third consecutive Wolverhampton appearance this week, although the reigning Lakeside champion has been drawn in this year's 'Group of Death'.
DOWNLOAD & SUBSCRIBE TO THE DARTS SHOW PODCAST
He will kick off his campaign against recent European Championship finalist Simon Whitlock, whilst he's also been pitted against Premier League star Gerwyn Price and 2015 UK Open semi-finalist Andrew Gilding in Group F.
Speaking to the Darts Show, Durrant said: "I can't even begin to tell you how excited I am. The preparation has gone well and I'm just really really looking forward to it."
Durrant's performances at the Grand Slam of Darts over the last two years have demonstrated beyond any doubt that he's got the credentials to challenge the PDC's elite.
The Middlesbrough man reached the last 16 on his debut two years ago, playing out a nine-leg thriller in the group phase against Gary Anderson, before succumbing to Raymond van Barneveld in the knockout stages.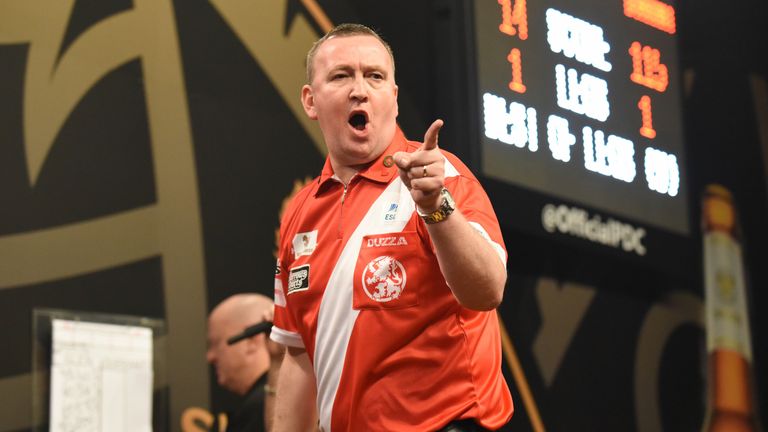 Durrant was pitted in another tough group 12 months ago, but claimed the scalps of Peter Wright and Alan Norris to progress to the knockout phase for the second straight year, before losing to the Scot in the last eight.
The Teessider drew considerable acclaim for his performances last year, but he admits he made mistakes in his defeat to Snakebite, and he is determined to make amends this time around.
"I got to the quarter-finals last year and I made mistakes and I would like to rectify those mistakes," he said. "I'm a big believer in lessons learnt and you get so much more from losing a game than actually winning a game really.
"The atmosphere was incredible, the whole presentation was pretty amazing and the crowd were second-to-none where I played in front of before. I would love to be in that situation again and I'm playing well enough so fingers crossed that I get that opportunity again."
"Last year I had set my goals, but this year I'm pretty determined. I've set my target of getting to the quarter-finals again; who knows from there."
Durrant reveals his targets for this year's Grand Slam
However, although Durrant is determined to savour the occasion in Wolverhampton, he's a proven winner and is focused on improving upon last year's showing.
Durrant said: "I'm a big believer in experience. I've played on that stage now twice. Gone are the days of just going there to enjoy it, because I won't lie, the first year really opened my eyes. The professionalism, the presentation, the razzmatazz, the crowd. I thought: 'This is marvellous'.
"Last year I had set my goals, but this year I'm pretty determined. I've set my target of getting to the quarter-finals again; who knows from there.
"I wanted to avoid that top half where Van Gerwen is, where Anderson is and James Wade - who seems to be the player of the moment. I got where I wanted, but I'm still in a heck of a group there to get out of."
The comparisons between the two darting codes have rumbled on for a number of years, but the reigning Lakeside champion admits there is a stark difference in terms of atmosphere.
"We play one main tournament a year; that's Lakeside," he said. "The crowd and atmosphere is unbelievable and the Lakeside is something really special, but I won the World Darts Trophy this year in front of 29 people.
"At the World Masters Final I played in front of 80-100 people and it's just not good enough.
"Each time people say why do you stay in the BDO, why do you do this, but quite simply, each time I've won the Lakeside they've given me £100,000 for winning it and it's not as if I'm guaranteed a Tour Card to go over.
"As much as I love the PDC, I just want people to understand that if I win Lakeside, I'm not going to give £100,000 to anyone, even if there is an opportunity to go on and win hundreds of thousands of pounds in the PDC, so that's the tough situation I've been in."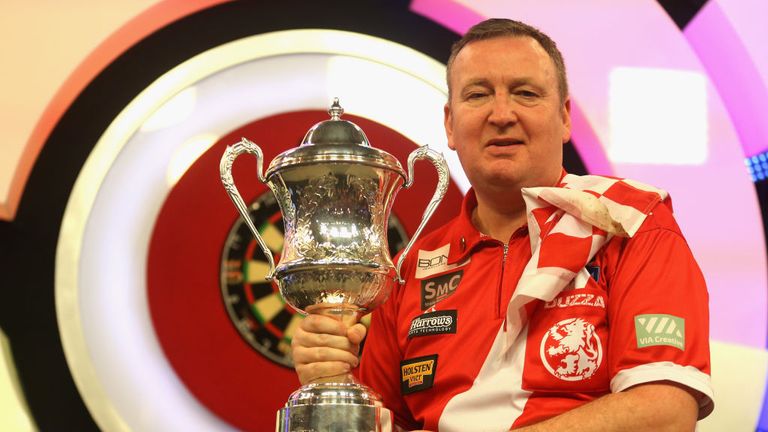 However, the BDO have recently undergone a reshuffle at board level, with Des Jacklin being appointed as chairman, and 'Duzza' is hopeful for the future.
"We've got a new chairman in place now in Des Jacklin," Durrant said. "He's put his strategic thoughts into how he sees the future of the BDO and he's made some decisions immediately.
"We've got to put faith into what Des' plans are for the future and so far what I've liked about what he's done is that he's made some difficult decisions and decisions that haven't really sat well with the players, but he's not frightened of making decisions.
"I just hope now that strategically he has a business plan and moving forward I would love to see him work more with the PDC. If there's ever a time we could unite it is now."
Durrant's Grand Slam Group
Simon Whitlock (7)
Gerwyn Price
Andrew Gilding
Glen Durrant
Durrant's candid nature is refreshing, so when the aforementioned question about a potential switch to the PDC arises, he gives a typically honest response.
The 47-year-old said: "I've got the decision now about Q-School. I've spent some time talking with work because I couldn't be a PDC player and work as a housing manager, so things are in motion there, but people have heard this talk from me before.
"If the BDO keep to the ruling where they won't take £100,000 off me if I win Lakeside this year, then there's added things there for me in the future.
"I'm mega happy. I'm going into the Grand Slam as a very happy darts player and I think sometimes people would want me to be unhappy because I'm not playing in the PDC, but I've got a great life and I'm really looking forward to what the next few months bring."
The Grand Slam of Darts gets underway live on Sky Sports on Saturday, November 11 with a double session as the best of the PDC compete against the best of the BDO.
Don't forget to download, subscribe and rate the latest episode of The Darts Show podcast
Keep up to date with the news as the tungsten enters its busiest time of year with the PDC World Championships just around the corner get all the latest at www.skysports.com/darts and join in the conversation @SkySportsDarts.