James Wade insists he never lost belief during his four-year major drought
"I knew I would win more, I knew it would happen but I didn't know when."
By Josh Gorton
Last Updated: 08/11/18 4:18pm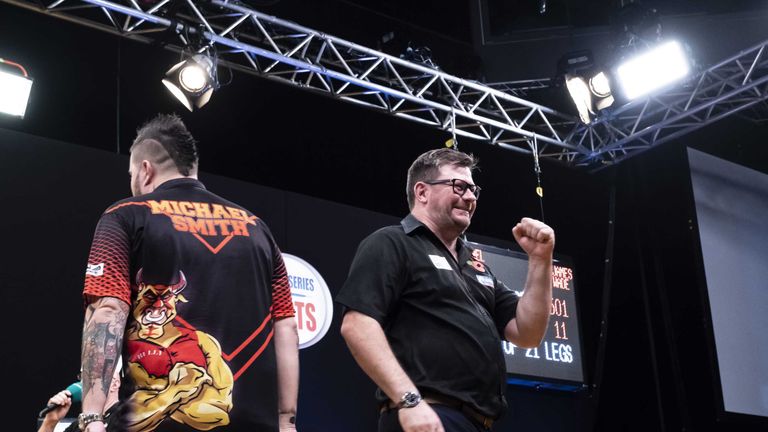 James Wade's spectacular brace of titles in the space of just seven days ended his four-year drought without a televised major, but 'The Machine' insists that his belief never wavered during his barren spell.
Wade secured his first major televised title since 2014 at the European Championship a fortnight ago- surviving match darts against Gerwyn Price and Max Hopp before defeating Simon Whitlock in the final.
The Aldershot ace continued his resurgence at the World Series Finals; following up wins over Ross Smith, Mensur Suljovic, Jamie Lewis and Raymond van Barneveld with a thrilling deciding-leg win over Michael Smith in the final.
DOWNLOAD & SUBSCRIBE TO THE DARTS SHOW PODCAST
Wade survived five match darts in a dramatic finale, having spurned a multitude of opportunities himself in the penultimate leg. However, his revival has seen him become just the fifth player in PDC history to claim back-to-back televised crowns.
Speaking to The Darts Show, Wade was delighted to have silenced his critics and admitted he'd proven to himself that he was still capable of crossing the finish line.
"It's been really positive so hopefully I'm keeping a few people quiet as well. I'll be honest, the World Series I was lucky to be in as I was only invited to two of them," Wade said.
"The European Championship - I'd been kind of getting to the latter stages of some of the tournaments [Euro Tours], but my TV form up until then was disgusting.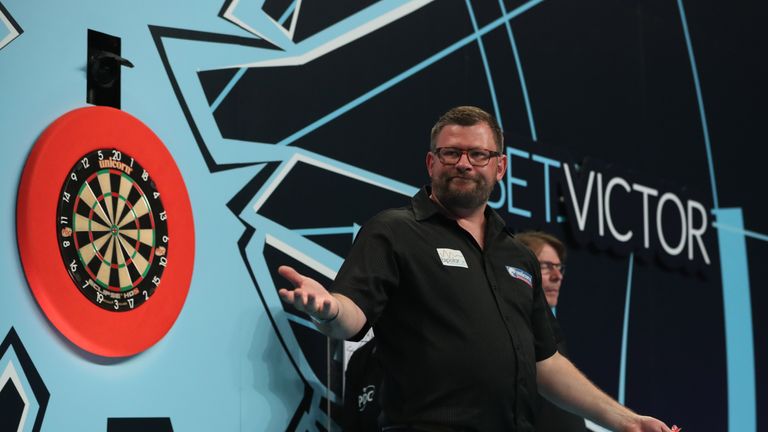 "Whenever I go into a TV tournament, I honestly believe I can win it, I know I can win it. But thinking it and doing it are two different things. I've proven to myself that I can do it again now, so that makes me dangerous," he added.
It's been a difficult period for the left-hander and 2017 was arguably the toughest year of his darting career to date.
He suffered first-round exits at the World Matchplay, World Grand Prix and the World Championship which saw him relinquish his top ten status, and he was subsequently omitted from the Premier League for just the second time since 2008.
"If you're not playing well it's hard to get the bit between your teeth, it's hard to be aggressive and it's hard to excel on stage, because you're fighting a battle with yourself, not with your opponent," Wade said.
"When you keep losing to players you know you can beat and you can beat comfortably when you're playing well, it becomes disheartening, it causes heartache and it's not something you can correct very easily.
"It's a vicious circle and unless you're enjoying the game, you can't show those emotions and those highs and lows on stage.
"People always say: 'You need to enjoy yourself a bit more and you need to do this.' Everyone knows what they need to do, but when you're having a bad time at work it's a hard thing to correct," the 35-year-old added.
Wade has often harboured a reputation for being darts' ultimate opportunist, and his successes in Dortmund and Vienna further underlined that tag.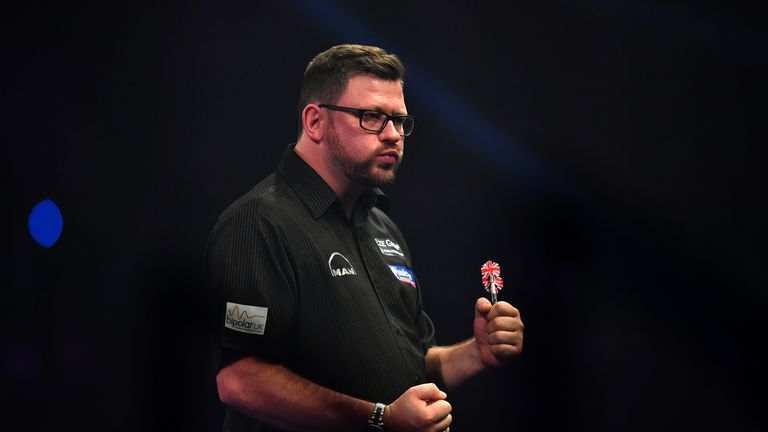 My game will only improve from now, because I'm nearly back to 100% confidence and because of that, I play good darts.
Wade's confidence returning
However, his haul of nine individual PDC majors puts him third on the all-time list behind Phil Taylor and Michael van Gerwen, and Wade's belief never faded, despite his recent struggles.
"I knew I would win more, I knew it would happen but I didn't know when. I honestly think if I did doubt whether I was going to win any more it might be that time where you give up.
"I think quite a lot of people had lost faith in me, but it's a box ticked, it's put me back to winning ways and I hope my game will progress from there.
"I've won these two tournaments. Let's not kid myself, one was very lucky and I think the second one I did deserve to win, but my game will only improve from now, because I'm nearly back to 100% confidence and because of that, I play good darts."
Wade's PDC Roll of Honour
Two-time World Grand Prix champion
Two-time UK Open champion
2007 World Matchplay
2009 Premier League
2014 Masters
2018 European Championship
2018 World Series Final
Wade's pragmatic approach ensures that complacency will never become a factor, but he credits his resurgence to 'match sharpness' which he's regained through his consistent Pro Tour performances.
Although 'The Machine' hasn't won a Pro Tour event this season, he's reached two Players Championship Finals and two European Tour Finals, with Van Gerwen denying him on three of those occasions.
"You need to be match-fit and there are two or three players that are good players and big names that aren't match-fit. If you're practising and doing exhibitions then you're having fun, but it's not the same thing.
"People will maybe start saying I can win things now but I'm just going to keep my head down and go under the radar. I'm not one to talk about what I'm going to do, I just play darts," said Wade.
It's fair to say that Wade couldn't have wished for a better month. He became a father for the first time to son Arthur James four weeks ago and he's celebrated by returning to the world's top six for the first time in almost two years.
The nine-time major winner will be bidding to win a third consecutive televised crown at this week's Grand Slam of Darts, where he's twice finished as runner-up, most recently in 2016.
Back-to-back brilliance for Wade
James Wade is only the fifth player in PDC history to win back-to-back televised majors, following in the footsteps of Phil Taylor, Raymond van Barneveld, Michael van Gerwen and Gary Anderson.
The World Championship is also on the horizon, although it's a title that has thus far eluded Wade. However, when asked about his Alexandra Palace prospects, Wade is typically understated.
"I still think I can win any tournament and I did before I won these two, but there's no point in talking about it is there?
"You have to show you can by doing it and unless I do it there's no point talking about it, in my humble opinion."
The Grand Slam of Darts gets underway live on Sky Sports on Saturday, November 11 with a double session as the best of the PDC compete against the best of the BDO.
Don't forget to download, subscribe and rate the latest episode of The Darts Show podcast
Keep up to date with the news as the tungsten enters its busiest time of year with the PDC World Championships just around the corner get all the latest at www.skysports.com/darts and join in the conversation @SkySportsDarts.