James Richardson, Jonathan Worsley, Ted Evetts and Ryan Meikle win PDC Tour Cards
By PDC
Last Updated: 15/01/16 8:33am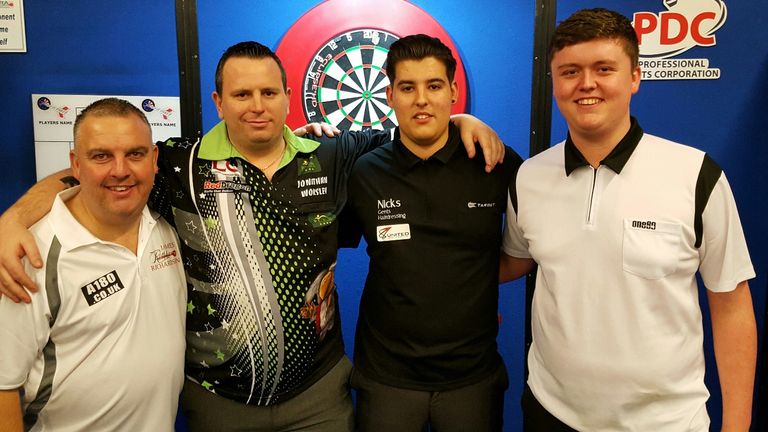 James Richardson won back his PDC Tour Card on the second day of the 2016 Qualifying School, as Jonathan Worsley and teenagers Ted Evetts and Ryan Meikle secured their places amongst the sport's elite for the first time.
Rushden's Richardson will return to the elite 128 Tour Card Holders in 2016 following a year on the Challenge Tour after he won through Thursday's second day of play in Wigan, where 372 players were in action.
The bricklayer defeated Rhys Hayden, Damian Smith, Ross Smith, Luke Woodhouse, Steve Brown and Holland's Yordi Meeuwisse as he won back his Tour Card.
"It means a huge amount," said Richardson, who previously held a Tour Card from 2011-2014. "It's good to be back with the big boys and I'll have a go at it.
"The last time I was at Qualifying School was in 2011 at the first one and I breezed through on the first day, and this time I've done it on the second day.
"I had a good four years when I had a Tour Card, I got myself into the World Championship and beat Raymond van Barneveld and everybody still talks about that and I still watch it!
"But I'm back now, I feel good and that's history now. Hopefully I can make another chapter of history now."
Richardson will remain in Wigan during the remainder of Qualifying School to support son Joshua, the teenager who was the Junior Darts Corporation's 2015 champion and the winner of the Lakeside Youth event last week who is now bidding to follow his father onto the ProTour.
"It would be fantastic for Josh to get his Tour Card and it would be pretty historic having father and son with Tour Cards," added James.
"If he gets through it would be the ultimate dream. His confidence is sky high at the moment, he's good enough and he smashes me nine times out of 10 in practice so there's no reason why he can't do it in Q School in the next two days."
Southam-based 18-year-old Ted Evetts, who has recently qualified as a chef, will move onto the senior circuit for the first time this year following his success on Day Two.
The teenager has played for the last two years on the PDC Unicorn Development Tour but will now step up to compete on the ProTour after defeating John Newland, Swen Gewalt, Richard Baillie, Jamie Ellam, Marko Kantele, Barrie Bates and Darron Brown.
Welsh ace Jonathan Worsley, a 31-year-old from Chepstow, won his Tour Card for the first time as he fought through Day Two.
A former butchery manager, Worsley has competed as a PDPA Associate Member for the past three years and won a spot in the 2014 UK Open, overcame David Wilson, Jack Hill, James Welding, Tony Newell, Robert Marijanovic, Brian Woods and Matthew Dennant to claim his Tour Card.
Suffolk-based barber Ryan Meikle, 19, steps onto the ProTour after only competing for one year on the Development Tour following his success, which included wins over former World Championship finalist Kirk Shepherd and veteran professional Dennis Smith.
The left-hander defeated Robert Thompson, Par Riihonen, Ben Adams, Craig Lewis, Shepherd, Jason Marriott and Smith on the day as he earned a two-year Tour Card to establish himself amongst the sport's elite stars.
Dennis Smith, Darron Brown and Matthew Dennant were all just one leg away from winning an automatic Tour Card as they lost out 5-4 in the last eight alongside Holland's Meeuwisse, but the quartet all picked up valuable ranking points.