UK Open amateurs Rob Cross and Barry Lynn make impression in Minehead
By PDC
Last Updated: 05/03/16 10:32am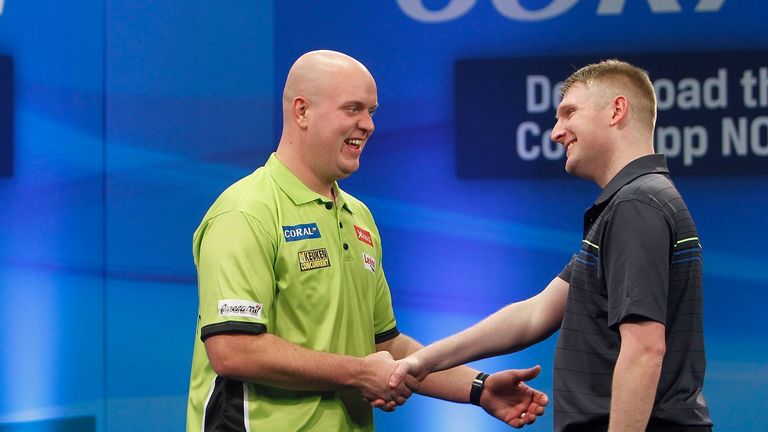 Amateur stars Rob Cross and Barry Lynn will take on the world's top two darts players - Michael van Gerwen and Gary Anderson - in the Coral UK Open fourth round after winning through Friday's early stages in Minehead.
Hastings-based electrician Cross, one of the 32 Rileys Amateur Qualifiers who won through nationwide knockouts to secure places alongside the 96 professional qualifiers, won three matches on the day to secure a dream clash with Van Gerwen.
Cross defeated Canada's Ken MacNeil, former UK Open finalist Wes Newton and Dutchman Jeffrey De Graaf to seal a last-32 spot, and said: "I'm gobsmacked that I'm still here, but I'm very excited.
"I'm absolutely over the moon. I've played some quality darts today and I'm looking forward to tomorrow. It's the biggest event I've ever played in and I've handled the nerves and really enjoyed it.
"It's been out of this world and I feel comfortable when I'm playing. Hopefully it carries on - I'm not worried, I've got to go up there and try to produce a decent game to try and win."
Reigning UK Open champion Van Gerwen showed his class with two 170 checkouts in his 9-2 victory over Ryan Harrington, who had won through to the third round in Minehead for a second successive year before coming up against the in-form Dutch superstar.
"I had some good finishes and it's nice to get the first game out of the way," said Van Gerwen. "I'm in the tournament now and I feel really comfortable. I'm playing really well and I want to play better than this in the next round."
Essex's Lynn, meanwhile, followed up wins over Dean Stewart and Brett Claydon in the afternoon session by defeating former World Grand Prix finalist Brendan Dolan 9-6 as he sealed a spot in the last 32 - where he now meets world champion Gary Anderson.
Anderson, though, had to overcome some nervy moments as he hit back from 7-5 down to defeat Dave Chisnall 9-7, winning the final four legs without reply after his opponent had taken out a superb 138 to move two legs clear.
Five-time UK Open champion Phil Taylor also had to overcome stiff opposition before sealing a fourth-round spot, with former World Youth champion Arron Monk coming from 5-3 down to level before missing one dart to move ahead in leg 11.
Taylor pounced and took four legs in a row to progress, only to draw two-time UK Open champion Raymond van Barneveld in a huge fourth-round contest after the Dutchman earlier produced an 11-dart finish in the deciding leg of his tight battle with youngster David Pallett.
2014 UK Open champion Adrian Lewis swept past Cumbria's Tony Newell 9-1 and now plays John Henderson, who defeated Sweden's Magnus Caris 9-4.
Two-time UK Open winner James Wade, though, crashed out 9-2 to Austria's Mensur Suljovic, who has been a quarter-finalist in this event in the past two years and now takes on Dutch youngster Ryan De Vreede, who defeated Nathan Derry, Andrew Gilding and Josh Payne on Friday.
The two beaten finalists in the 2014 and 2015 UK Opens, Terry Jenkins and Peter Wright, will meet in the fourth round after their respective wins over Steve Beaton and Ronny Huybrechts.
First-round results:
Wes Newton 6-4 Mark Cox
Ronny Huybrechts 6-3 Mark Rice
Alex Roy 6-1 Dennis Smith
Jermaine Wattimena 6-5 Andy Smith
Andy Boulton 6-4 Lee Grimshaw
William O'Connor 6-1 Mark Jodrill
Magnus Caris 6-5 Jason Mold
Nathan Aspinall 6-4 Mick McGowan
Kevin Dowling 6-2 Dick van Dijk
Jonathan Worsley 6-1 Curtis Turner
Arron Monk 6-3 Stewart Rattray
Barry Lynn 6-4 Dean Stewart
Ben Green Bye (Jason Hogg eliminated)
Dirk van Duijvenbode 6-3 Michael McFall
Harry Ward 6-3 Alan Tabern
Paul Hogan 6-3 Daniel Day
Mark Barilli 6-1 Darren Layden
Jonny Clayton 6-2 Ian McFarlane
Ryan De Vreede 6-3 Nathan Derry
Darren Webster 6-0 Lee Morris
Mark Frost 6-0 Andy Brown
Joe Murnan 6-2 Paul Whitworth
Andrew Davidson 6-5 Jan Dekker
Steve Maish 6-5 Jason Heaver
Mark Wilson Bye (Les Delderfield eliminated)
Dean Winstanley 6-5 John Scott
Paul Milford 6-1 Chris Jones
Scott Marsh 6-1 Steven Rose
Gary Stone 6-5 Johnny Haines
Rob Cross 6-3 Ken MacNeil
Ryan Harrington 6-1 Glen McGrandle
Josh Payne 6-2 Dave Parletti
Second round:
Jeffrey de Graaf 6-5 William O'Connor
Lee Evans 6-2 Rowby-John Rodriguez
Arron Monk 6-4 Robert Thornton
Dean Winstanley 6-4 Kevin Painter
Matt Clark 6-5 Mike De Decker
Joey Ten Berge 6-5 Mark Dudbridge
Brendan Dolan 6-3 Scott Marsh
Ryan Harrington 6-4 Darron Brown
Jamie Caven 6-2 Gary Stone
Mark Frost 6-4 Mark Barilli
Robbie Green 6-3 Yordi Meeuwisse
Ronny Huybrechts 6-4 Jay Foreman
Andy Jenkins 6-5 Wayne Jones
Steve Maish 6-4 Paul Milford
Josh Payne 6-1 Harry Ward
Darren Webster 6-2 Scott Dale
Richie Corner 6-5 Berry van Peer
Alex Roy 6-5 Jeffrey de Zwaan
Barry Lynn 6-4 Brett Claydon
Andrew Davidson 6-4 Cristo Reyes
Matthew Edgar 6-4 Mark Wilson
David Pallett 6-1 Jason Marriott
James Wilson 6-3 Jonny Clayton
Rob Cross 6-4 Wes Newton
Joe Murnan 6-4 Ritchie Edhouse
Dirk van Duijvenbode 6-4 Peter Hudson
Jermaine Wattimena 6-1 Kevin Dowling
Magnus Caris 6-3 Ben Green
Andy Boulton 6-2 Jonathan Worsley
Ryan De Vreede 6-5 Andrew Gilding
Tony Newell 6-1 Paul Hogan
Stuart Kellett 6-5 Nathan Aspinall
Third round:
Adrian Lewis 9-1 Tony Newell
Phil Taylor 9-5 Arron Monk
Gary Anderson 9-7 Dave Chisnall
Michael van Gerwen 9-2 Ryan Harrington
Alan Norris 9-7 Jermaine Wattimena
Simon Whitlock 9-6 Ian White
Mark Webster 9-3 Matthew Edgar
Peter Wright 9-5 Steve Beaton
Joe Cullen 9-1 Mark Frost
James Wilson 9-3 Rene Eidams
Stuart Kellett 9-7 Joey Ten Berge
Ricky Evans 9-5 Andy Boulton
Ryan De Vreede 9-5 Josh Payne
Dirk van Duijvenbode 9-5 Robbie Green
Raymond van Barneveld 9-8 David Pallett
Jelle Klaasen 9-6 Matt Clark
Vincent van der Voort 9-3 Dean Winstanley
Rob Cross 9-8 Jeffrey de Graaf
Jamie Caven 9-7 Lee Evans
Terry Jenkins 9-7 Ronny Huybrechts
Darren Webster 9-5 Andrew Davidson
Mensur Suljovic 9-2 James Wade
Kim Huybrechts 9-1 Steve Maish
Stephen Bunting 9-8 Jamie Lewis
Justin Pipe 9-6 Alex Roy
Joe Murnan 9-8 Gerwyn Price
Kyle Anderson 9-2 Andy Hamilton
Barry Lynn 9-6 Brendan Dolan
Benito van de Pas 9-7 Mervyn King
Michael Smith 9-8 Daryl Gurney
John Henderson 9-4 Magnus Caris
Andy Jenkins 9-5 Richie Corner
Fourth-round draw:
Benito van de Pas v Simon Whitlock
Peter Wright v Terry Jenkins
Michael van Gerwen v Rob Cross
Phil Taylor v Raymond van Barneveld
Jamie Caven v Stephen Bunting
Vincent van der Voort v Andy Jenkins
Adrian Lewis v John Henderson
Gary Anderson v Barry Lynn
Joe Cullen v Alan Norris
Mark Webster v Dirk van Duijvenbode
Michael Smith v Stuart Kellett
Joe Murnan v Jelle Klaasen
Kim Huybrechts v Justin Pipe
Kyle Anderson v James Wilson
Ricky Evans v Darren Webster
Mark Webster v Dirk van Duijvenbode