PDC announce 2017 will be Phil 'The Power' Taylor's last year on circuit
By Lyall Thomas
Last Updated: 28/01/17 11:13am
Phil 'The Power' Taylor is set to retire after the PDC announced on Friday that 2017's circuit will be his last.
The 56-year-old needed a wildcard to make the cut for the Premier League, which starts next month live on Sky Sports.
And the 16-time world champion was beaten by Raymond van Barneveld in the quarter-finals of the World Championship at Alexandra Palace in December, having won just one major televised title in the last two years.
He has hinted at retiring on a number of occasions, including earlier this month when he told Sky Sports News HQ: "It's my last year".
And on Friday he confirmed via the PDC: "At the end of the year, that's me done. The World Championship will be my last one.
"It's harder for me to get motivated and keep the practising up like I've done for 30 years. It's hard to be dedicated week-in and week-out and that's what's taken its toll on me.
"The body can't take four or five hours in the practice room, and that's what you've got to do to compete against these youngsters.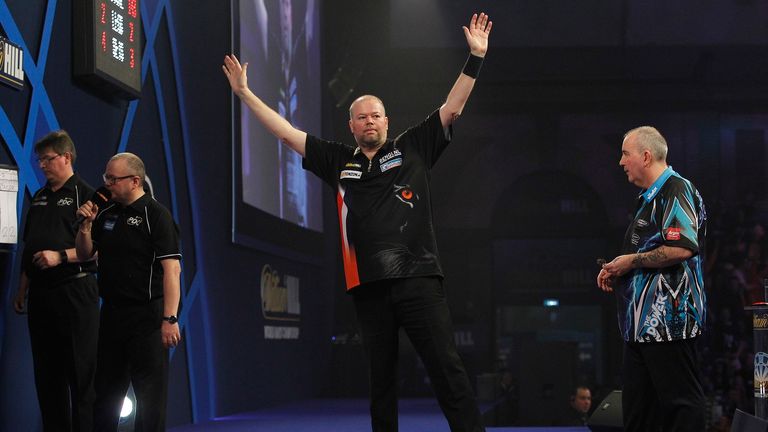 "I'm looking forward to the next ten months. I can enjoy it more, I think I'm more excited now and I've got butterflies, whereas I didn't have that before. Perhaps that will do me good."
PDC chairman Barry Hearn told Sky Sports News HQ that, although he had made the announcement, top level darts may not see the last of Taylor at the end of 2017.
"I think the jury is still out, in my mind, when push comes to shove, because Phil is one of the great competitors in world sport," he said.
"Obviously Michael van Gerwen is the man at the moment but Phil is still second, third or fourth. And after all those years at the top, that is an amazing performance.
"We'll see how he goes this year. He's looking to hang his boots up. I'll wait and see. Great sportsmen don't come a long very often and, while Taylor deserves the rest, I wouldn't be surprised if we see him occasionally in 2018."