Wayne Mardle praises Berry van Peer after dartitis struggle
Last Updated: 16/11/17 1:20pm
Wayne Mardle leapt to the defence of Berry van Peer after the young Dutchman overcame a very obvious struggle with dartitis at the Grand Slam of Darts.
Van Peer, who sealed his spot at the Grand Slam as a runner-up to Corey Cadby at last year's World Youth Championship struggled to let go of his first dart during his remarkable 5-4 victory against Simon Whitlock.
The crowd were quick to jump on the Dutchman's back, without recognising his struggles, while Whitlock himself was frustrated at the length of time Van Peer was taking, in particular with his opening dart.
Five-time world champion Eric Bristow is the most high profile player to have struggled with the condition which sees a player struggle to release his dart and after the match, Sky Sports expert Mardle spoke to Laura Woods about Van Peer's problems.
Mardle said: "As a dart player it makes you feel sick. You're watching a player really struggle to just do the most basic thing and that's let go.
Thanks everyone😅 i enjoyed the game & crowd. Thanks! So much respect. Honestly lost for words😅

— Berry van peer (@Berry_vp) November 11, 2017
"Eric Bristow is without doubt the most famous case that had dartitis in the game of darts. I spoke to Eric about it years ago and he said it's the fear of missing and that's from the five-time world champ, so you have to believe what Eric is saying.
"No player wants it, but the thing is with Berry, he is looking for his old routine, but he can't do it. He just cannot find it and the more he is thinking about it, the harder it becomes. People have different philosophies in darts and sport in general and that's just do it and don't think about it.
"He is putting thoughts in the way which is why it is becoming impossible for him. He would just love to step up and throw. Unfortunately he has got a block and a fear of not achieving, of missing, of losing and in the end, I thought it was a fear of winning, but Simon Whitlock struggled because he was watching his opponent.
"From a professional point of view about Berry van Peer, that is one of the bravest performances I've seen from a human being in any sport. To actually go on and win was just amazing, full credit to him."
Van Peer also had to overcome jeers from the Wolverhampton crowd, but Mardle believes they weren't aware of the Dutchman's struggles.
"I don't think the crowd actually realised what was going on. I'm not saying that they were all wrong but I think it's shocking that they can watch and not twig what is happening.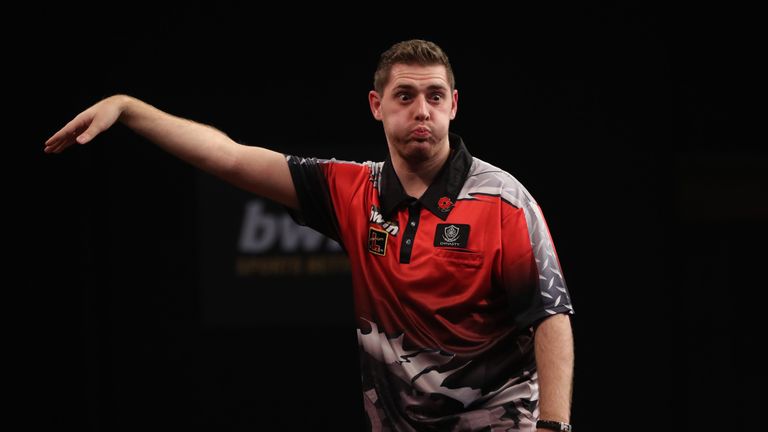 "Like I said it's one of the best things I've seen - him hit that double 10. I just wanted him to get it, because I tell you what, that's taken so much out of him it really has and Simon Whitlock is now in a real poor position."
Van Peer himself spoke to to the PDC after the match and admitted he has been struggling with dartitis for the past few months.
He said: "I've been having trouble with that for a couple of months now and I thought I was over it last week at the World Championship for the youth, but it just came back at the start of the tournament.
"The first three legs I think I was playing very good and I don't know what triggered it again but it came back and I just had to change throwing and get used to it.
"I think I actually played the best game I did in a long time and it was on stage as well so I felt very good, but the thing I actually had trouble with was my muscles...You just have to keep going. You shouldn't give up."
There was also a host of social media support for Van Peer after his public struggle on the stage, although he will be back on Sunday for his second group game of the opening phase of the tournament.
Can't knock berry poor lad ain't doing it on purpose. When the first Darts leaves his hand he's fantastic! Feel for him hope he gets rid soon.

— Chris Dobey (@Dobey10) November 11, 2017
So proud of my mate @Berry_vp for getting over the line tonight. One of the bravest, most inspiring fights in the history of darts. Get in

— Dawson Murschell (@DawsonMurschell) November 11, 2017
The Grand Slam of Darts gets underway live on Sky Sports on Saturday November 11 with a double session as the best of the PDC compete against the best of the BDO.
Keep up to date with the news as the tungsten enters its busiest time of year with the PDC World Championships just around the corner get all the latest at www.skysports.com/darts and join in the conversation @SkySportsDarts.