Rod Harrington
Darts Expert & Columnist @rod180
World Darts Championship: Rod Harrington picks his favourite moments
The action gets underway on our dedicated channel - Sky Sports Darts - on Thursday, December 14 at 7pm
Last Updated: 07/12/17 9:05pm
It is over 20 years since Rod Harrington appeared in a World Championship final, and during that time he has watched darts go from strength to strength.
The 1995 finalist has since swapped the oche for the commentary box and he will be back at Alexandra Palace later this month for the start of the 2018 World Darts Championship.
As well as live coverage from the home of darts, Sky Sports Darts will screen a host of programmes and features, including a one hour special as commentator Rod Studd sits down with the legendary Phil Taylor.
Harrington has witnessed an array of dramatic darting moments down through the years, and we asked him to select his favourite memories from the greatest tournament of them all.
2007: A fitting farewell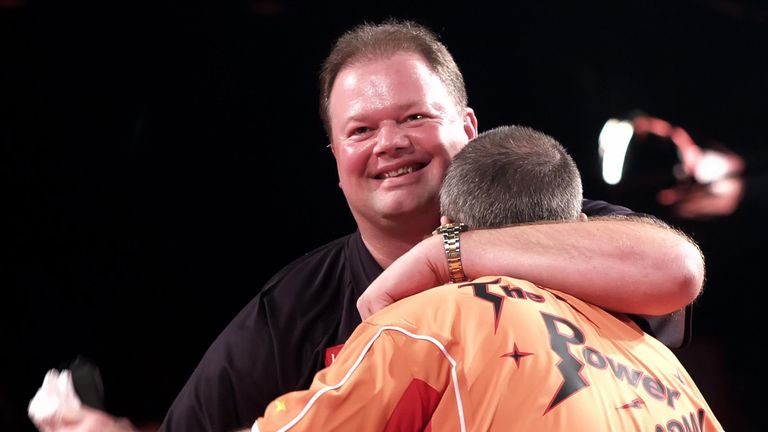 The one game that I'll never forget is Raymond van Barneveld against Phil Taylor in 2007, the last final at the Circus Tavern. It went to the very last leg and the poignant thing about that game is it changed the way we went for bullseyes in sudden death.
It went to the last leg, meaning they had to throw for bull with the closest throwing first. Taylor stepped up and put a dart just below the bullseye, and then went to retrieve his dart. But back then, Barney was allowed to leave his opponent's dart in the board and that's what he told Phil, who knew that Barney was going to bounce his dart off his and into the bull. That's exactly what happened, Barney threw first and went on to win his first PDC World Championship.
The actual game was the best final I've ever seen. It went backwards and forwards, with Phil taking a good lead and Barney fighting back. But the ironic thing about that is I was managing Colin Lloyd at the time, and he had four separate darts to beat Barney when they met in the second round. He was 3-0 up in sets but unable to close it out.
2006: Manley oversteps the mark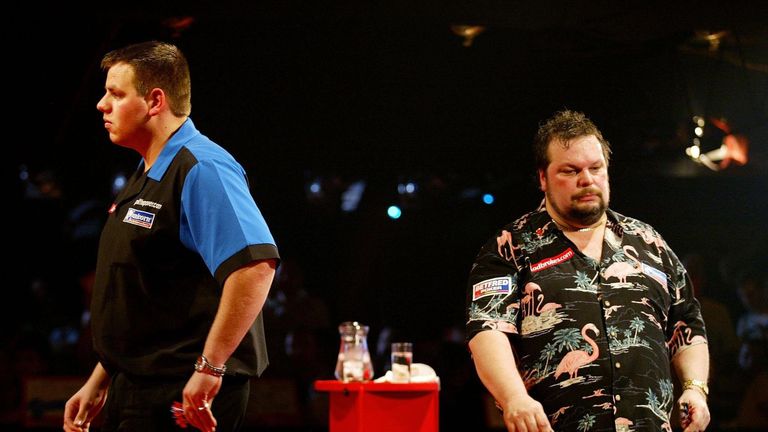 Certain things happen that stick in your mind and one of those was the 2006 quarter-final between Adrian Lewis and Peter Manley. We all used to be guilty of a bit of gamesmanship back in the day but Manley overstepped the mark, and kept talking when Lewis was throwing. Adrian was a young man and didn't know how to cope with it.
The Sky Sports cameras are pretty good at picking up things and they knew something was going on, so they focused a camera on Manley's mouth. And you could Manley saying to Lewis, 'Give it large!' Adrian had enough of it and walked off, and Peter turns around asking what had happened. Unfortunately for him, the camera had caught him hook, line and sinker!
Gamesmanship is a part of every sport and many people do it to a small degree, but Peter Manley, as he always did, stepped over the line.
2013: 17 perfect darts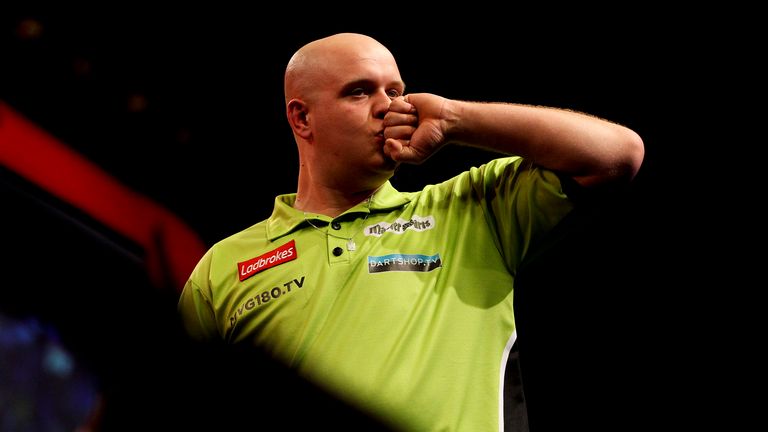 You always look at great things that happen and Michael van Gerwen missing double 12 for a second nine-darter on the trot, that would have been an unbelievable feat.
I was commentating on the semi-final for Sky 3D and the atmosphere was incredible. The crowd were still on their feet celebrating Van Gerwen's nine-darter when he fired in two more maximums!
No-one had ever struck nine-darters in successive legs, and Van Gerwen was milimetres away from creating history.
2008: Shepherd stuns Ally Pally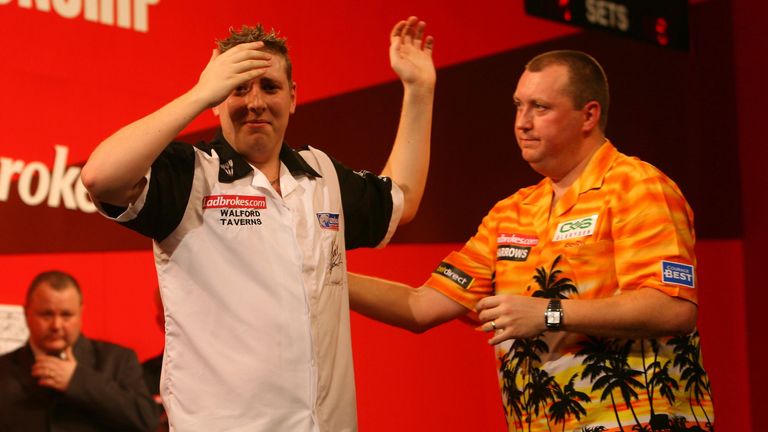 Kirk Shepherd was the most unlikely man to ever reach a World Championship final. Some great players that have been through the PDC system since it started, but Shepherd came out of the blue.
John Part must have thought Christmas had come early, or late in this case. In the semi-final Wayne Mardle took Shepherd too lightly. He automatically thought he was going to be in the final, and all of a sudden blew it.
I think four people had darts to beat Shepherd that year. Terry Jenkins had 14 darts against him in the first round, but Shepherd just kept walking the tightrope and never fell off until he got to the final. That was poignant because it proves that anyone in our system can actually get to a world final. Kirk Shepherd did that, and although he's done nothing since, he had his moment.
1994: A new dawn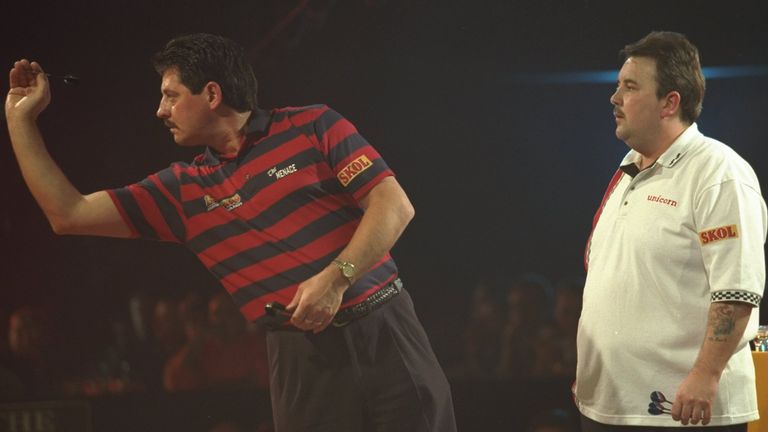 I've got to go back to the very first PDC World Championship - or WDC as it was initially called - that Dennis Priestley won. We all put our proverbial backsides and livings on the line to form the PDC. It wasn't big money back then, and we even had to wait months to get paid.
It's incredible to look back at that first final in the Circus Tavern, where the winner got £10,000, and see where we are now.
I get asked a lot if I could see the potential of the PDC back then, and I honestly could. I was one of the few people that stayed strong all the way. I was always upbeat, I never focused on the negatives, and when Barry Hearn came on board, I knew we were going to go places.
Phil 'The Power' Taylor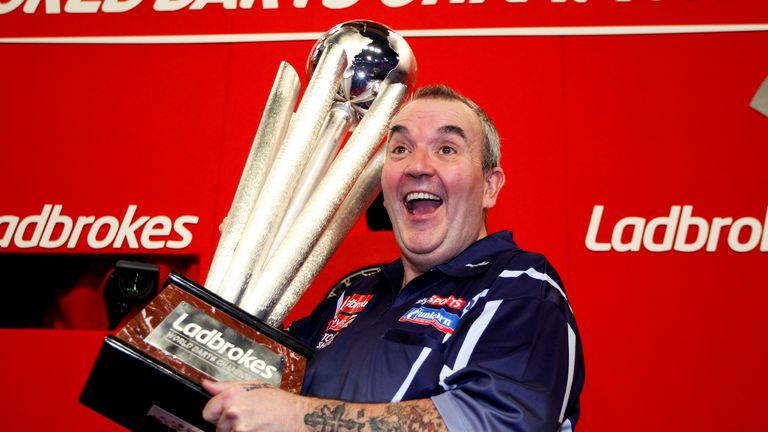 I was only supposed to do a top five but I have to mention Phil Taylor. He's the 16-time world champion and without him being as good as he is, we possibly wouldn't be as far down the road.
Phil is now accepted as a top sportsman along with the golfers and cricketers, and that's helped us out so much. We have relied on a lot of people but none more so than Phil. He's been brilliant.
Rod Harrington was speaking to Sky Sports' Adam Bate. The 2018 World Championship from Alexandra Palace starts on Thursday, December 14 and ends New Year's Day.
Keep up to date with the news as the PDC celebrates 25 years on Sky Sports. So get all the latest at www.skysports.com/darts and join in the conversation @SkySportsDarts - don't forget to use #LoveTheDarts
Sky Sports Darts can be accessed across TV, online and via mobile and tablet devices with Sky Go. Non-subscribers can either enjoy one or seven days access to the Sky Sports Darts channel and Sky Sports other dedicated channels contract free on TV and a range of devices with NOW TV.