Rob Cross won the World Darts title but who is he and how has his spectacular year unfolded?
Less than 12 months after his first throw as a professional, 'Voltage' is the world champion after a debut year like no other
By Paul Prenderville at Alexandra Palace
Last Updated: 30/01/18 7:22am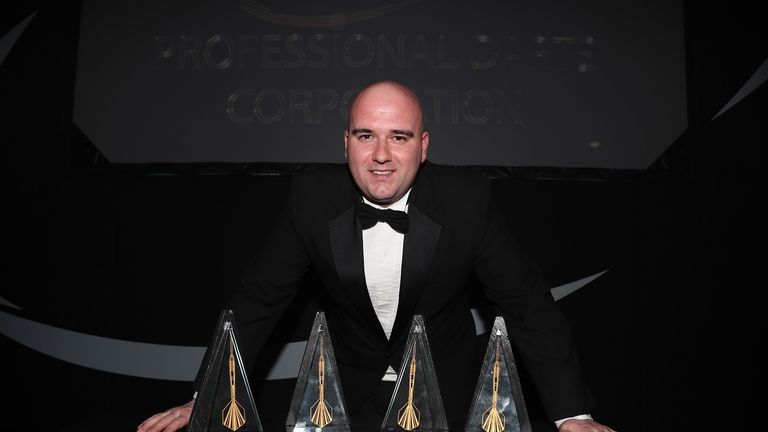 It's a story that has captured the imagination as darts sits front and centre on the national stage at this time of year, but the rise of Rob Cross through the darting ranks to world champion has been brewing all year, writes Paul Prenderville.
Cross stunned the legendary 16-time world champion Phil Taylor with a 7-2 victory to claim the World Darts Championship title on New Year's Day.
However, it was his stunning victory over Michael van Gerwen in a spectacular 11-set, 54-leg semi-final shoot-out that went beyond the midnight hour at Alexandra Palace on Saturday that really served notice of this tungsten whirlwind.
It was his first televised triumph over the world no 1, and he then went on to beat 'The Power', the best player the world has ever seen... it is perhaps apt that the sport's new sensation has knocked off its two biggest names on the way to stunning success.
It is indicative of the 27-year-old's rise to prominence that MvG was all too aware of the Cross threat and that after defeat on Monday, Taylor hailed him as the world no 1's chief rival at the very top of the sport.
Congratulations @RobCross180 on this phenomenal achievement.
Great performance to finish an amazing year.

— Michael Van Gerwen (@MvG180) January 1, 2018
In fact, Van Gerwen had been pretty much the only man who had been able to stop Cross over the second half of the darting year - beating him twice at the Grand Slam, as well as in Cross' first major televised final at the European Championship.
A first meeting with Taylor, who was playing in his 29th World Championship, underlines the rate of progress from the man who until just a few months ago was still coming up with a nickname and a walk-on.
The man now known as 'Voltage' was not even born when Taylor won his first world title, ironically enough on his debut - a feat Cross managed to emulate with victory on the first day of 2018 to seal a winner's prize of £400,000, to go with £300,000 already earned.
It's life-changing sums for the new world no 3, who told the assembled media afterwards that his target is, and always has been, the world's no 1 ranking. It's his hunger that has marked him out as such a threat and has the likes of Wayne Mardle and Taylor suggesting this is just the start.
Twelve months ago, Cross had not even picked up his first cheque on the PDC Tour. That first proper darts payday came in February 2017, when he claimed £250 in his first tournament as a professional.
This time last year, he was watching the final between his vanquished semi-final foe Van Gerwen and Gary Anderson at home, having secured his PDC card via the Challenge Tour and as so many have said - including Sky Sports commentator Stuart Pyke - 'he is proof that the system works'.
Cross still had to be persuaded to embark on that journey though. He told the growing media cohort in north London that his uncle had to virtually drag him to a 2016 UK Open qualifier, which he won to earn a place at the tournament where he was beaten by Van Gerwen - the Dutchman seems to be a staging post for every step of his career.
After Saturday's semi-final win over MvG, Cross admitted that he had had to put his darts career on hold due to a growing young family - he has three children - with the priority to provide for them via his job as an electrician.
A dog has been added in recent months too, with Cross telling Sky Sports in November that the latest newcomer to the family is regularly treated to walks along the Hastings beach - a duty that also allows Cross to clear his head and prepare for the challenge of life as a professional.
By any stretch, a season in an individual sport can be a long slog, more so for those in one that requires a year-long commitment to tournaments varying from majors with huge prize money down to the standard week-to-week grind.
In that respect, at least, the life of a darts player - much like those of golfers and tennis players - can leave you depending on the lesser events to make your mark, climb the rankings and earn the money to make the sport your livelihood.
Not for Cross, who has revelled in the chance to make his passion his career. "I spend a lot of time away from my family but they are so supportive and have been brilliant," he told Sky Sports. "It's the confidence you get from them, cheering you up when you feel a bit low.
"Winning helps. I can treat the kids and hopefully provide a better life for them. That is the ambition."
Winning is what Cross has been doing regularly, first making his mark in Players Championship events across the year, where he claimed floor titles and now going deeper in the majors before taking the ultimate prize on Monday night.
The hard yards begin at those weekend floor tournaments - one-day events held away from the TV cameras and big crowds - but 'Voltage' revelled in the Ally Pally atmosphere, and it is easy to forget it is his debut in the event.
He survived match darts against Michael Smith and Van Gerwen, while his matches against Smith, Dimitri van Bergh and Van Gerwen were the three best encounters at the 2018 World Championship. He finished with a tournament average in excess of 100, hit more 180s and more 100+ scores than anyone else and crowned it with the best display of his career.
Entering the tournament at number 20 in the Order of Merit, he was always a dangerous floater and so it proved. Going forward, he is a now a top-three player who we are increasingly likely to see at the business end of majors, such is his relentless desire to win and to improve, and now he will have the benefit of avoiding MvG until the latter stages of a tournament - although the boot may now be on the other foot.
Cross has even been compared to a young Taylor, who was 29 when he won the world title on his debut in 1990 - so it was apt that he shared the oche on Monday with 'The Power', the 16-time champion who was chasing his own fairytale finish in contrast to his rival's storybook start.
If you are making rivals out of Van Gerwen and Taylor, both of whom had namechecked Cross, then you must be doing something right and 'Voltage' is doing something very right indeed.
Something that yielded the ultimate end to a spectacular year; victory over the sport's most iconic and successful exponent in its New Year's Day showpiece - and it's only just the start.
Keep up to date with the news as the PDC celebrates 25 years on Sky Sports, right through to the final on New Year's Day. Get all the latest at www.skysports.com/darts and join in the conversation @SkySportsDarts- don't forget to use #LoveTheDarts