Dark horses
Sid Waddell is looking forward to seeing which rank outsider will step up to the oche in the UK Open.
Last Updated: 02/06/11 9:51am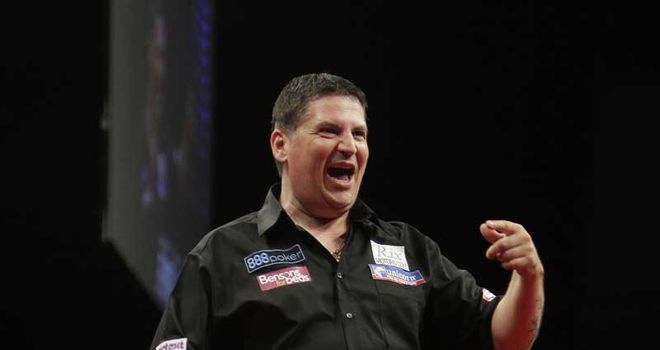 The UK Open really is the FA Cup of darts and we will see 172 players whittled down to just 64 by midnight on Thursday! There will be plenty of action with some youngsters going up against some of the old guns.
The top lads will come in on Friday night to take on those who have got through and then the format will go up to the first to nine legs as opposed to the first to four legs on Thursday - which is a bit of a scramble.
Phil Taylor has not been in a televised final on Sky since the last week in July and I am inclined to not make him the favourite.
He has won this tournament four times before and thrown four nine darters here but he is not going to be my favourite because I think there is a mixture of tiredness and possibly staleness in his game.
There is also a little bit of technical problems - he seems to not have the right weight of the darts, especially when going for the double 16 area.
I am going to make Gary Anderson my favourite. I think he really came of age in the PDC a year ago here when he got to the final against Taylor - he was 4-2 up and then lost 11-5.
However I think he has whittled down his weaknesses and proved that he is the most natural 180 thrower in the game. He keeps on going about always missing his doubles in practice but I really think that is more of a silly habit than a major problem.
The reason I am not going for Adrian Lewis is because I think he has been working far too hard and looks tired. He seems to lose focus and momentum at times.
Unusual suspects
On Thursday night we have some big names from the get go.
The likes of Steve Beaton, who is an ex world champion, plus Wayne Mardle and a cracking game beaten Colin Lloyd and Jelle Klaasen. Then you have Peter Manley against former Widnes Rugby League player John Bowles. James Wade is also in action against gardener Davey Dodds.
James Wade's battle with depression and Attention Deficit Disorder has been well publicised. He is also being treated for bipolar disorder which comes some way in explaining his extremely patch form. I think we all wish him well and hope to see the best come out of him again.
We also need to look out for Antonio Alcinas of Spain who played with Carlos Rodriguez in the World Cup and beat Taylor and Wade. We are also scheduled to see Michael van Gerwen, who won the Winmau World Masters, when he was just 17. Swede Magnus Caris should also be one of the lads to show up and play well on Thursday night
Somebody always has the streak of blinding play in this tournament - it happens every year. Someone will come up to me and say 'so-and-so is on fire over there'.
Last year it was Tony Ayres who beat Wade on the way to the semi-finals and I am sure we will see someone else take up that mantle this year.
Anything can happen
Then there are those lads who are young and cocky and looking for some scalps. These are the players who have made an impression before and will do so again.
One of them is Joe Cullen from Bradford who started off last year with a 6-1 in his first round. Michael Smith and Reece Robinson also started well last year and I expect them to do well again this year. Then there is Arron Monk who is the current U21 world champion.
These are the players who I think are going to make an impression and the fact I have not mentioned half of the Premier League just goes to show how excited I am for this tournament.
Take it from me, anything can happen and I think out of the two blokes in the final, one will be a stranger to most darts fans.