Changing the guard?
Sid Waddell wonders if an out-of-form Phil Taylor can hold on to the one trophy he has left.
Last Updated: 09/06/11 9:47am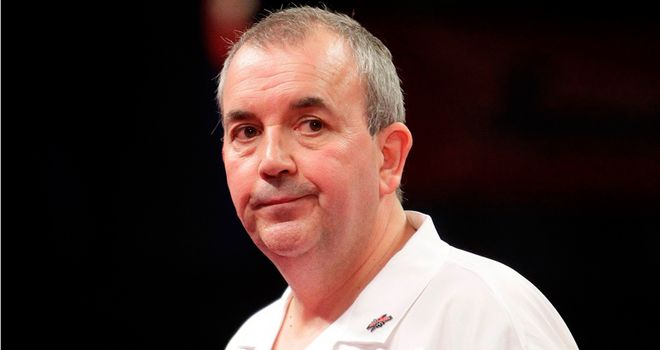 Will we see Phil Taylor's year of disappointment come to an end in Blackpool?
The Power has not been in a big Sky Sports Final since last July and now the World Matchplay title, which he will defend at the Winter Gardens next month, is the only trophy he has. I can't remember the last time he had so few pots in his cupboard.
He was knocked out of the UK Open in the fifth round and people have been asking me what's wrong with him?
For me, it's to do with the darts he's been using since February 2008, which are extremely hard to throw. They have minimal flights and because of his height he has to throw them upwards to the 60. Unless Philip is 100% tuned up and fit then he's going to have problems with the weight of the dart.
For most of the tournament in Bolton, his first dart was landing nowhere the bottom of the 60. That's a problem because unlike players such as James Wade or Gary Anderson, he needs building blocks around the treble 20.
His style is very complex - he works from dart to dart - and he has to make adjustments when one goes wrong. Other players will throw a treble 20 and none of them will touch each other, but Taylor produces a series of adjustments in relation to the last dart.
At times we've seen him throw 180's from all angles, but his 'building block' approach means slight problems are compounded when he's not 100% on top of his game. After losing to Paul Nicholson, he said to me: "It's very hard to do well against lads as good as this - and I wasn't up to it."
I don't think he's ever recovered from losing half a dozen times in the space of five weeks last autumn. He was defeated by Steve Beaton at the Grand Slam and he went on a bit of a losing run after that.
When he arrived at the Grand Prix last October he held all of the major trophies, but we have seen some vulnerability from Taylor and now there's only one left...
Genius
The other key aspect of the UK Open was the proof that James Wade is still a darting genius.
I remember when he won his first major title at the Matchplay in 2007 and then went on to win the World Grand Prix and the UK Open within the next 12 months. That early success prompted me to talk of a changing of the darts axis.
Since 2006, the superpowers of the sport had been Taylor and Raymond van Barneveld, but by mid-2008 I predicted a Wade-Taylor axis for many years to come.
If you looked at his form in the last few months then it didn't make that forecast appear very good. He threw away an 8-0 lead to Scott Waites in the final of the Grand Slam last autumn, then went out of the World Championship to Mensur Suljovic in the second round. We didn't see his class in the early weeks of the Premier League either.
But that did not mean all his incredible talent had disappeared. It took 2.7 nine-darters from Taylor to beat him in last year's Premier League Final and after some much-publicised private problems he really proved his class by winning the UK Open.
It all came together in the last three legs of the semi-final against Mark Webster. He was 9-7 down, but saved the match with a 120 Shanghai and went on to win 10-9. Not many people could have done that, especially having gone through everything he's been through.
Despite a few early problems on double top, he overcame Wes Newton in the final and after a few off-colour months, the real James Wade has returned.
That was his sixth major and he's still only 28-years-old. To put that into context, Phil Taylor was 28 when he won his first big title - the Canadian Open in 1988 - so for Wade to have six majors by the same age is incredible.
A few years ago I described him as Taylor's main challenger - and I don't think I was wrong.
Big story
Another big story coming out of Bolton was the rise and rise of Paul Nicholson.
Within a matter of hours he beat the Premier League champion Gary Anderson - fighting back from 5-1 down - and then held his nerve to beat Taylor. He showed incredible resilience to hold off a fightback from The Power in that game.
I wasn't surprised to see him lose to Wade in the quarter-finals and even though he was dejected after that match, he can be delighted with his tournament. We all saw how good he is.
He is a really conscientious darts player and approaches the sport in the right way. He plays the role of the bad guy in front of the crowd, but that's just a front. He's actually one of the nicest, most intelligent lads I've ever met in 40 years of commentating.
He went over to Australia to play darts in 2005, but still keeps in touch with the guys he used to play with in the North East. At the UK Open he was getting texts from the lads at Netherton Working Men's Club, which is right by where my father was born. The Geordies were watching his progress and he hasn't forgotten his old darting pals.
He definitely confirmed his reputation as one of the sport's rising stars.
Credit
Credit is also due to Wes Newton for reaching his first ever major final.
In the last year he has been the star of the weekly floor competitions and players' championships on the circuit, so it was good to see him do it on television.
I must also mention the colourful Peter Wright - aka Snakebite - who had his hair done a different colour by his wife for each day of the competition.
The best one looked like a squirrel dropped in ink - and the next day he turned up looking like a cockatoo. If you turn up with hair like that then you need to be good - and I think his performances have been good enough to get him in the field for Blackpool.
I was also pleased to see the performances of some of the younger lads; Michael Smith (20), Joe Cullen (21) and Arron Monk (21) all played very well.
But the star of the young guns was 19-year-old Reece Robinson, who beat Barrie Bates 4-0, Wayne Mardle 4-0 and then Wayne Jones 9-8. Those four showed just how healthy the game is.
It's worth pointing out that you can make a good career in darts these days at a time when there are limited possibilities in work for young men.
Big guns
The UK Open was like the FA Cup, where Melchester Rovers could play Manchester United, but July's World Matchplay is more like the Champions League with only the big guns in town.
This time the draw is seeded and the longer format should suit the more established players like Taylor and Anderson. The top stars won't meet each other until later on.
But after the events of the last few weeks there are plenty of questions whizzing around my head.
Can Adrian Lewis find some consistency? Can Barney improve his attitude? And, of course, can 11-time champion Taylor get it together in one of his favourite venues?
Join us in a month's time to find out... I reckon it's going to be the best World Matchplay ever!