Comeback Tayl
Wade? Nicholson? Sid Waddell wonders if anyone can topple a reignited Phil Taylor in Blackpool.
Last Updated: 20/07/11 2:50pm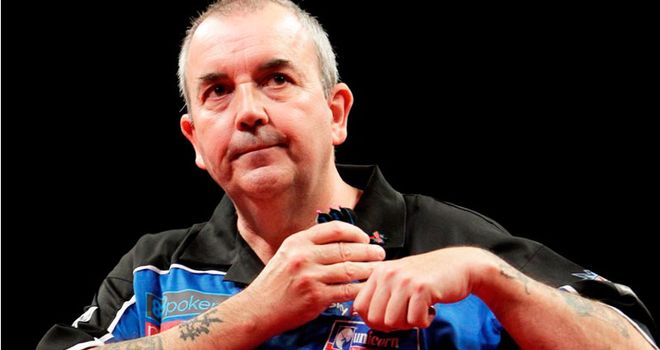 What an incredible start we've had at the Winter Gardens!
There's been more shocks than anyone saw coming and Phil Taylor will have woken up on Wednesday morning with the broadest smile out of everyone!
Gary Anderson's surprise exit at the hands of Andy Hamilton has really opened up the top half of the draw and that means one thing: Taylor is right back in this.
The 15-time world champion has been out of sync with his arrows of late and I couldn't see him getting past Anderson before the tournament started.
But he averaged 101.6 in his first round match against Mark Hylton - the highest out of anyone - and he has to be the favourite now in the top half of the draw.
Wes Newton and Hamilton both pose a threat, and if anyone is going to stop him from reaching his fourth final in as many years, I would expect it to be one of these two.
Hamilton pulled out three 100-plus checkouts and won four legs in a row to shock Anderson, but ultimately his average shouldn't be good enough to worry Taylor.
The only other factor is 'The Power's' war of words with Paul Nicholson. Throughout my 34-years as a commentator, players have always wound each other up and I think Taylor has overreacted a little bit here.
But if Nicholson should make it through the bottom half of the draw, I think Taylor will be focused and ready for him.
Storming
And the bottom half is where things get really interesting!
James Wade, Adrian Lewis and Nicholson are the men to watch out for here. Lewis has the easiest path to the semi-final because Nicholson and Wade will have to face each other in the last eight.
That said, I would expect either Nicholson or Wade to be in the final against Taylor. I tipped Wade at the start of the tournament and he began with a storming 10-0 victory over Jamie Caven.
Next up for him is Mark Walsh, but I can't see him having any trouble getting through that match to set-up a quarter-final with either Nicholson or Raymond van Barneveld, who go head-to-head on Wednesday night.
That is one of two matches I will be commentating on and I can't wait! It should be a real classic and I've already packed an oxygen cylinder for it!
In my opinion, Nicholson is the new Peter Manley. He's a very clever lad and I think he puts on a bit of a front for the cameras. That's not me being biased, even though he's from the same part of Northumberland as me which, apart from the Melbourne Social Dominos and Arrows clubs, is where most of his fans are from!
Revelation
Barney, meanwhile, was a revelation last year because up to that point he had never been past the quarter-finals., but I'm expecting a really tight match between these two.
The Dutchman has been in some amazing matches where it has come down to the last three legs, so you have to take into account his experience.
But Nicholson, after his amazing antics at the UK Open - when he was 5-1 down to Anderson and came back to win, before going on to beat Taylor - will have the edge, I think. I fancy him to win 15-13. At which point I'll probably be taking myself off to Blackpool General Infirmary!
Nicholson and Wade should then meet in the quarter-finals and the winner of that one will no doubt meet Taylor in the final.
The next two matches for Taylor will be crucial, but if he can get his average up to 106 he would be my tip to win the tournament.
He's played 15 games in the last three years and averaged 106, so that has to be the benchmark.
He's not playing anywhere near as well as he has over the last three years, but if he can reach those sorts of numbers then there is no-one that can touch him and, quite frankly, everyone else may as well go home!