The theatre of darts
Sid Waddell names the Grand Slam's best characters and assembles his cast for a darts panto!
Last Updated: 16/11/11 3:45pm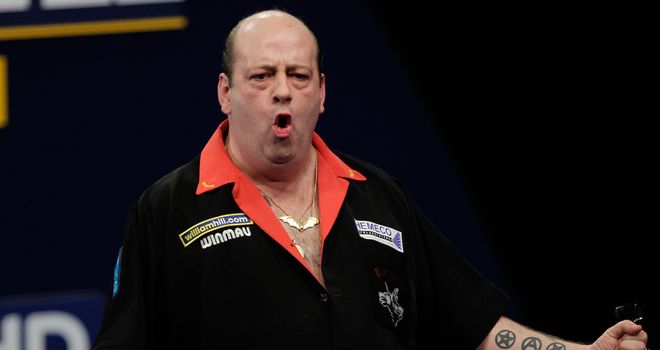 One thing I love about darts, and always have done since I started meeting the top players in 1972, is the mixture of swagger and precision.
That was the trademark of guys like Alan Evans, Leighton Rees, Jocky Wilson, John Lowe and all the players that brought the sport to prominence in the early days.
I remember when Eric Bristow got dartitis in 1987 and his game went off the boil people said there were no characters left in darts, but this tournament is proving, day by day, that we've got just as many as we did in the 1980's.
One of the best is Paul Nicholson - and that's not just my Geordie bias. I come from a village less than 10 miles from his hometown of Blyth and I know he will get his leg pulled when he goes on stage acting like a Smart Alec. If you move your lip it'll get pegged down - and that's what I like about him.
It's no good being all mouth and no trousers, but there was plenty of talent in his 11-dart leg against Wes Newton on Monday night. He made sure his opponent knew he had a game on his hands.
As for Phil Taylor, he looks like he's enjoying his darts and got six darts into a nine-darter against Steve Beaton before ending the match with a terrific 107 finish. That's the moment that the Taylor campaign came alive and it's ominous for the rest of the field.
The commentators made a good point that when he opens the door a little bit, his opponents try far too hard to beat him - and he takes advantage of that. He doesn't mind leaving a hard finish because he knows the others are walking on guilded splinters; they put themselves under big pressure to take their opportunities.
Wayne Mardle puts it well when he says that darts is a split-second game and Taylor is the master of hitting trebles when you don't expect him to. He's a master at delivering sickeners to his opponents.
Class
There's an old saying that says form is temporary but class is permanent and you can apply that to Terry Jenkins.
This guy has always been capable of pulling out 100+ finishes from nowhere and he was the master of battling back for draws in the Premier League. Those battling qualities were evident again against James Wade on Tuesday - a match he had to win to stay in the tournament.
At one point he won four legs on the trot and to do that against one of the favourites, under that sort of pressure, was simply amazing.
Some players like to spend their time on the golf course or at the races, but Jenks prefers to spend his time pricing up Grandfather clocks! He's a world expert on antiques and we should call him the Lovejoy of Darts.
Meanwhile, Gary Anderson seems to spend most of his time in coffee houses and I'm sure he's already found the best Café Mocha in Wolverhampton. We're yet to see him spark and while he is a very nervous player I expect to see him improve when the games get longer. He plays Wade in the next round and that will be a belter.
And I must mention Adrian Lewis, who swanned up to the oche against Co Stompe and did his thing, to the thrill of the crowd. (Speaking of the fans, I don't think I've ever seen such a fancily-dressed audience... you couldn't find a Superman or Darth Vader outfit in Wolverhampton if you wanted to!)
However, the star of the show so far - without doubt - has been Ted Hankey. If you're talking about character, this guy is full of it.
A bit of controlled theatrical aggro never hurt Wilson, Bristow or Peter Manley, but you've got to pop the scores to match your strut. He did that on Tuesday because he was averaging 109 at one point during his match against Ian White.
He likes to wind up the crowd, but I'm sure he's probably a very nice guy at heart, a bit of a softy who practices his move in front of the mirror. In fact, he's even inspired me to write a bit of poetry:
"Ted's a bit of a Ranto
I'd have him in my Panto
There's only one spot for Hankey
I'd make him Widow Twankey."
I've always said darts is pure theatre, but who else would Sid Enterprises cast in a panto for December 2011?
Well, Buttons would have to be the talented youngster Michael van Gerwen and I'd cast the multi-millionaire Phil Taylor against type by making him Baron Hardup.
And there's only one choice for the ugly sisters... it's got to be Wayne Mardle and John Gwynne!