The preparation game
How should the top players spend their time before the Worlds? Here's what Sid Waddell thinks...
Last Updated: 09/12/11 3:54pm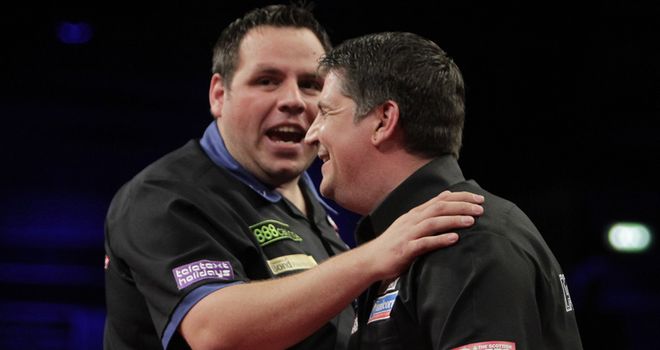 If I was to write a script for a movie about darts, I'd base it around a guy from Stoke-On-Trent who used to earn £34 a week making toilet chain handles (among other things) and went on to become a sporting millionaire.
The Phil Taylor story could be a Hollywood film, but as the World Championship looms nearer - it gets underway on December 15 - I would also find roles for three of his biggest rivals, who are hot on the heels of the greatest-there-ever-will-be.
After the Grand Slam of Darts, Taylor said that James Wade, Gary Anderson and Adrian Lewis were the boys that motivate him when he's spending hours on the practice board.
That's reflected in the fact that those four have won all of the major titles this year. Lewis is the World Champ, Anderson won the Premier League, Wade holds the UK Open and The Power won the rest, which leaves the planets perfectly aligned as we move into December.
The big question for the three challengers is what do they need to do in order to match the main man at Ally Pally? I've never been sure whether darts players approaching a major tournament should practise what they're good at or what they're bad at.
So I've cast my microscope over what happened in Wolverhampton and here's how I think they should spend the next three weeks getting ready for the big one...
James Wade
He's the guy least likely to rise to the big occasion and if I was in his shoes I'd practise scoring on the 60. He needs to eradicate any sloppy darts on the second or third visit to the board. Furthermore, although he likes to finish on double 10 and double top, maybe he should alter his practice and focus on other doubles. He's always capable of big three-dart checkouts, but a more systematic effort on the doubles he misses could pay dividends.
However, I'm not sure you can use the word "systematic" in the context of James Wade. He's a bit like the great footballer Len Shackleton (the guy that once sat on the ball and looked at the clock with 10 minutes left), who would try to beat five men and score himself rather than passing to a team-mate for a tap-in. You could use the word genius about James, but sometimes that turns into a negative and he ought to look at videos of his matches to work out where he's losing games. If he can put his finger on that he'll be a big threat.
Gary Anderson
Gary surprised himself by getting to the final in Wolverhampton because he did not think he was going to get anywhere near the latter stages. I don't think he should look at videos of his matches, but take a trip to the library instead. He could pop into the "Painful Lives" section for a look at my book 'The Road Back Home' (still available in all good bookshops, by the way...) and then take a trip to the self-help section and pick up some "Positive Life Guides". He can then take that into Costa while he's drinking his 20 cappuccinos a day and practise some positive psychology.
He needs to learn how to forget about missed doubles and come into the World Championship with no negative vibes at all. I'm getting tired of that 'here I go again' look that we keep seeing on his face. His technique is beautiful to watch, but he needs to get his head right.
Adrian Lewis
The key to Adrian's play is finding a balance between his talent and his concentration. There are times when he doesn't need to think, he can just blaze away like Jocky Wilson used to, but there are times when his shot selection needs to be wiser. He needs to find a way to regulate his adrenaline because the Lewis that beat Taylor in Ireland a year ago and the Lewis that threw a nine-darter in the World Championship Final is an unstoppable darts player.
But I don't know how you coach that. I'm sure Pep Guardiola doesn't send his players onto the Barcelona training pitch and tell them to spend an hour playing as if they're up against Real Madrid - half of them would end up in the General Infirmary - but Aidy needs to do the equivalent of that (although for Real Madrid, read Phil Taylor).
A week before the 1990 World Championship, Taylor and Eric Bristow went down to a pub and played the World Final format over and over again to prepare. I'm not sure who Lewis could use as his playing partner, but he needs to find someone who lives within 50 miles of Stoke-On-Trent to practise high-adrenaline darts over a long format for two or three days before the World Championship.
Phil Taylor
I wish I had £1000 for every treble-19 The Power hit in practice in the last two weeks; then I could probably afford to buy as many shares in Tesco as Warren Buffet. Taylor's got to the stage where he never risks a dart at a blocked 60 because he knows he never misses the 57; if there's any doubt then he'll happily switch. In my life, I've never seen a player so brilliant on the treble-19 - and he didn't get there by wishing; that will have come from hours and hours on the practice board.
While the other players have headaches, he's just got a scratch on his temple. If two darts had gone in differently he'd have broken the world record for an average in a major final in Wolverhampton and he's looking unbelievably good. I'm not sure where The Power is right now, but I bet he's chilling out in Tenerife enjoying a glass of cold Orangeade. If this game is played in the head then he's in front of the rest by a country mile. In my movie script, he'll probably open at Ally Pally with a 115 average and break all sorts of world records along the way.
Finally, I was very moved by Phil dedicating his victory to me in Wolverhampton. As I write, the postman has just delivered a large box. My wife hopes it's not the Grand Slam trophy because she can't stand polishing ornaments...