The Stokie Cokie!
Sid Waddell's off to Glasgow to watch 'Messi-esque' Phil Taylor face fellow Stokie Andy Hamilton.
Last Updated: 13/03/12 5:19pm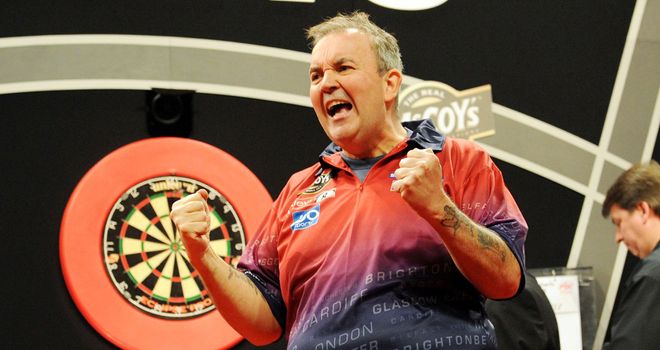 I'll be back in the commentary box on Thursday night in one of my favourite sporting cities.
I remember doing nine-ball pool with Stephen Hendry and John Higgins in Glasgow a few years ago and it was also the scene of a night of darting sensation back in 2008.
Phil Taylor had made 44 outings in Premier League Darts without losing, only to be beaten 8-6 by James Wade in Glasgow (although that only spurred him on... a few weeks later he had mastered his new darts and was averaging 110).
Looking at the matches scheduled for this week, I don't think it gets much better than this.
James Wade v Adrian Lewis
First up, I'll be sharing the box with Nigel Pearson and what more could I want than the chance to commentate on a world champion looking for his first win? I remember when Adrian Lewis won six legs against Barney in nine minutes in Bournemouth; well, two weeks ago he lost an entire match to Gary Anderson in 19 minutes!
This will be a big test for Adie, who is a bit too flash at times and sometimes has concentration problems. He's got to kick into life soon and I think he will come out and go for broke. I can't see him being cagey.
But if this match was an Aesop's Fable it would be the story of the hare and the hare! James Wade won't be slow and you never know what he'll turn up and do. If he was a footballer he would play for my beloved Newcastle United; beating Brazil on Monday and losing to Blyth Spartans on Wednesday. He's a phenomenal player when he gets into his groove, but he's not consistent enough. I'm not sure he's got over the semi-final at the World Championship when he was 5-1 up on Lewis and lost; scars like that don't disappear quickly.
It should be an amazing match in such a large, theatrical venue. I really couldn't pick a winner.
Gary Anderson v Simon Whitlock
Simon Whitlock is sponsored by Harlow Dogs and his ponytail gets more care and attention than any of the greyhounds! I've never been satisfied with his nickname though; the Thunder from Down Under and The Beard to be Feared are gone and I'm now going to refer to him as the Devotee with the Goatee.
He's on course to be a real star. He has all the colour of great Aussie fast bowlers like Dennis Lillee and Merv Hughes, but without the aggression. He's one of the quietest lads you'll come across away from the board. For me, his all-round game and his 100+ finishes should see him into the top four this year.
Gary Anderson is about as reliable as my Cheltenham tipster! In Week One he lost to Kevin Painter with an 81 average, but by Week Four he was beating the world champion 8-1! I still think he gets too many doubts in his head if he misses an early double and in Scotland he has the added pressure of playing in front of his home crowd. I'm going to go for a narrow victory to Whitlock here.
Phil Taylor v Andy Hamilton
When the Romans came to Britain in 50BC they heard about the javelin throwers that came from the Midlands. Well nothing's changed - they've just shortened the missiles and put some flights on. Two of Stoke's finest will go toe-to-toe in Glasgow and I'll be joined by none other than Peter Manley in the box for this one.
It tickles me to hear that former publican Andy Hamilton gave a talk to the boys at Eton. Apparently, he addressed the pupils and then performed his party piece by asking one of the kids to hold a sheet of newspaper over the board, shout out a double and then hit it blind. Darts has always been a game played in public houses and now we're taking it into public schools! I can't see him beating Taylor though because of his action. He has a long, slow wind-up, he holds the dart very high and his style means that his arm will get heavier as the game goes on; a bit like a football team tiring in the last 20 minutes of a game.
I get accused of going on about Phil Taylor too much. Well, in the last few weeks he's thrown three nine-darters in serious competition and nearly broken the world record for an average. If we don't talk about him, then we shouldn't talk about Lionel Messi when he scores five goals for Barcelona either.
By the way, he was capable of this standard when he was 17. Back then he played darts around Stoke for money with a guy called Kenny Massey and if they won £50 then Phil would get £5. He won enough to buy himself a white John Travolta-style suit and didn't take up the game properly until he was 25 because he was too concerned with being the best disco dancer ever! All the factors were in the mix back in 1977 and I see him winning this 8-4.
Raymond van Barneveld v Kevin Painter
Why is Barney so popular in Scotland? As a student of history at Cambridge, I know that the Scots and the Dutch have had a lot of alliances in the past. In the 16th Century there was a lot of Dutch support for Bonnie Prince Charlie, both are very sharp trading nations and I think there is a chemistry between the two countries. Also, they seem to like the fact Barney is a nice lad and doesn't come on stage too aggressive!
However, I'm going to go for Painter to win this match because of a technical issue I've spotted in Barney's throw. He likes to use the understacker and while he was using it beautifully in the early part of the season, he's lost the feel of the dart a bit lately. This is a real contrast in styles because Painter's darts never touch each other and I think he'll win this very narrowly. When Barney loses his rhythm he just loses.