Men of Steel
It's Barney v Taylor in Sheffield and Sid Waddell expects a match to equal the classics of yesteryear.
Last Updated: 12/04/12 12:11pm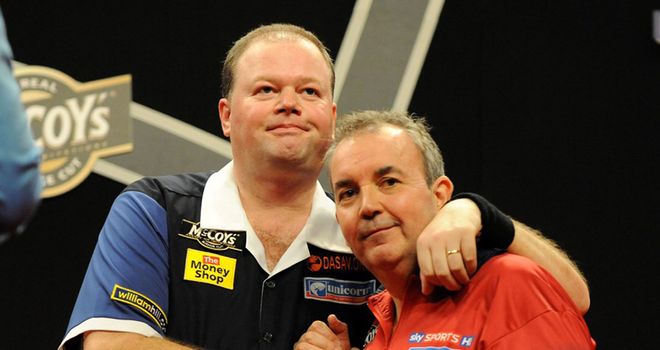 I've just found out that I'll be commentating on Phil Taylor v Raymond van Barneveld in Sheffield on Thursday night.
I'm pretty chuffed, but I thought I was doing the Simon Whitlock match, so if anybody needs any jokes about Crocodile Dundee swinging through the gum trees on Whitlock's ponytail then let me know!
Like a First World War soldier I've been dodging the incoming shells of Barney and Taylor statistics in preparation, so I haven't got any Sheffield gags lined up yet - and that's unusual for me. I'm in the market for some jokes, so if you've got any then let me know on my Twitter page.
In terms of stats, I can tell you that these two have met 34 times on telly and Taylor has 26 wins and one draw. For Barney's last win over The Power on TV you have to look back to the UK Open quarter-final back in 2008.
There have been plenty of classics over the years. Notable matches include Barney's 2007 World Championship Final win (obviously) and the 2010 World Matchplay Final when Taylor won 18-12.
This week's venue also holds significance. They met in Sheffield in the Premier League back in 2007 and Barney was 5-1 up on The Power at the break, only to lose 8-6. I hope he has no phobias about returning there!
This encounter should be particularly tasty because there's all sorts of evidence of Barney returning to the form of 2006 and 2007 when he won the World Championship and the UK Open twice.
Since Barney came over to the PDC in 2006 he has often shown his class - but in the last few weeks he has been showing us character as well.
The standard of the Premier League is incredible now and there have been times when you thought his head might have dropped. For example, on the opening night in Manchester he threw fourteen 140's and averaged 102, but still only ended up with a draw against Simon Whitlock. Then in Week Two against Adie Lewis he went 5-2 down - but once again battled back for a draw. Then he played Phil Taylor in Week Three and averaged 106 but still lost!
However, he's kept his head up and last week he produced his highest ever televised average (112.28) and in leg seven he was above 119, which is better than the world record.
We are seeing a man who is enjoying himself up there. His wife once told me he was a shopaholic - "up Bond Street more than Mary Queen of Shops" - but now he is relaxed and focused on the oche. I just hope he's not thinking about Moschino belts when he should be hitting his doubles!
However, it's good to see him looking focused and I don't think he will panic, so I think this match has "draw" written all over it.
But you know what Taylor's like. He's already qualified for the semi-finals, yet he won't take any prisoners. He's been in a different stratosphere this year. He set a new PLD record average in Exeter, he beat Gary Anderson 8-1 in 19 minutes and then relaxed the next weekend by throwing two nine-darters in another competition in Reading.
By my calculations, he's averaged 106 since then (peaking with 113 in Cardiff) and whichever way you look at it, this is a man who is at the very top of his game.
Barney has been producing similarly high averages over the last few weeks and this has got the makings of a belter. There was a buzz in the air whenever these two used to meer and this week I think we will re-visit that.
This is a match which won't need any exaggeration. I won't be reaching for my directory of exotic Dutch cheeses too often because there'll be enough fun and games on the board!
The best of the rest
We are going to see two maestros of the game on Thursday night - but the other games should be belting as well...
James Wade v Gary Anderson
I think Anderson might be a bit ring-rusty in his first game of two in Sheffield. James Wade was involved in some argy-bargy over a loose floorboard in his match with Adrian Lewis, but I don't think that's the sort of thing that will get him down. I'm going for a narrow win for Wade because this bloke is capable of hitting a double top or double 10 standing up in a hammock on the Titanic! I'll say 8-5 to Wade.
Simon Whitlock v Kevin Painter
Simon Whitlock was on fire last week as he thrashed Gary Anderson 8-2. He's not daft and he knows what he needs to do to succeed - and I'm still waiting for his 100+ finishes to come out this year. We haven't seen the three-dart combinations that took him to the 2010 World Championship Final and that could level this match out. If he doesn't hit them, then Kevin Painter will and that's why I'm going for a 7-7 draw here.
Andy Hamilton v Gary Anderson
Gary Anderson has had an up-and-down season. He started with two averages around 80 (although one of those was a win over Hamilton in Aberdeen) and I think that inconsistency could be apparent in Sheffield. I think he'll do much better in his second game of the night because after he's spent 45 (give or take) on the oche, it will help him to get the crowd out of his mind in the second game. We'll see the real Anderson and I'm going for a narrow 8-5 win for the Scot.