Going to the Dance
Only four men are left standing... Sid Waddell looks back on a night of Tyneside darting drama.
Last Updated: 18/05/12 5:18pm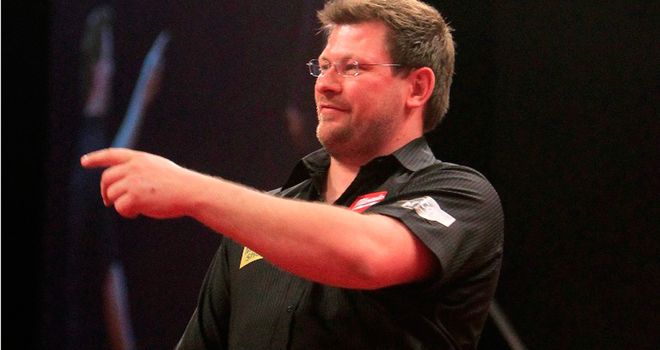 I was a Black Spot once again when it came to my Premier League predictions. Back to Treasure Island for me...
Before Thursday night's matches I fancied Raymond van Barneveld and Adrian Lewis to book a place at the Big Dance at the O2, but in the end it was Andy Hamilton and James Wade who made it into the top four.
Adie started his match very well against Simon Whitlock, who was all over the place. I pointed out in commentary that he's not a good chaser of a game, so when the world champ was 5-2 ahead I didn't think he would flicker.
Myself and Wayne Mardle agreed the Aussie had been throwing short in the early part of the game and there was a real lack of style from him, but he corrected that in the second half.
Lewis got very tense and it all went wrong for him. He didn't say much afterwards and left the premises very disappointed. The UK Open is only a month away and that was no way for a world champion to build his confidence going into that one.
Whitlock secured second place in the table, but he didn't say much in his interview afterwards. He's more like an Aussie priest than your typical Australian Jack the Lad and I'll look forward to seeing how he gets on against Hamilton in the semis.
Hamilton talks a very different game. Whenever he speaks (and he's talked to Eton College as well as to the lads this year) he makes it clear that he feels he's good enough to be among this company.
A lot of sportsmen talk themselves down, but he's got a superiority complex rather than an inferiority one. Somebody like Muhammad Ali would mouth off because of nerves, but Andy will just modestly express how good he thinks he is - and that's no bad thing for a darts player.
I wouldn't be surprised to find him walking around Stoke-On-Trent shouting 'I can beat Phil Taylor and all of the rest of them.'
This sport drives some people to drink and it drives some people to wake up at 3am to practise their doubles. If it drives Hamilton to shoot his mouth off, I think that's great.
He was one of eight when the Premier League started and he's one of four now. I love him. It beats pulling pints doesn't it?
Classic
The game between James Wade and Barney was a classic.
Wade went 4-2 down, then 6-4 up, then 7-6 down before throwing a 13-darter to get a 7-7 draw. He's like an alchemist who's labelled his bottles wrong and can't find the right mix. He tries to take some gold off the shelf and sometimes ends up with lead!
He's like a wizard who can't mix the right potion and it's often been said that genius meets madness when it comes to James.
That means that any contest between him and Phil Taylor is worth watching - and it's no surprise to see The Power talking up his semi-final opponent. It's clear he won't be taking him lightly.
The Premier League has been right royally entertaining and the crowds have been wonderful. I'm sure that will be the case at the Big Dance next week.
'Sid The Black Spot' will be back online next week to give you my views on what's going to happen in London.