King James?
Sid Waddell is tipping James Wade to cause a big shock against Phil Taylor at the O2 Arena.
Last Updated: 16/05/12 11:01am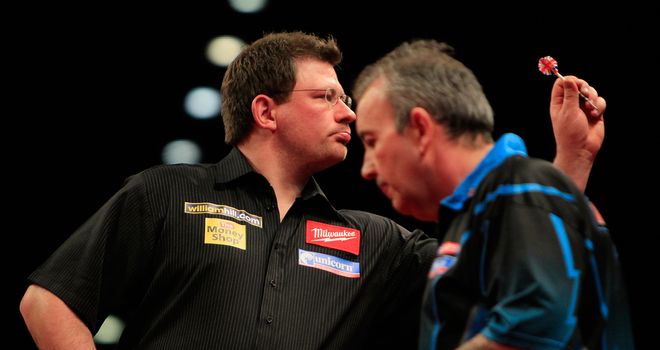 Great credit should go to everybody who chose the eight-man field for this season's Premier League Darts.
It's been an amazing season and I'm expecting an amazing finale.
They may have been newcomers, but the class of Kevin Painter and Andy Hamilton has shone through in their performances - and the proof in the pudding is that The Hammer made it into the last four.
I think we're going to see the four hottest darts players on the planet at the O2 Arena on Thursday, which is a real lip-smacker. The 9,000-strong crowd (and rising) are going to be royally entertained.
Semi-Final One: Andy Hamilton v Simon Whitlock
Andy Hamilton plays Simon Whitlock in the first game and it will be a repeat of their semi-final at the World Championship.
Whitlock was 3-1 up in that game, but Hamilton fought back to win 6-5 and you have to say his improvement in the second half of games has been a big factor in his rise.
The Aussie broke his ankle last year and I think that may still be having an impact on him. I watched him against Phil Taylor in Liverpool when he started like a train to go 3-1 up, but then lost seven legs on the spin to lose 8-3.
After a brilliant start, he was missing shots by half an inch and I wonder if that injury is subconsciously affecting his balance. His style seems to change as the game progresses.
However, I'm going to give that match to Whitlock, but only narrowly. He's capable of 100-plus finishes (he threw six of them in the World Championship semi against Barney in 2010) and he'll be looking to produce a few at the O2.
I think the occasion might get to Hamilton and he might try a bit too hard, whereas the Aussie has much more big-match experience.
My prediction is an 8-6 win for Whitlock.
Semi-Final Two: Phil Taylor v James Wade
I remember sharing a commentary box with Stephen Fry and watching an amazing Premier League final between Phil Taylor and James Wade two years ago.
As Wade said afterwards, it took two nine-darters from The Power to beat him. I like that quote because it shows the attitude of a winner. You never know what you're going to get from James, but I have a funny feeling he might pull off a surprise here.
Wade is one of the greatest half-dozen natural talents I've seen in 40 years of watching darts, but the key is his concentration. If he concentrates too much he goes off the boil and you just can't predict what he's going to do.
As for The Power, what can you say about him this season? He threw a nine-darter in Aberdeen, threw two more in a weekend tournament and then went to Exeter and averaged 117.35.
Ever since the first night of the first Premier League, he has been trying to whitewash every opponent he has faced, but I'm not sure the tungsten tips will be sharp enough this time.
Despite Taylor's form, which has been frankly daft, I'm going to go out on a limb and say that Wade is going to win. Just don't come back at me with the benefit of 20-20 hindsight!
He was 5-2 up on The Power in Week 10 before he was pegged back for a draw and I just have a hunch that it is going to be his turn.
If Wade has a wobble it will be between his ears. If Taylor has one it will be in his hands. It's attitude against technique and it will be very tight.
I'm going to predict an 8-6 win for Wade.
The Final
I've called it as a Whitlock v Wade final and only a fool who's very foolish would be foolish enough to make a fool of themselves by calling that one.
I couldn't pick a Whitlock v Taylor final either. I have a hunch that Wade will be the form man.
It should be a great night. I hear I'm getting Bon Jovi's dressing room, which will do me. I'll be livin' on a tungsten prayer all night.
Who'd have thought when the Premier League started at the King's Hall in Stoke-On-Trent back in 2005 that we would be holding the finals in front of thousands of punters in a venue usually reserved for rock stars.
How things have changed... and if I was a James Wade fan I might be tempted to put a fiver on him.