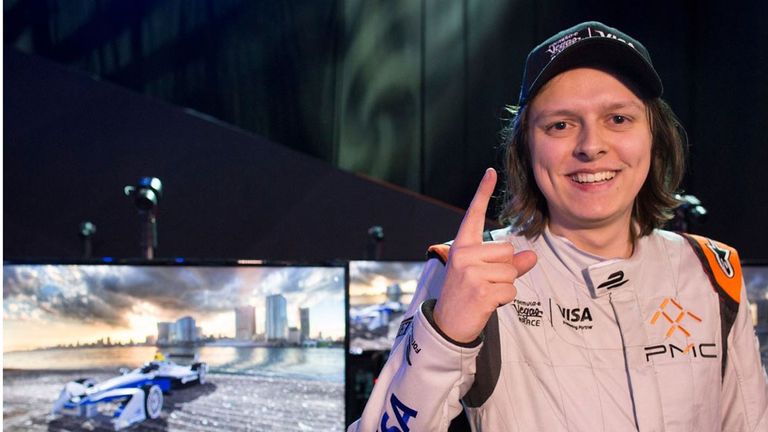 Bono Huis has won over £160,000 after a controversial victory in the first virtual race between drivers from the Formula E electric series and gamers in Las Vegas.
The Dutch SIM racer collected the $200,000 jackpot, the biggest prize in eSports racing history, after rival gamer Olli Pahkala was handed a post-race 12-second penalty.
Pahkala celebrated after crossing the line first but the Finn was demoted to third by stewards after a post-race investigation found a software glitch had enabled him to use the sport's 'fanboost' feature for longer than permitted.
Huis, 21, also picked up an additional $25,000 (£20,333) for securing pole position in an event boasting a total prize pot of $1m (£813,338), with even last place earning a guaranteed $20,000 (£16,266).
Saturday's virtual 'eRace' was held at the Venetian Hotel and featured 20 race drivers and 10 gamers with matching equipment.
All wore flame-proof race suits, despite competing in a virtual world, as if driving actual cars.
The gamers, who compete online in virtual series such as iRacing and Formula Sim Racing, earned their places in a Road to Vegas challenge and were paired with the 10 Formula E teams.
"The first eRace in Las Vegas was a great success," said Formula E chief executive Alejandro Agag.
"I think this can be the first in a big future for Formula E in eSports racing. We will continue to pursue new and innovative ways to improve our presence in this fast growing landscape."
Formula E will return to the United States for two races in New York in July.