WATCH: F1 Midweek Report - Mexico 2015
Mike Gascoyne and Maurice Hamilton debate Mercedes' Mexico strategy, whether it's 'war' again between Lewis and Nico, and lots more on the latest F1 Midweek Report
Last Updated: 10/12/15 10:32am
Mercedes were right to enforce Lewis Hamilton's second pit stop in the Mexican GP as drivers cannot be allowed to dictate team strategy from the car, former F1 technical director Mike Gascoyne has argued on the F1 Midweek Report.
Hamilton briefly argued against a team instruction to come into the pit lane after Mercedes decided to make precautionary tyre changes with both of their drivers midway through last Sunday's race.
While Rosberg, the long-time race leader, heeded the call immediately, Hamilton continued for one extra lap while he queried the need for the stop with his race engineer, Peter Bonnington.
Speaking afterwards, Hamilton admitted he had wanted the team to take advantage of the fact both world titles had already been wrapped up in their favour and "let me take a risk" in an attempt to beat Rosberg to the win.
The Briton ultimately came into the pits at the second time of asking and Gascoyne, a former technical boss at Renault and Toyota, has insisted Hamilton would have been wrong to overrule his team on what was a "perfectly straightforward" strategy call.
"You have to be very firm - as his race engineer was, superbly. In the end Lewis listened to his team and his race engineer and did what he should have done," Gascoyne said.
"If he hadn't have done that then I think he'd have got it wrong, because the Safety Car would have meant he was out there on old tyres with his team-mate on new tyres behind him. So he would have lost, in hindsight.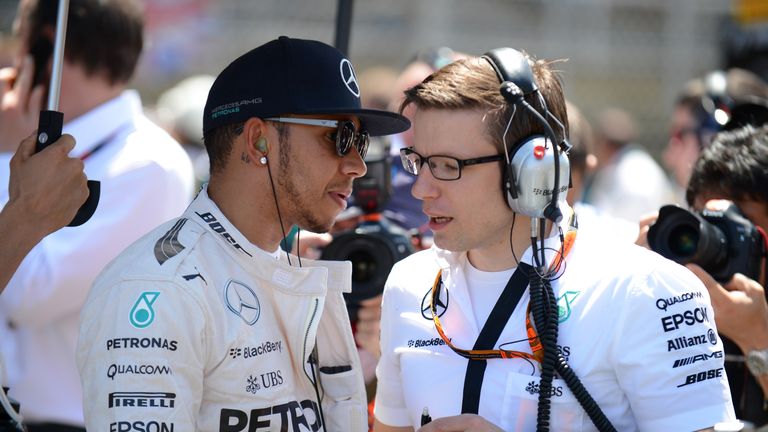 "As a team you can't have drivers making that decision. In the past we've had that sort of thing and I always sit them down and say 'look, next time we'll make a call and you will come off worse from that because you can't treat the team like that, you've got to be a team player'.
"You've always got to remind the drivers who they work for."
Fellow Midweek Report guest Maurice Hamilton, one of F1's most experienced journalists, pointed out that the bungled strategy call which cost the three-time world champion victory May's Monaco GP showed how drivers aren't often best placed to see the big picture on strategy.
"Monaco was one place where Lewis was trying to put his twopenn'orth in and saying what he thought and that contributed to the wrong decision," the veteran writer said.
"So you should zip it because at the end of the day the engineers and everybody back in the pits and back in the factory know more than you do in the car. And if they tell you something, and even if you think it's wrong, you've got to think 'okay guys, you're right'.
The Mercedes driver's race engineer came in for praise, however, for the way he handled the situation.
"Pete Bonnington did a superb job, he was absolutely firm with him and had an answer for every question that Lewis raised," Hamilton added.
"That shows the professionalism, and Lewis respected that at the end of the day and thought he better come in."
The fact that the situation even arose at all underlined Mercedes' dominance last Sunday, with the world champions having had a big enough lead to stop their drivers for a second time and not put a one-two finish in jeopardy.
Ferrari, the Brackley outfit's nearest challengers in 2015, endured a torrid race as Sebastian Vettel uncharacteristically crashed out and Kimi Raikkonen also retired after another collision with Valtteri Bottas.
Raikkonen, who turned 36 last month, has now been involved in accidents in each of the last three races and Hamilton  believes that the former world champion is not the driver he once was. 
"He's signed up for next year and, I must say, when they announced that I was surprised. Nice for Kimi, it's a vote of confidence, but I do begin to wonder," he said.
"He's 36 now and the oldest driver out there, he's not the Kimi he was. The Kimi that we all loved and remember in 2003, 2005...full-on, going for it, time's gone on and I think it's beginning to tell. He's a driver who lived on his reactions - phenomenal reactions - but when you get older those reactions aren't there anymore and it will tell. It is beginning to show and he's just not the driver he was and it's just so sad to see. 
Mike and Maurice also discuss whether or not Mercedes' leading players really are 'at war', the latest in the ever-intriguing F1 rumour mill - featuring the futures of Manor and Force India - and the success of Mexico's long-awaited return to the F1 calendar.
And, in one additional treat, Ted Kravitz and Martin Brundle chat in the regular 'Mini Notebook' feature about events at Mercedes and Rosberg's sudden return to race-wining form.