Renault launch 2016 car with Kevin Magnussen alongside Jolyon Palmer
Black livery unveiled; All-new driver line-up for next season; "We have no intention to make up the numbers" declare team
Last Updated: 04/02/16 11:37am
Renault have become the first F1 team to reveal their new car for 2016 at a glittering launch ceremony in Paris marking the group's return to F1 as a constructor outfit.
Following Pastor Maldonado's exit, Kevin Magnussen was confirmed as Jolyon Palmer's team-mate, with Esteban Ocon appointed reserve driver, while Frederic Vasseur was presented as the team's new boss under the title of racing director. Bob Bell will take on the role of chief technical officer.
Renault, who powered Red Bull and Toro Rosso last year, have returned to F1 as a fully-fledged team for the new season after buying back the Lotus outfit they sold in 2009. They will be known as the Renault Sport F1 team.
The team's new car, the RS16, will be adorned in a predominately black livery with only flecks of yellow - which was Renault's traditional colour scheme during their previous stint as a full F1 team. The livery may change again before the season-starting Australian GP, however.
"I think we have learned that Renault are back as serious players and aim to compete for wins and championships in the medium term," commented Sky Sports News HQ's Craig Slater.
"It was interesting that they debuted the new car rather than just a team launch. It is a wonderful looking piece, but not much in the way of evolution from last year."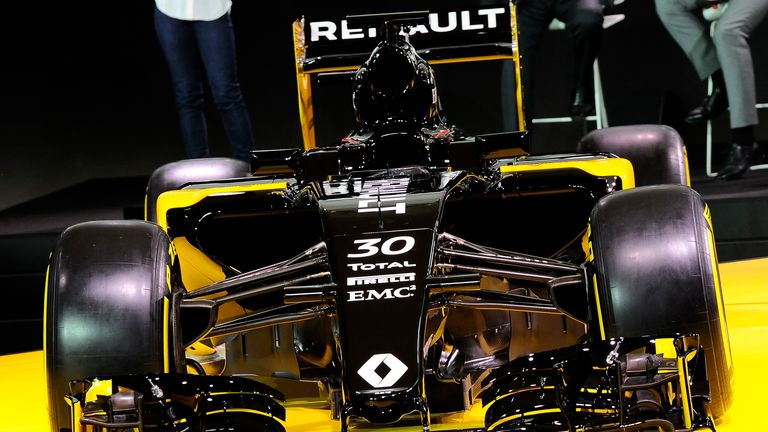 Magnussen's appointment as Pastor Maldonado's replacement caps a roller-coaster six months for the young Dane which started with Magnussen being told on his 23rd birthday he was being dropped by McLaren as their reserve driver but has now culminated in his own return to the grid. Magnussen was a race driver for McLaren in 2014 but was then ousted when Fernando Alonso returned to partner Jenson Button.
"It's not only a Formula 1 drive but it's a top drive. Renault Sport will be fighting for world championships in the future, it might have a build-up phase, but they're here to win and that's a goal I share," said Magnussen.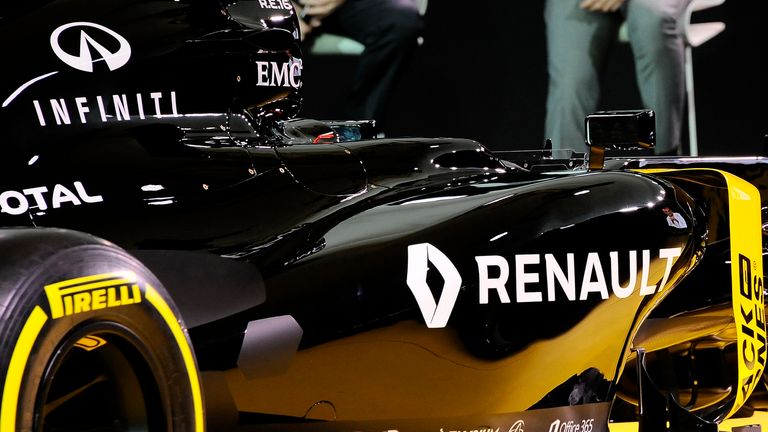 Lotus finished sixth in the Constructors' Championship last year but have warned they face a "transitional season" in 2016 as Renault reintegrate at the team's Enstone base.
While the new livery was the most eye-catching feature of Wednesday's launch, the most significant change is likely to have occurred underneath the bodywork with Mercedes class-leading engine replaced by a Renault's own V6 unit.
"We know when the team wins it is the car and when it loses it is the engine. That is why we had to come in as a full team," said Renault chairman Carlos Ghosn.
"We know we are starting at a handicap compared to the winner in F1, but we believe we have the talent to close the gap. We are not here to participate, we are here to compete at the highest level and eventually win.
"I want every time a race starts for Renault to compete. That is not going to happen in 2016."
Who's who at Renault in 2016
| | | |
| --- | --- | --- |
| Managing director | Cyril Abiteboul | |
| Racing director | Frederic Vasseur | |
| Chief technical officer | Bob Bell | |
| Race drivers | Kevin Magnussen and Jolyon Palmer | |
| Reserve driver | Esteban Ocon | |
In an indication of their commitment to returning to the front of the F1 grid, Renault have created a new motorsport division, Renault Sport Racing. It will be run by Jerome Stoll with Vasseur reporting to managing director Cyril Abiteboul.
Renault's last period of team ownership, between 2002 and 2009, delivered two world championship doubles and Abiteboul made clear: "The ambition is not just to participate - we have no intention to make up the numbers. We want to win.
"And Renault can make that statement because we have won in every category we have competed."
The first Barcelona test starts on Monday February 22 and the Sky Sports F1 Digital team will be providing live commentary from dawn until dusk on all four days of both Barcelona tests while Sky Sports News HQ will also deliver live updates from trackside.