Maurizio Arrivabene and Christian Horner clash over Ferrari appointing Laurent Mekies
Arrivabene defends Ferrari appointment of FIA safety director Mekies; Horner claims decision makes Strategy Group agreements "pointless"
Last Updated: 26/03/18 8:44am
Maurizio Arrivabene and Christian Horner engaged in a heated debate over Ferrari's appointment of FIA safety director Laurent Mekies in Friday's Team Principals' press conference.
It was confirmed earlier this month that Mekies will join Ferrari in September, just six months after Renault angered teams by signing FIA's then-technical director Marcin Budkowski.
In the build-up to the Australian GP, McLaren accused Ferrari of breaking a "gentleman's agreement" by hiring Mekies.
Ferrari sign key FIA man
Renault confirm Budkowski role
At Albert Park, Arrivabene defended Ferrari's actions and while Mercedes team principal and CEO Toto Wolff said it was "not a big deal", Horner disagreed and claimed it made Strategy Group discussions "pointless".
Click play on the video at the top of the page to see the debate and read the full transcript below
Arrivabene: "First of all there is nothing wrong on that because we were respecting absolutely the Swiss local law where Laurent was hired. Afterwards we went even further than that because we gave six months of gardening [leave].
"Normally what we discuss before the Strategy Group, we sign a confidentiality agreement that means that we are not allowed to discuss or to share in public what we discuss there. Having said so, I heard comments related to a supposed so-called gentleman's agreement.
"I think they are comments because gentleman's agreement under labour law is illegal so I thought they were just comments, no more than that."
Wolff: "First of all I didn't see any gentlemen in the room when we discussed it.
"Second, for me the situation is completely different from Marcin. Both are intelligent engineers, but Marcin was involved in issuing technical directives just a few weeks before he decided to join a team, and had a lot of inside [information].
"Laurent was in totally different activities that are not as sensitive, in my opinion, as Marcin. He's joining the team in seven or eight months from now and for me it is not a big deal."
Horner: "Well for me it is a big deal because, I think, the disappointing element about this is we have a thing called the Strategy Group where the FIA, FOM and all team principals attended. We discussed the Marcin issue where there was great unrest about a key member of the FIA going to a team, in which case was Renault.
"Renault diluted that by putting him on an extended gardening leave but after that ensued a conversation about it's unacceptable - every team found it unacceptable.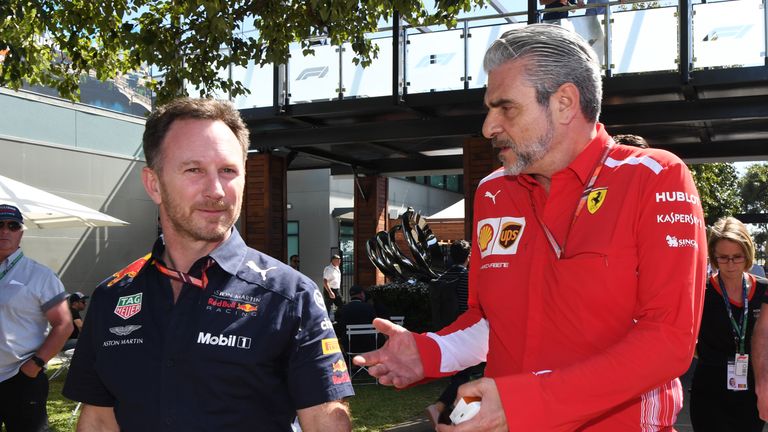 "Of course you are dealing with employment laws across different states, different countries and to try and police, legally, something like that, it was agreed in the room that all the lawyers in the world couldn't come up with a contract that could police it.
"But there was an understanding and a clear statement by the teams to say 'Right, let's have a clear position that there should be at least a period of 12 months in the garden for a member of the team going from either FOM or FIA to a team or a team going vice versa'.
"Certain teams were pushing for it to be three years but in the end it was agreed upon being 12 months. What's disappointing is that that meeting was less than six weeks ago and, arguably, discussions were probably happening at that time.
"It almost makes those meetings pointless if we can't agree on something and action it. Of course you can hide behind 'Well it's not in the regulations' but as a group we agreed something, it hasn't been adhered to and so one questions what's the point of having those meetings."
Arrivabene: "We gave a mandate to the FIA, to the lawyer of the FIA, to check national law and come back to us in the next Strategy Group. This is what the FIA is going to do in the next Strategy Group that is on April 17."
Horner: "But I think what is most disappointing about it is it was Ferrari, or Sergio Marchionne, that was pushing for a three-year period.
"So on one hand you get a team pushing for a three-year gestation and then, a few weeks later, we are in this situation. It makes discussions at that forum almost a waste of time."
Arrivabene: "That was the discussion but then the conclusion was to give mandate to the FIA to come back with a proposal."
Horner: "I've said my peace."
Sky Sports F1 is the only place to watch every Formula 1 Grand Prix, qualifying and practice session live in 2018. Get Sky Sports F1.