Sakhir GP: Valtteri Bottas edges George Russell, Max Verstappen for pole in fastest-ever F1 qualifying
Valtteri Bottas claims fifth pole of season as he edges Mercedes stand-in George Russell by just 0.026s; Max Verstappen third with Charles Leclerc fourth for Ferrari; Alex Albon knocked out in Q2 in 12th
By Matt Morlidge
Last Updated: 06/12/20 7:10am
Valtteri Bottas edged Mercedes stand-in George Russell and Red Bull's Max Verstappen to claim pole position for the Sakhir GP with Formula 1's fastest-ever lap - as the maiden qualifying around Bahrain's rapid 'Outer' track resulted in a thrilling and fascinatingly close shootout.
It was Bottas' fifth pole of the season, and the quickest in F1 history at 53.377s, but he only claimed it by two hundredths of a second from Russell as the 22-year-old Englishman, who is replacing Lewis Hamilton this weekend, put in a remarkable performance on his Mercedes qualifying debut.
Russell got so close to Bottas on his final lap, as did Max Verstappen - although Red Bull's star missed out on his first F1 2020 pole by just 0.056.
It was a pulsating battle between the top three throughout the qualifying hour on Bahrain's 'oval' layout, one which Russell should be proud to have been a part of - let alone almost win - having only been drafted in by Mercedes from Williams on Wednesday.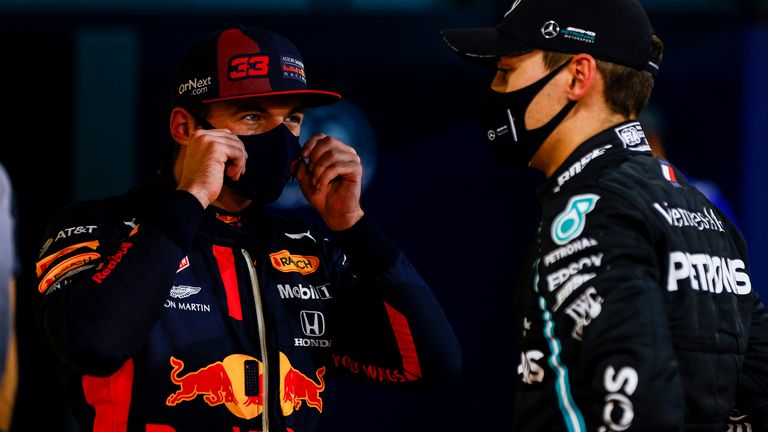 "Really pleased," said Russell, who had never reached Q3 in F1 before Saturday. "We got it all together in the final lap. Obviously gutted to miss out on pole by 20 milliseconds but if you told me last week I'd be qualifying P2 on the grid I wouldn't have believed you."
He added: "Valtteri has pushed Lewis a huge amount in qualifying over the years. I think statistically there has only been a tenth between them and we all know how great Lewis is.
"Just to be right behind Valtteri, coming in last minute with two days of prep, I'm pleased. Let's see what we can do tomorrow."
Charles Leclerc secured fourth for Ferrari with a superb lap at the start of Q3 - eventually just two-tenths off Bottas - making the most of Alex Albon missing the top-10 shootout after being eliminated in Q2 in 12th for Red Bull.
Sergio Perez, aiming for Albon's Red Bull seat next year, impressed again in fifth for Racing Point, ahead of AlphaTauri's Daniel Kvyat, who secured his best F1 grid slot in 18 months. One of many F1 surprises.
Sakhir GP Qualifying Result
1. Valtteri Bottas, Mercedes
2. George Russell, Mercedes
3. Max Verstappen, Red Bull
4. Charles Leclerc, Ferrari
5. Sergio Perez, Racing Point
6. Daniil Kvyat, AlphaTauri
7. Daniel Ricciardo, Renault
8. Carlos Sainz, McLaren
9. Pierre Gasly, AlphaTauri
10. Lance Stroll, Racing Point
Russell makes his mark in fastest-ever F1 qualifying
It has been a dramatic week for F1 in Bahrain - what with Romain Grosjean's crash and incredible escape last Sunday, and Hamilton's positive Covid-19 test two days later. And the first-ever qualifying around Sakhir's outer loop, which has just 11 corners, was pulsating.
While Bottas takes the record-breaking fastest time - F1 hadn't even had sub-minute pole laps since 1976 - and Verstappen got closer to pole than all season, Russell was undoubtedly the star.
The Mercedes protégé had never driven the W11 before Friday, but set the fastest times in both Practice One and Two. And although he was off the pace in Practice Three, Russell bounced back in style in qualifying - displaying all the talent which many believe will lead him to becoming an F1 champion in the future.
Bottas held an advantage of around two-tenths over Russell up to Q3, but failed to improve on his flying lap - leaving the door slightly ajar for his temporary team-mate, who had no right of barging through it yet only missed out on pole by 0.026s.
It represents the first time Russell has ever been out-qualified by a team-mate in F1, having enjoyed a 100% record over 36 shootouts at Williams before Saturday. But getting so close to Bottas, who, as Russell said, frequently challenges Hamilton, was quite simply incredible.
Verstappen was on form again but Red Bull don't appear to have quite the engine grunt required to complete with Mercedes, who have claimed 15 of 16 poles in qualifying this season.
They will be optimistic about the race, when Verstappen will start on soft tyres compared to Bottas and Russell on mediums after being forced onto the quickest compound to make sure he made it into Q3.
Verstappen finished Q2 fastest, and while Albon was only 0.379s down on his team-mate, that was the difference between the top of the timesheets and 12th. Another below-par day from a driver who has just two rounds left - here and Abu Dhabi - to save his seat for 2021.
Sebastian Vettel also exited that portion of qualifying, disappointingly so given Leclerc's pace in the Ferrari in Q3, while Lando Norris struggled down in 15th.
Elsewhere in qualifying, there were encouraging debuts from Jack Aitken and Pietro Fittipaldi - particularly the former as he was only a tenth off Nicholas Latifi in the Williams.
Sunday's race is live at 5.10pm on Sky Sports F1, with extensive build-up from 3.30pm.
Sakhir GP Qualifying Timesheet
| Driver | Team | Time |
| --- | --- | --- |
| 1) Valtteri Bottas | Mercedes | 53.377 |
| 2) George Russell | Mercedes | +0.026 |
| 3) Max Verstappen | Red Bull | +0.056 |
| 4) Charles Leclerc | Ferrari | +0.236 |
| 5) Sergio Perez | Racing Point | +0.413 |
| 6) Daniil Kvyat | AlphaTauri | +0.529 |
| 7) Daniel Ricciardo | Renault | +0.580 |
| 8) Carlos Sainz | McLaren | +0.633 |
| 9) Pierre Gasly | AlphaTauri | +0.777 |
| 10) Lance Stroll | Racing Point | +0.823 |
| Knocked out in Q2 | | |
| 11) Esteban Ocon | Renault | 53.941 |
| 12) Alexander Albon | Red Bull | 53.996 |
| 13) Sebastian Vettel | Ferrari | 54.026 |
| 14) Antonio Giovinazzi | Alfa Romeo | 54.175 |
| 15) Lando Norris | McLaren | 54.377 |
| Knocked out in Q1 | | |
| 17) Kevin Magnussen | Haas | 54.705 |
| 18) Nicholas Latifi | Williams | 54.796 |
| 20) Jack Aitken | Williams | 54.892 |
| 16) Kimi Raikkonen | Alfa Romeo | 54.963 |
| 19) Pietro Fittipaldi | Haas | 55.426 |