Azerbaijan GP qualifying: Charles Leclerc beats Lewis Hamilton, Max Verstappen to pole amid crashes
Charles Leclerc on pole again for Ferrari, 0.2s ahead of Lewis Hamilton who found pace in Mercedes; Max Verstappen third; Sergio Perez and Valtteri Bottas struggle, Lando Norris handed grid penalty; Four red flags due to crashes in Baku - the last of which sealing Leclerc's pole
By Matt Morlidge
Last Updated: 05/06/21 7:56pm
Charles Leclerc claimed a surprise second straight F1 2021 pole position at the Azerbaijan GP as the Ferrari driver outshone title rivals Lewis Hamilton and Max Verstappen in a frenetic qualifying that was filled with crashes.
A gripping hour-long session on the Baku streets saw a record-equalling four red flags after driver shunts - the last of which sealing pole for Leclerc, who set a soaring pace with his first lap in Q3 to head the field.
"I did not expect to be as competitive as we were today," said Leclerc, who was also on pole in Monaco only for his end-of-qualifying crash to deny him the chance of defending it in the race.
Lewis Hamilton was second behind Leclerc at the time of Yuki Tsunoda's crash into the barriers, as the world champion managed to find form in his Mercedes after struggling right through Azerbaijan's practice sessions.
Leclerc's 1:41.218 was aided by a tow on the long start-finish straight and was 0.2s faster than Hamilton.
"This is such a monumental result for us because we've been struggling like you couldn't believe all weekend," admitted Hamilton. "It has been the biggest challenge in a long time. It has been a bit of a disaster."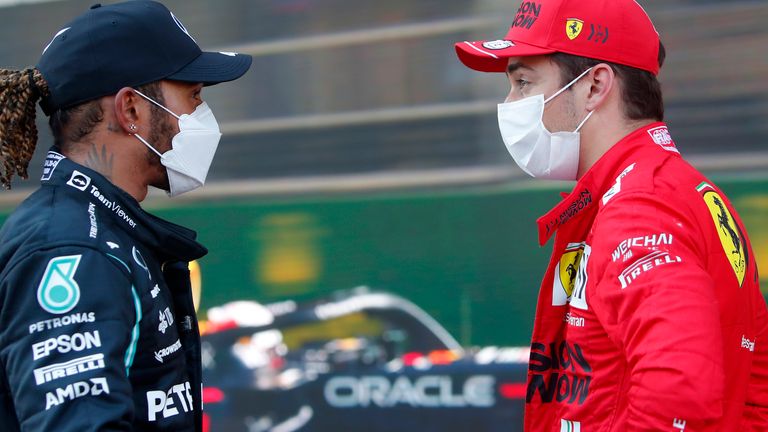 A frustrated Verstappen was a tenth slower than Hamilton in third as Red Bull failed to deliver on their practice promise, with the championship-leading Dutchman feeling on consecutive Saturdays that red flags denied him pole.
Pierre Gasly claimed a career-best fourth on the grid for AlphaTauri, ahead of Ferrari's Carlos Sainz, who crashed himself just after Tsunoda as he encountered the rookie driver's stricken car at Turn 3.
Lando Norris qualified sixth, although has been handed a three-place grid penalty for a red-flag infringement, with the in-form McLaren youngster having stayed out on track instead of reporting straight to the pits.
He therefore drops to ninth on the grid, pushing Red Bull's Sergio Perez, Tsunoda and Fernando Alonso up a place for Sunday.
Valtteri Bottas - who like Perez is out of position considering the speed of his car - will start 10th in the Mercedes.
It was Alonso's best qualifying since returning to the sport for Alpine, out-qualifying Esteban Ocon for the first time in five races.
Sebastian Vettel was unlucky in 11th.
The big crashes from Azerbaijan GP qualifying
The Baku shootout was halted four times due to crashes, which both wrecked cars, and many laps for rival drivers.
Lance Stroll was the first to crash at Turn 15, right at the start of Q1.
Soon after qualifying resumed, it was stopped again as Antonio Giovinazzi found the same T15 barriers in his Alfa Romeo.
In tricky windy conditions, Daniel Ricciardo was the next driver to bring out the red flags on his last flying lap in Q2 as he shunted into the wall at Turn 3. It wasn't ideal for Ricciardo, who is desperately looking for form, nor the drivers on quick laps in search of Q3 such as Vettel and Esteban Ocon.
Then it was Tsunoda, and Sainz's, turn at the end of Q3.
Azerbaijan GP qualifying: Top 10
1) Charles Leclerc, Ferrari
2) Lewis Hamilton, Mercedes
3) Max Verstappen, Red Bull
4) Pierre Gasly, AlphaTauri
5) Carlos Sainz, Ferrari
6) Lando Norris, McLaren
7) Sergio Perez, Red Bull
8) Yuki Tsunoda, AlphaTauri
9) Fernando Alonso, Alpine
10) Valtteri Bottas, Mercedes
Mercedes shock Red Bull, Ferrari shock both
The first qualifying session in Azerbaijan in two years was filled with crashes, and surprises. Not just because Leclerc led Ferrari to back-to-back poles - having been without a pole since 2019 before Monaco - but also because Hamilton managed to wrestle Mercedes back ahead of Red Bull.
Through Friday and Saturday's practice, it looked like Mercedes could well be Q2 casualties let alone pole contenders, with Red Bull seemingly comfortable. But a late setup switch on Hamilton's car did the trick, with the Englishman quick throughout the shootout.
Hamilton used a low-downforce rear wing that helped his straight-line speed, a different setup to team-mate Bottas who struggled.
"We kept our composure," said Hamilton. "We've continued to have difficult discussions in the background and challenging one another, and just never taking no for an answer. We've moved around, made so many changes, over these two days. Just chasing our tail and it's been so difficult.
"But the work overnight and particularly between the sessions was amazing from the team and really proud of everyone for keeping positive. To be up there and so close to these guys is a great start."
Hamilton will therefore start Sunday's race just ahead of Verstappen, who he trails by four points in the 2021 title standings.
Verstappen, who returned to the track in qualifying following a crash at the end of P3, appeared to be hitting form towards the end of the shootout before the red flag, and so was understandably angry.
But his team-mate's lack of pace was more confusing, with Perez having looked to be a match for Verstappen heading into qualifying before finishing 0.3s off in seventh.
Red Bull boss Christian Horner insists Red Bull are still in good shape for the race.
An intriguing battle therefore awaits, very possibly between three teams and a number of drivers.
Azerbaijan GP Qualifying Timesheet
| Driver | Team | Time |
| --- | --- | --- |
| 1) Charles Leclerc | Ferrari | 1:41.218 |
| 2) Lewis Hamilton | Mercedes | +0.232 |
| 3) Max Verstappen | Red Bull | +0.345 |
| 4) Pierre Gasly | AlphaTauri | +0.347 |
| 5) Carlos Sainz | Ferrari | +0.358 |
| 6) Lando Norris | McLaren | +0.529 |
| 7) Sergio Perez | Red Bull | +0.699 |
| 8) Yuki Tsunoda | AlphaTauri | +0.993 |
| 9) Fernando Alonso | Alpine | +1.109 |
| 10) Valtteri Bottas | Mercedes | +1.441 |
| Knocked out in Q2 | | |
| 11) Sebastian Vettel | Aston Martin | 1:42.224 |
| 12) Esteban Ocon | Alpine | 1:42.273 |
| 13) Daniel Ricciardo | McLaren | 1:42.558 |
| 14) Kimi Raikkonen | Alfa Romeo | 1:42.587 |
| 15) George Russell | Williams | 1:42.758 |
| Knocked out in Q1 | | |
| 16) Nicholas Latifi | Williams | 1:43.128 |
| 17) Nikita Mazepin | Haas | 1:44.158 |
| 18) Mick Schumacher | Haas | 1:44.238 |
| 19) Antonio Giovinazzi | Alfa Romeo | No time set - crashed |
| 20) Lance Stroll | Aston Martin | No time set - crashed |
When is Sunday's Grand Prix?
Lights out for the high-speed Azerbaijan GP is at 1pm, live on Sky Sports F1. Extensive build-up begins at 11.30am.