Romain Grosjean quits Lotus for Haas
Frenchman leaves Lotus to join newcomers for their first year in F1
By Pete Gill
Last Updated: 19/10/15 10:10am
Romain Grosjean will spearhead Haas' first season in F1 after leaving Lotus to join the newcomers.
Grosjean has described his decision as "a great and very exciting challenge".
The Frenchman was unveiled at a press briefing at the team's North Carolina base on Tuesday - but the identity of his team-mate for Haas' debut year in the sport remains unknown.
"Smart of Team Haas to sign Romain Grosjean," reflected Sky Sports F1 pundit Martin Brundle. "He's become one of the fastest and most complete drivers on the grid after established champions."
Haas will form a close working relationship with Ferrari for their entry into F1 - a factor which is believed to have been integral to Grosjean's decision. Because of that alliance, not only are Haas expected to enjoy the sort of respectability that eluded HRT, Caterham and Marussia when they joined the F1 grid in 2010, but Grosjean is reckoned to be in pole position to replace Kimi Raikkonen at Ferrari in 2017 when the Finn's Scuderia contract expires.
"I liked that it was a different approach to what a normal new F1 team would do and I think it is an approach that can be successful," said Grosjean.
"I like the idea of the partnership with Ferrari, I like the way everything has been going, I like the way it is going slowly but nicely and I am very, very happy that I made that decision."
Team owner Gene Haas admitted he was "surprised" to sign a driver of Grosjean's experience - and warned the Frenchman that "he is going to be working harder than he thinks!"
"When you start out as a race car driver you tend to be a bit aggressive. Hopefully with Romain his maturity will allow us to progress as a team," said Haas. "He is a bright young man I think he will help us promote our machining tool business in Europe. He is French and Swiss and they are key markets for us."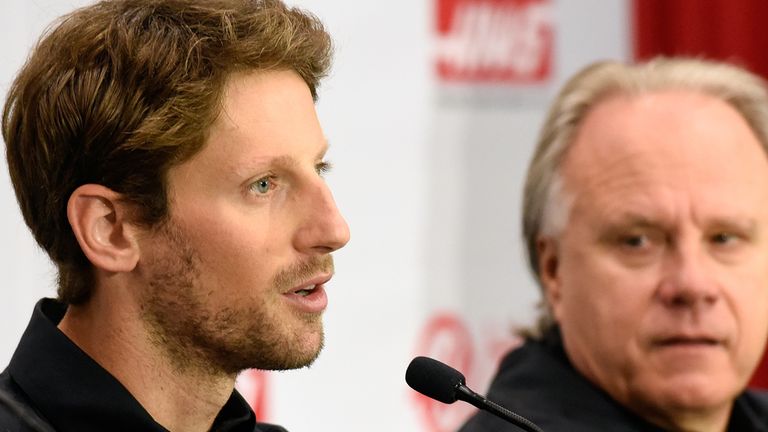 The American-based team will becoming the first outfit from the United States to participate in F1 for almost 30 years when they join the sport. However, the team have ruled out signing an American driver for their first season.
"We had a lot pressure to hire an American driver, but a rookie driver with a rookie driver isn't a good fit. Our primary purpose is to show as an American manufacturer we can compete in the toughest category in the world," said Haas.
Although the team's headquarters will be in Kannapolis, North Carolina, their race base will be Marussia's old factory in Banbury.
Current Ferrari reserve Esteban Gutierrez remains the favourite to partner Grosjean in 2016.
Don't miss the F1 Midweek Report on Wednesday night at 8.30pm when Ted Kravitz and David Brabham join Natalie Pinkham to discuss the Japanese GP