Mercedes will not appeal against Nico Rosberg's British GP demotion
World champions accept verdict of the Silverstone stewards
By Pete Gill and James Galloway
Last Updated: 12/07/16 6:22am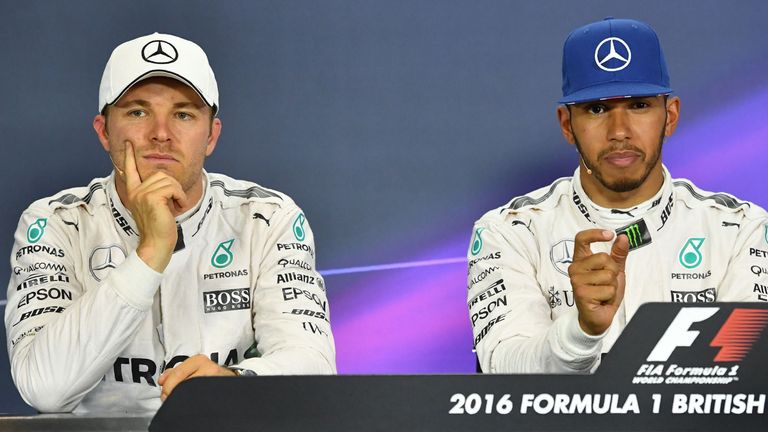 Mercedes have dropped plans to appeal the penalty which cost Nico Rosberg second place in the British GP.
The world champions had until Thursday evening to formally protest against the 10-second sanction, imposed by the Silverstone stewards after Sunday's race.
Mercedes were found to have broken Article 27.1 of the Sporting Regulations by telling Rosberg, the championship leader, how to resolve a gearbox problem in the closing stages of the race.
In a statement released on Monday evening, the team confirmed they accepted 'the Stewards' interpretation of the regulation, their decision and the associated penalty'.
However, they added: 'During the coming weeks, we will continue discussions with the relevant F1 stakeholders on the subject of the perceived over-regulation of the sport.'
Rosberg had finished second on the road to Hamilton at Silverstone and the penalty dropped the German behind Red Bull's Max Verstappen into third.
Red Bull boss Christian Horner later admitted he was not in favour of the radio crackdown, describing it as "a rubbish rule which doesn't make a great deal of sense". Although adamant that Mercedes had to be punished for breaking the regulation, Horner added: "The question going forward is whether these rules are right for Formula 1."
Williams technical chief Pat Symonds revealed to Sky F1 on Friday that Charlie Whiting, the FIA's race director, had warned teams at Silverstone the "honeymoon period was over" regarding the governing body's policing of the crackdown.
Rosberg and team-mate Lewis Hamilton are now separated by just one point heading into next week's race in Hungary.
Mercedes' statement in full
'The Mercedes AMG Petronas Formula One Team today decided to withdraw its notice of intention to appeal against the decision of the Stewards of the British Grand Prix.
'We were able to prove to the Stewards that a car-stopping gearbox failure was imminent and, as such, were permitted within the rules to advise Nico of the required mode change.
'However, the advice to avoid seventh gear was considered to breach TD/016-16, and therefore Article 27.1 of the Sporting Regulations.
'The Team accepts the Stewards' interpretation of the regulation, their decision and the associated penalty.
'During the coming weeks, we will continue discussions with the relevant F1 stakeholders on the subject of the perceived over-regulation of the sport.'
Don't miss Wednesday's F1 Report at 8.30pm as Sky F1's Ted Kravitz and 1981 Silverstone winner John Watson join Marc Priestley to review the British GP