Max Verstappen hits out at Kimi Raikkonen and Sebastian Vettel after Belgian GP
Unhappy Dutch youngster brands criticism "a big lie" and accuses Vettel of causing first-corner crash
Last Updated: 05/09/16 9:15am
Max Verstappen has defended his driving style after drawing a stinging rebuke from Kimi Raikkonen for his actions in the Belgian GP.
The pair were involved in a three-car collision at the first corner of the race before later clashing as they sought to salvage a top-ten finish.
Raikkonen, who crossed the line in ninth, accused Verstappen of forcing him off the track, but the Red Bull driver described the criticism of his driving as "a big lie".
"It's ridiculous," Verstappen told Sky Sports F1. "But it's good television if someone is moaning."
Verstappen was severely criticised after also clashing with Raikkonen at last month's Hungarian GP, but added: "I'm just defending my position. If somebody doesn't like it, it's his own problem."
But Raikkonen certainly did have a problem with the Dutchman's defending.
"I'm all up for a fair battle and close racing, but I had to back off after Eau Rouge on the straight when I make my move I had to brake not to hit him, because he turns after when I move first time. I think that's not correct.
"There could have been a big accident," he said. "I had to brake from full speed and I haven't had that from any other driver, but it doesn't seem to matter."
Verstappen, meanwhile, accused Sebastian Vettel of causing their mutually-destructive first-corner accident with the unfortunate Raikkonen sandwiched between them.
"I didn't lock a wheel, l was easily making the corner and they just kept on squeezing me," he said. "Kimi kept on squeezing but then Vettel turned in on both of us. He knew he was on the outside and then he turned in where he knew there was two cars. From there, the race was gone."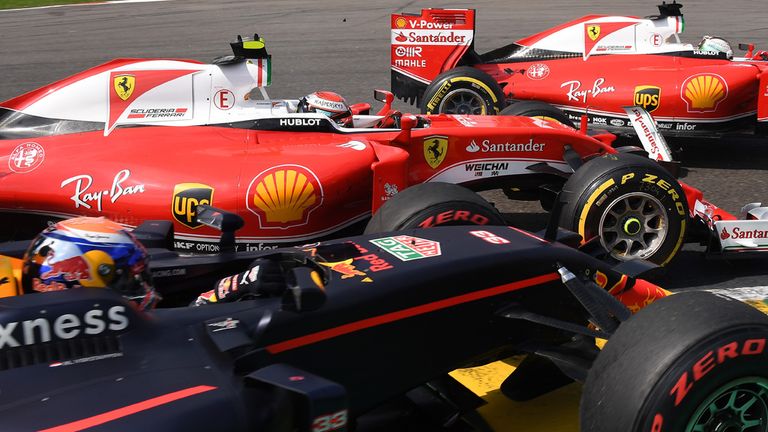 But Vettel, perhaps predictably, didn't believe he had been at fault.
"I had an amazing start and wanted to make sure l had my nose in front," said the former world champion. "It was difficult for me to see Kimi and arguably l should have given a little bit more room but l only found out afterwards Max was on the inside. It was impossible for me to see and the result was that there was no way he could make the corner."