F1 Testing: Lewis Hamilton and Mercedes fastest on first day of 2017 action
More frustration for McLaren; Limited running for Red Bull
By Pete Gill at Barcelona
Last Updated: 17/03/17 12:05pm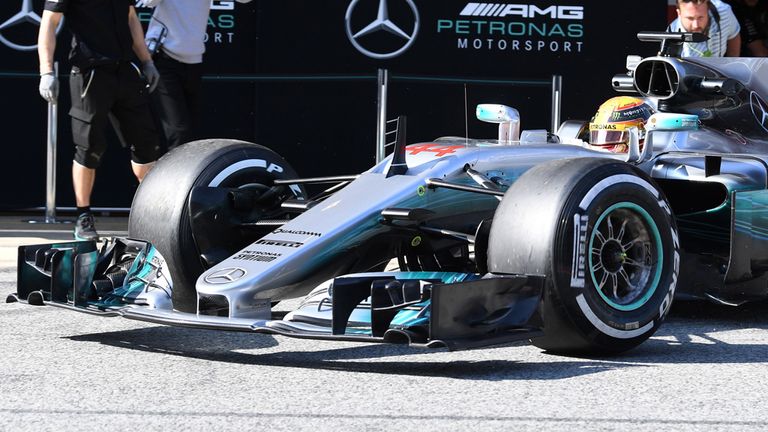 Lewis Hamilton topped the timesheets as world champions Mercedes made an ominously fast start to F1 2017 on the first day of pre-season testing at Barcelona.
On a day when McLaren suffered crippling unreliability from its Honda engine and the Red Bull of Daniel Ricciardo twice broke down, F1 fans could have been forgiven for feeling a sense of deja vu as Mercedes dominated.
There was, however, encouragement for Ferrari as Sebastian Vettel ran Mercedes close on slower tyres while Williams' FW40 also made a positive first impression.
So, too, did F1 2017 after the winter 'rules refresh' with Hamilton's benchmark time, set on soft tyres, faster than any lap recorded over eight days of pre-season action at Barcelona last year.
WATCH: First look at the 2017 cars
Business as usual for the world champions
Fast and reliable, the W08 ran in impressive fashion all day, first at the hands of debutant Valtteri Bottas in the morning before Hamilton took over driving duties in the afternoon.
Between them, the pair completed over 150 laps - in effect, two-and-a-half Spanish GPs.
While Bottas ran predominantly on medium tyres, Hamilton, who also trialled a 'shark fin', used Pirelli's soft compound to set the quickest time of the day.
"It was fast in the corners as we expected," Bottas told Sky Sports News HQ. "I also love seeing the other cars on track, I think they look great. We did more than a race distance this morning and we had no issues at all."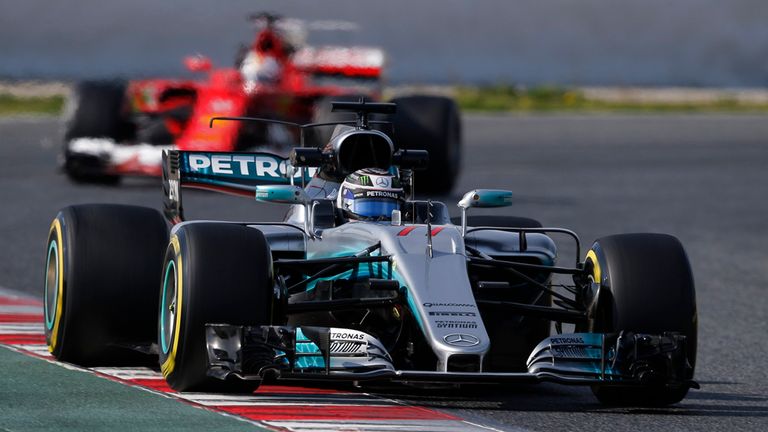 Impressive start for Ferrari
This was the first time in four years when Ferrari failed to set the fastest time on the opening day of pre-season action.
But the Scuderia were nevertheless impressive - as reliable as Mercedes and, tyre corrected, just as quick.
Sebastian Vettel conducted all of his running on medium tyres and, in the process of setting the second-quickest time of the day, out-paced Bottas on the same compound - although the Finn's best time was set on a relatively long stint - and the soft-shod Williams of Felipe Massa.
The four-time world champion was also the first driver to break the 100-lap mark, ending at 128.
The timesheets from pre-season testing are notoriously unreliable but, on this evidence at least, pessimistic noises from Italy about Ferrari being forced to redesign a car with a longer wheelbase may be wide of the mark.
VOTE: The best looking 2017 F1 car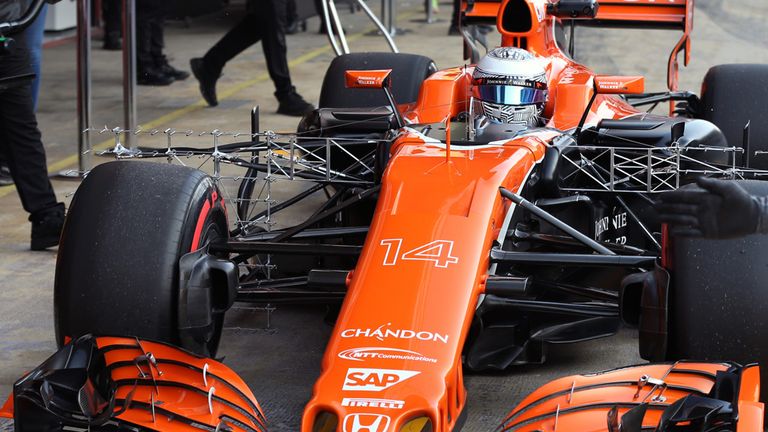 Same old story for McLaren?
Waylaid by an 'oil system' issue for most of the day, Fernando Alonso and McLaren suffered another frustrating start to winter testing - with their disappointment compounded by a wearying familiarity.
"We have to wait for Honda to give us an answer," reported team boss Eric Boullier after the MCL32 broke down after just a single installation lap, necessitating a complete engine change and seven long hours of inactivity.
Alonso eventually completed a mere 29 laps - the lowest of any driver on the day - with a best time of 1:24.852 which only backmarkers Sauber, who finished over five seconds off the pace, didn't beat.
"We have to do better," concluded Boullier.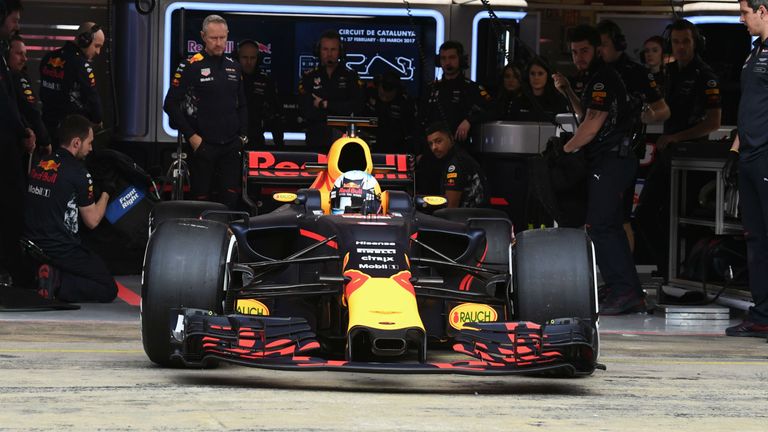 Red Bull remain bullish
Expected to take the fight to Mercedes this year, Red Bull made an inauspicious start to the year when Daniel Ricciardo's RB13 car was hampered by a sensor failure and then a faulty battery. But the problems were downplayed by team boss Christian Horner and Ricciardo returned to action late in the day to set a respectable number of laps - 50 - and finish fifth on the timesheets.
Red Bull's 'pingu' nose explained
In the meantime, attention around Red Bull has been focused on their new car's 'pingu nose'. While Horner says the unique design's primary purpose is cooling, Red Bull's rivals believed it has been created to improve air flow at the front of the RB13.
Day One Timesheet
1) Lewis Hamilton, Mercedes, 73 laps, soft tyres, 1:21.765
2) Sebastian Vettel, Ferrari, 128 laps; medium tyres, 1:21.878
3) Felipe Massa, Williams, 103 laps, soft tyres, 1:22.076
4) Kevin Magnussen, Haas, 51 laps, 1:22.894
5) Daniel Ricciardo, Red Bull, 50 laps, soft tyres, 1:22.926
6) Valtteri Bottas, Mercedes, 79 laps, soft tyres, 1:23.169
7) Sergio Perez, Force India, 39 laps, 1:23.709
8) Carlos Sainz, Toro Rosso, 51 laps, 1:24.494
9) Nico Hulkenberg, Renault, 57 laps, 1:24.784
9) Fernando Alonso, McLaren, 29 laps, 1:24.852
11) Marcus Ericsson, Sauber, 72 laps, 1:26.841