Sebastian Vettel not ruling out Red Bull ahead of 'b-spec' introduction
Former world champions predicted to unleash a 'new car' in Spain
By Pete Gill
Last Updated: 01/05/17 10:51am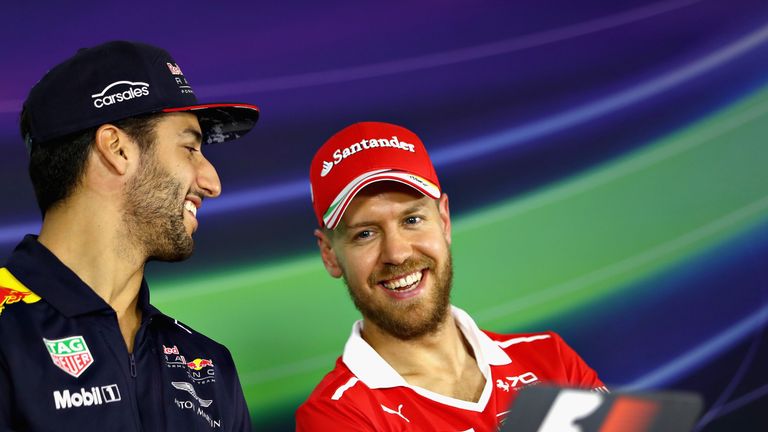 Sebastian Vettel says it's too early to rule Red Bull out of the F1 title race - and hinted he expects a dramatic improvement from his former team in Spain in two weeks' time.
Red Bull have been cut adrift by Mercedes and Ferrari at the start of the new season and are already nearly 80 points behind in the Constructors' Championship.
But the team will introduce what is predicted to be, in effect, a 'b-spec' car in two weeks' time at the Spanish GP in a no-holds-barred attempt to catch the runaway leaders.
"There's a lot of rumours around," said Vettel. "They are a strong team, they know how to build a quick car so I expect it's a question of when rather than if."
Red Bull's 2017 results in full
For drivers Daniel Ricciardo and Max Verstappen, who have only made it on to the podium once this year, the team's return to front-running competiveness already can't come soon enough.
Ricciardo retired from Sunday's Russian GP while the fifth-placed Verstappen drove such an anonymous race that Sky F1 pundit Martin Brundle was moved to admit he hadn't even registered the young Dutchman's presence.
"I hope for a bit of bullet - something fast," said Ricciardo. "We want to be in a three-way fight.
"We've had a bit of time to look at Ferrari, and they look strong, and the Mercedes, and they look like they are stronger at the rear.
"I'm confident it's going to be better than how it is now. If it puts us within half a second then we are in striking range after that."
Don't miss all the reaction from Sochi and tune in for the F1 Report: Russian GP Review on Sky Sports F1 on Wednesday night at 8.30pm